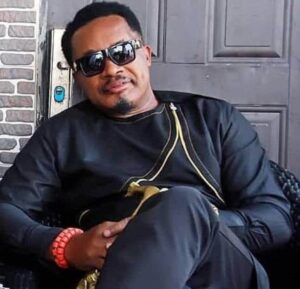 Jerry Amilo is a prominent Nigerian movie star, producer, movie director, and writer. He was the former manager of Christy Essien. 
He is a pioneer member of the Asaba Nollywood bad boys club with the likes of Walta Anga, Late JT Tom West, Hanks Anuku and has starred in over 200 movies.
Early life.
Jerry Amilo was born on the 21st day of July 1970, in Enugu-ukwu, njikoka Local Government Area of Anambra state in Nigeria. He is the last child of a devoted Catholic family.
Education 
Jerry Amilo had his primary and secondary education in the town of his birth after which he proceeded to the University of Nigeria, Asuka to study mechanical engineering. 
He did not allow his degree in mechanical engineering to bury his passion and zeal for acting.
Acting career
Jerry Amilo joined Nollywood in 1993, he gained popularity with his role as Anini in Bruno and the law. The movie was based on the experience of the Bendel people ( now Edo state) in the hands of an infamous criminal, Anini, who terrorizes the entire region.
Major Life Event.
In 1998, five years after starring in Bruno and the Law, Jerry Amilo along with his lawyer friend was involved in a fatal motor accident that threatened his life and kept him off the screen for 2 years. 
The accident occurred on his way from Enugu for the Reels Award in Lagos, they lost a front wheel, which caused the car to somersault many times, his lawyer friend died on spot, while Jerry was in comatose for 3days.
It was said that he had been pronounced dead too, and his body had been deposited to the morgue but the facility did not have electricity so his body was kept in the open air.
It was during this trying period of his life that his girlfriend Oge Ezeliora left him.
Return to Nollywood.
In the year 2000, Jerry Amilo returned to Nollywood, where he starred in many blockbusters like
 Desperadoes

Labiatae

Wanted Alive

 Bad boys

Discord

Trinity

Debit Alert

Life abroad

The Lords

The City

Mafias

Evil father
The list is endless.
Marital Life.
Jerry Amilo kept his marital life secret, so little is known about his wife, but he's married with three bright kids.
Net worth
Jerry Amilo is a millionaire in dollars and his net worth is estimated at 1.2 million USD, which makes him one of the most affluent and influential actors in the country.
Contribution to Nollywood.
He is one of the initiators of the Actor Guild of Nigeria ( AGN) Warri branch, Delta state. Before his arrival in Nollywood, the Actor Guild of Nigeria was only in Lagos state.
 He and a few others created the Warri branch which was later moved by the former Governor Mr. James Ibori to Asaba.
 Awards and Recognition.
Jerry Amilo has won various awards for his extraordinary accomplishment on and off the screen. Some of his prestigious awards include:
Best Actor in Leading role

Best Actor in Action Films

Best Actor in Nigeria

Most Prominent Actor in Nigeria

Best Supporting Actor

A Member of Order of the Federal Republic of Nigeria
Media Accounts
Jerry Amilo has an array of followers on Twitter and Instagram. His handle on both media is @Jerryamilo.