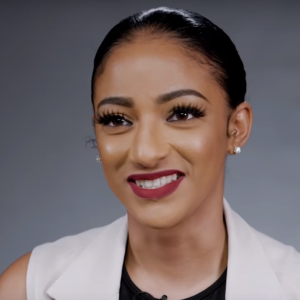 Sophie Rammal Alakija is a Nigerian actress, model, and brand Influencer. Nigerian entertainment has been blessed with a talented woman like Alakija in the entertainment industry. She is not known to do anything halfway and her tenacity is one of her greatest assets. Sophie is talented and creative, when she walks the runway she owns it, and whenever she gets in action to play a movie role she does it flawlessly.
Sophie Alakija has many followers on social media, fans are drawn to her as she always has something beautiful and creative to share on her platform. Her official Instagram page is @sophiealakija where she has thousands of followers.
EARLY LIFE
Growing Up.
Alakija was born on the 8th of February 1985 to an Islamic family who is of Efik, a tribe from Cross Rivers State and of Lebanese descent. Her biracial genes are one of the few things that made Sophie stand out. She was born and raised in Lagos. She grew up in a large family and had a normal childhood. Sophie has a brother named Jay Rammal.
Education.
As of when this article is being written there is no information about Sophie Alakija's educational background but the universally agreed on fact is Sophie is an educated woman.
How Sophie's Career Started
Sophie's first on-screen appearance was in 2010 as a video vixen in the music video of "Holla at your boy" by Nigerian singer Wizkid. The two were romantically involved at the time before they part ways later. She stopped doing music videos and focused more on acting and modeling. She has featured in many movies and TV shows likewise in a lot of magazines and fashion shows since then.
IMPORTANT LIFE EVENTS
Career Breakthroughs
When Sophie was featured on Wizkid's music video in 2010 that was when she started getting noticed in the industry. Her role as a video vixen opened other doors of opportunities for her. Presently she has gone far ahead than most will give her credit for, she has starred in movies that are ranking at the top in Netflix, created a brand for herself. Signed several endorsement deals and also was a mentor to upcoming talents.
Filmography
Sophie has featured in many movies which include the following;
My Village People (2021)

Scandals (2019)

Getting Over him

Drawing Strands

Small Chops

Halita (2019)

Assistant Madams (2020)

Skinny Girl In Transit 

Being Farouk

Being In Nollywood

The Intern

Grow Up or Nuts

Banquets And Everything After

Addiction

Love or Quest (2020)

Loud (Live Out Your Dream)

Gone (2021)

Manifestation (2021)
Notable Achievements
Sophie has accomplished great feats in her career, like signing numerous deals with top brands in Nigeria, featuring in several movies Nollywood's best actors.
AWARDS/RECOGNITIONS
Sophie Alakija is yet to receive an award for her movies but she has earned herself several recognitions for her acts.
INTERESTING FACTS
Net Worth
Sophie Alajika is also a thriving model and movie actress. Sophie Alakija's net worth is estimated to be $300,000, making her one of the richest and influential actresses in Nollywood.
Other Interesting Facts
The beautiful actress got married to Wale Alakija, son of one of the African wealthiest women in March 2016. The wedding was a very elaborate one, and the union is blessed with two children, Aydin, and Caliph Alakija. However, the couple called their marriage quits in 2020 but the couple still maintains a cordial relationship to co-parent their kids. Sophie has since then gone back to being addressed by her maiden name.