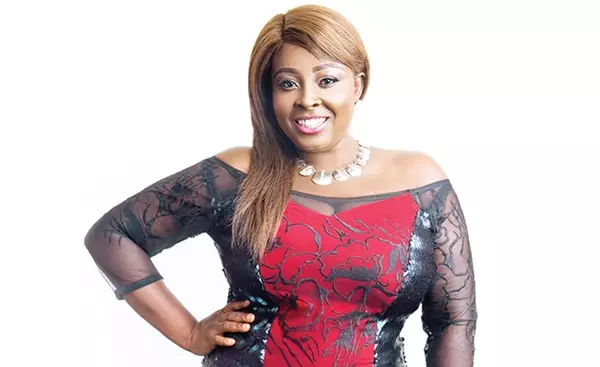 Omotunde Adebowale David is an award-winning Nigerian radio and TV presenter, actress, comedienne, and MC. This beautiful woman is relatable because she does not always present the perfect woman persona every other female celebrity has going on. Her sense of humor is top-notch and her talent as an actress is exceptional. Adebowale's official Instagram account is @officiallolo1 with over 8 thousand followers.
Omotunde Adebowale David Biography
Growing Up And Education.
Omotunde Adebowale David was born on April 27, 1977 (age 44) in Lagos State, Nigeria. She hails from Ijebu Igbo a town in Ogun State, Nigeria.
After Adebowale completed her primary school education she attended Anglican Girls school in Ijebu-Ode and lived in the hostel half of the time, and this enabled her to acquire her independence and creativity. Frequently she was called upon to give impromptu speeches in school, she also won several laurels for her school in literary debates. Adebowale was a very chatty child and so her parents thought she would make a good lawyer and strongly urged her to pursue that path.
She studied Law at the Lagos State University, just like her parents wanted, after which she practiced for three years before changing careers as she had always had a natural flair and fascination towards entertainment by broadcasting. Her parents were not in support of this decision at first as they felt she would not be able to earn enough to support herself.
How Adebowale's Broadcasting Career Started And Breakthroughs.
Adebowale started working as a radio broadcaster in 2004. She worked with the Federal Radio Corporation of Nigeria before going to work for Metro FM. She left Metro FM to join Wazobia FM in 2008. Initially, at Wazobia she worked as a news presenter and earned her first award as one. Obtaining her first award was a happy experience that further motivated her, a couple of years after that, she got the chance to start her program called the Oga Madam Office, on this show all types of issues are discussed, from politics to relationships. One of her famous shows on the radio was "Office Palaver", where people called in and talked about things that transpired at their jobs as a means to relieve tension and have fun. She also hosts a yearly stand-up comedy skit Oga Madam Live on Stage which has featured performances from big musicians like Tiwa Savage and Brymo. The event has been a success for years now and has been recently evolved to an international one.
Adebowale listeners gave her the name "Lolo 1". On one of her radio shows she told her listeners that she needed a nickname, asking them for their opinions. She got over 3000 entries but finally decided on "Lolo" because she wanted a name that was simple yet relatable. She also loved that it signified royalty as "Lolo" in the Igbo language implies "Queen".
How Adebowale's Acting Career Started And Breakthroughs.
The popular television comedy series Jenifa's Diary was launched in 2014, as a spin-off to the very popular film Jenifa, which starred award-winning actress Funke Akindele as the main character. Adebowale was cast as Adaku, a comical Igbo woman full of life and who happens to be Jenifa's colleague and friend at NikkiO Salon where they both worked as hairstylists. The series presently has 9 seasons.
IMPORTANT LIFE EVENTS
Personal Life
 She is a single mother of four and has recently divorced her husband. She said it was a mutual agreement between both parties to end the union. The union produced 3 boys and a girl.
Notable Achievements
Adebowale is a brand ambassador for Lapo Microfinance Bank, also for an estate company called Acbridge, and also for Myads, a mobile application. She is also a public/motivational speaker, event adviser, and celebrity MC at corporate events, wedding ceremonies, and many other occasions.
She is also known for her philanthropy work as well. After she graduated from Law school, she established a Non-governmental organization (NGO) called "Sisters Concern", which helps with women's issues. She acts as the program director for the organization. She also oversees an annual talent show called "Song Outbreak", which she utilizes as an alternate way to reach out to young people and support the society
AWARDS/RECOGNITIONS
Adebowale received many recognitions for her work and that among those is the On-Air Personality of the Year Award (Female) of the City People Entertainment Awards which was held at Yard 158, Oregun, Ikeja, Lagos in 2016.
Also at the 6th edition of the Nigerian Broadcasters Merit Awards in 2016, she was nominated for the Outstanding Radio Program Presenter Award – Lagos (Midday/Lunch Hour 11 am-4 pm).
She has recognitions that are not award-related, for example when she featured in the La Mode Magazine cover page in the July 2017 edition.
 She produced her first movie titled When Love is not Enough, in 2020. Okiki Afolayan directed the movie.
INTERESTING FACTS
Omotunde Adebowale David Net Worth
As of when this article is being written an estimated net worth of Adebowale is unknown but she is a wealthy woman.
Other Interesting Facts
Most Adebowale fans are often surprised to discover that Adebowale is from the Yoruba tribe since her nickname "Lolo"  is coined from an Igbo word and she plays an Igbo character so well in Jenifa's Diary.