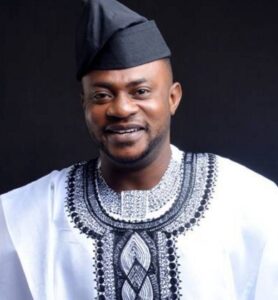 Odunlade Adekola is a Nollywood Actor, Director, Producer, Singer, and Filmmaker. This actor does not need much introduction as he is one of the most popular actors in Nollywood, he majorly features the Yoruba side of the movie industry, even those who don't watch Yoruba movies will know him as one of Nigerians meme kings. His funny facial expressions and funny acts have been cropped out and circulated on social media as memes.
Odunlade is a brilliant actor and his interpretation of his roles always puts his fans in awe. He can be called a comedian because some of his most recent movies have left his fans rolling with laughter and asking for more, an example of that is the "Sammu Alajo Series" he uploads an episode weekly on his Youtube channel.
Odunlade Adekola Biography
Odunlade is also an entrepreneur as he has other strings of businesses like a hotel in Abeokuta and the movie producing company he founded. He has been made an ambassador to top brands in Nigeria, hence we are always catching a glimpse of him on different Billboards across the country.
He has active social media platforms, on Instagram @odunomoadekola and Twitter @odunomoadekola, he has millions of followers on each platform.
EARLY LIFE
Growing Up 
Odunlade was born on the 31st day of December in the year 1978. He was born and bred in Abeokuta, Ogun State, Nigeria however, he is an indigene of Otun, a town in Ekiti State, Nigeria. His parents are Pastor and Deaconess Adekola. He was raised in a strict Christian family. Due to his Christian background, he spent most of his children between school and church activities.
The superstar has a younger brother who has followed in his big brother's footsteps into the Yoruba movie industry his name is Jethro Oyekanmi Adekola, he might not be as popular but he is making a name for himself and leaving his big brother's shadow.
Education
Odunlade went to St John's primary school and St Peter's college both in Abeokuta, Ogun state, after the successful completion of his primary and secondary education, he went ahead to get his diploma certificate at Moshood Abiola Polytechnic (MAPOLY)in the same city and state. He then proceeded to obtain a bachelor's degree in business administration at the University of Lagos, his graduation caused quite an uproar on social media in 2018 because some people believed he earned his degree not by merit as he was accused of being an absentee student, but all the accusations were put to rest when he defended himself that he attended every lecture and turned in every tests and assignment.
Odunlade Adekola Career
Odunlade's acting career began while he was growing up, he belonged to his church drama group that was where his love for theatrics began and where he learned the basics of acting he then joined and became a member of the Association of Nigeria Theatre Arts practitioners in 1998 but his big break didn't happen until 2003, it was his first lead role where he played the part of Ishola Durojaiye in the movie Ashiri Gomina Wa. This movie made the biggest impact on his career because it put him in the spotlight, and since then he has starred in over 100 Yoruba movies. 
Odunlade also went ahead further in his career to become a movie producer, and director, he even went ahead to open his own company Odunlade Adekola Film Production (OAFP), where he IS of course the CEO.
IMPORTANT LIFE EVENTS
Career Breakthroughs
In the books, his breakthrough as an entertainer didn't happen until 2003, and when it finally happened he has become a household name that almost every Nigerian that lives in the Western part of the country can relate with. He featured in movies, TV shows, and music videos. He has even MC some top Nigerian shows.
Over the years the superstar has been made a brand ambassador to top brands like Goldberg, Ayoola foods Limited, Globacom, Revolution plus, and many others. He is not that struggling youth he was in 1998 when he joined the Association of Nigeria Theatre Practitioners. 
Odunlade Adekola's Memorable Moments
The actor's most memorable moments would be going back to school to get his degree when he has already made a name for himself. It was a humbling moment in his life because he had to put his celebrity status aside to achieve his goal of getting his Bachelors's degree.
Odunlade Adekola Movies
The award-winning actor has featured in a lot of movies and some of the movies in his portfolio are:
Ashiri Gomina wa.

Ile Afoju

The Vendor 

Alani pamolekun 

Asiri Gomina Wa 

Mufu Olosa Oko 

Kabi O Osi 

Oyenusi 

Sunday Dagboru 

Monday Omo Adugbo

Emi Nire Kan 

Eje Tutu 

Ma ko fun E 

Gbolahan 

Oju Eni Mala 

Kurukuru 

Olosha 

Omo Colonel 

Aroba

Oro

Baleku 

Babatunde Ishola Folorunsho

Adebayo Aremu Abere

Adajo Agba 

Oyun Esin

Taxi Driver

 Oko Ashewo 

Samu Alajo

Sunday gboku gboku

Abi eri re fo ni 

Igbesemi

Lawonloju

Pepeye Meje

Asiri Ikoko 

Pate Pate 

Adura 

Ere Mi 

Okan Oloore 

Ota 

Owiwi 

Agbara Emi 

Critical Evidence 

Olowori 

Iku Lokunrin 

Eku Meji 

Yeye Alara 

Ado Agbara

Agbaje Omo Onile 1, 2, 3

Omo Germany

Gbemileke 1,2,3

Sammu Alajo Comedy series 
AWARDS/RECOGNITION
Odunlade Adekola has been nominated for several awards in the duration of time he has spent in the movie-making business, he has of course won some and lost some to his counterparts in the business. Here are a few of the awards he has won during his career:
Best Actor of the Year – City People Entertainment Awards (2009, 2011, 2014, and 2015)  

Best Actor in a Leading Role – Yoruba Movie Academy Awards (2012)

Best Actor of the Year – Africa Movie Academy Award (2014)

Best Actor (Indigenous) – Nigeria Entertainment Awards (2015)

Movie Personality of the Year (Male) – City People Movie Awards (2017).
Odunlade is indeed a force in Nollywood to be reckoned with.
INTERESTING FACTS
Odunlade Adekola Net Worth
Odunlade's net worth has been estimated from his income as an actor and filmmaker, his assets, and other income. He is presently amongst the richest actors in Nigeria with the sum of 5 million USD to his name. It is not surprising as he has been extremely successful in the industry.
Odunlade Adekola Wife
The 43 years old actor is married to his wife Ruth Abosede Adekola, they got married in 2003, the union is blessed with 4 children. Adekola's children are all boys and all named with their names starting from the letter D, that is why his wife is popularly referred to as Mummy Dee4. His wife and children live a sheltered life away from the media. Odunlade had been rumored to have taken a second wife and some other outrageous marital scandal but he has publicly refuted them all.