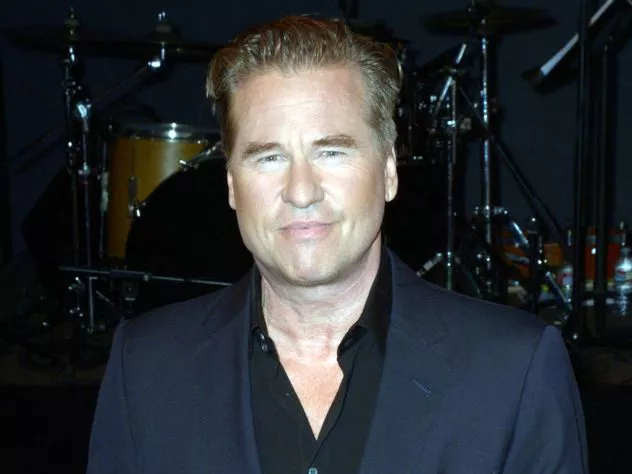 Val Kilmer is an American actor. Initially, he was a stage actor until 1984 when he rose to fame after joining the cast of Top Secret! and later Real Genius. He is a veteran actor who has recently graced our screen by featuring in the 2022 movie Top Gun: Maverick.
Val Kilmer Biography
Kilmer was born on 31st December 1959, in Los Angeles, California. He was the second of three sons of Gladys Swanette and Eugene Dorris Kilmer. Kilmer's mother has Swedish descent while his father, on the other hand, gave him his English, Irish, Scots-Irish, German and Cherokee roots. His parents got divorced when he was 8 years old and his mother remarried in 1970. In 1977, Kilmer lost his younger brother Wesley in a drowning accident.
Kilmer studied at Chatsworth High School alongside Kevin Spacey (another famous actor). He dated actress Mare Winningham in high school. Kilmer was the youngest person to be accepted into the Juilliard School's Drama Division at the time.
Val Kilmer Career
In 1983, Kilmer featured off-Broadway in The Slab Boys and also in his first off-stage acting role on screen in an episode of ABC Afterschool Special called "One Too Many." That same year, Kilmer self-published a collection of his poetry; My Edens After Burns, comprised of poems inspired by his time with Pfeiffer. The book of poems is hard to get and costly; known second-hand copies cost $300 or more.
He had his breakthrough when he received top billing in the comedy spy movies Top Secret! Kilmer sang all the Rock and Roll songs in the film. He later released an album as "Nick Rivers", the character he played in the film.
In 1985 he played the lead role in the comedy, Real Genius. Kilmer got cast as naval aviator "Iceman" in the action film Top Gun co-starring with Tom Cruise. The movie grossed a total of over $344 million worldwide, also making Kilmer a major star.
Michael Keaton decided not to return for the third Batman film after the second one in 1992, Batman Returns. Kilmer accepted to play the role of Batman in 1995's Batman Forever, although, in February 1996, Kilmer also decided against returning for another Batman feature film, feeling that Batman was being marginalized in favor of the villains. He went ahead to feature in several movies following that.
Kilmer recently played the reprising role of Tom "Iceman" Kazansky for the upcoming Top Gun sequel Top Gun: Maverick, which was released on May 27, 2022.
Kilmer is also a musician; he released a CD called Sessions With Mick in 2007.
Val Kilmer Movies and TV Shows
Listed below are all the films, television shows, and theater films Kilmer has featured in and the year they were released;
1981: Henry IV, Part 1
1983: Slab Boys
1984: Top Secret!
1985: Real Genius
1986: Top Gun
1986: The Murders in the Rue Morgue
1987: The Man Who Broke 1,000 Chains
1988: Willow
1989: Kill Me Again
1989: Billy the Kid
1991: The Doors
1992: 'Tis Pity She's a Whore
1992: Thunderheart
1993: The Real McCoy
1993: Tombstone
1993: True Romance
1995: Batman Forever
1995: Heat
1995: Wings of Courage
1996: The Island of Dr. Moreau
1996: The Ghost and the Darkness
1996: Dead Girl
1997: The Saint
1998: The Prince of Egypt
1999: At First Sight
1999: Joe the King
2000: Pollock
2000: Red Planet
2000: Saturday Night Live
2002: The Salton Sea
2002: Hard Cash
2003: Wonderland
2003: The Missing
2003: Blind Horizon
2003: Masked and Anonymous
2004: Spartan
2004: Stateside
2004: Alexander
2004: George and the Dragon
2004: Entourage
2004: The Ten Commandments: The Musical
2005: The Postman Always Rings Twice
2005: Mindhunters
2005: Kiss Kiss Bang Bang
2006: Summer Love
2006: Moscow Zero
2006: 10th & Wolf
2006: Played
2006: Déjà Vu
2006: The Ten Commandments: The Musical
2007: Numb3rs
2007: Have Dreams, Will Travel
2008: Conspiracy
2008: Felon
2008: Delgo
2008: 2:22
2008: Columbus Day (producer)
2008: The Love Guru
2008: Comanche Moon (producer)
2008: XIII
2008–2009: Knight
2009: The Chaos Experiment
2009: Streets of Blood
2009: American Cowslip
2009: The Thaw
2009: Bad Lieutenant: Port of Call New Orleans
2009: Hardwired
2009: Double Identity
2010: The Traveler
2010: Bloodworth
2010: MacGruber
2010: Gun
2011: Kill the Irishman
2011: Blood Out
2011: 5 Days of War
2011: Twixt
2012: Seven Below
2012: Wyatt Earp's Revenge
2012: The Fourth Dimension Hector
2012: Breathless
2012: Citizen Twain
2013: Life's Too Short
2013: Ghost Ghirls
2013: Riddle
2013: Planes
2013: Standing Up
2013: Palo Alto
2014: Tom Sawyer & Huckleberry Finn
2014: The Spoils of Babylon
2014:Psych
2017: Song to Song
2017: The Snowman
2017: The Super
2018: 1st Born
2019: Jay and Silent Bob Reboot
2019: Cinema Twain
2020: A Soldier's Revenge
2020: Paydirt
2021: The Birthday Cake
2021: Val
2021: The Choe Show
2022: Top Gun: Maverick
Val Kilmer  Awards/Nominations
Kilmer won the 2021 Critics' Choice Documentary Awards but before that, he received 10 nominations which includes a Grammy Award for Best Spoken Word Album, 5 MTV Movie Awards, a CableACE Award, a Chicago Film Critics Association Award, and a Saturn Award.
Personal Life
Kilmer has been romantically linked to different women in the industry and gained a reputation as a "ladies" man. The women he dated included Cher, Cindy Crawford, Angelina Jolie, Daryl Hannah, and Ellen Barkin. He later got married to actress Joanne Whalley in March 1988, however, they divorced in February 1996, but the union was blessed with two children, a daughter, Mercedes, and a son named Jack.
It has been reported that Kilmer is allegedly difficult to work with and has been known to pick fights with his co-actors. Other people who worked with him said otherwise.
He is an avid supporter of Native American matters and an advocate of environmental protection. In 2010, he considered running for Governor of New Mexico but decided not to.
In 2017, it was made public that the father of two had been battling throat cancer for two years, he underwent chemotherapy and two tracheostomies. In 2020 he announced that he had been cancer-free for four years.
Val Kilmer Net Worth
Val Kilmer was one of the world's highest-paid actors in the 1990s. Kilmer's net worth as of 2022 is $25 million.