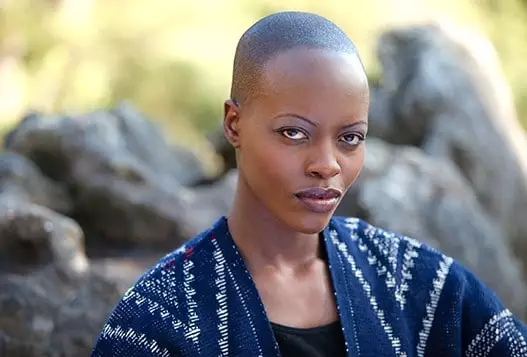 Florence Kasumba is a Ugandan-German actress. She is famous for her performance as Ayo in the Marvel Cinematic Universe movies Captain America: Civil War, Black Panther, Avengers: Infinity War, and the film Black Panther: Wakanda Forever.
Florence Kasumba Biography
Florence Kasumba was born on 26th October 1976 in Kampala, Uganda. She was raised in Essen, Germany, and had both her elementary school and high school there.
She obtained her degree in acting, singing, and dancing from Fontys University of Applied Sciences Tilburg, the Netherlands. The actress speaks German, English, and Dutch fluently.
Florence Kasumba Career
At age 12 Kasumba fell in love with entertainment after watching the musical Starlight Express. While still in college, She got her debut film role as Silke in the Dutch motion picture hit Ik ook van jou. Upon her graduation, Kasumba was featured in several musicals, including Chicago, The Lion King, Cats, West Side Story, Evita, and Beauty and the Beast. She went to New York City for an audition and was cast in Germany's premiere production of Elton John's international musical Aida. Kasumba also portrayed Lisa in Germany's premiere cast of Mamma Mia.
Kasumba joined the Marvel Cinematic Universe cast in the 2016 film Captain America: Civil War. Though she played a minor role she received many accolades for playing a security guard for Black Panther. She repeated the role of Ayo, a member of the all-female Dora Milaje fighting squad in the 2018 Black Panther solo film, Avengers: Infinity War, the TV series The Falcon and the Winter Soldier and the sequel of Black Panther; Black Panther: Wakanda Forever.
Kasumba was featured in the 2017 movie Wonder Woman as Senator Acantha and also as the Wicked Witch of the East in the NBC TV series Emerald City. She was cast as the character Shenzi in the 2019 animated remake of The Lion King.
She has appeared in different Dutch, German, and English language films and TV series. The actress currently spends her time between U.S. and German film and TV productions.
Florence Kasumba Movies and TV Shows
2001: Ik ook van jou)
2006–2016: Tatort
2006: The Stoning
2007: Die Familienanwältin
2007: Four Women and a Funeral
2010: Vienna Crime Squad
2012: Das Vermächtnis der Wanderhure
2012: Transpapa
2013: Großstadtrevier
2013: Der letzte Bulle
2013: In aller Freundschaft
2014: The Quest
2014: Zeit der Kannibalen
2015: Es kommt noch besser
2015: Letzte Spur Berlin
2015: Dominion
2016–2017: Emerald City
2016: Wie Männer über Frauen reden
2016: Offline: Are You Ready for the Next Level?
2016: Captain America: Civil War
2017: Dr. Klein
2017: Wonder Woman
2017: Arthur & Claire
2018: Alarm für Cobra 11 – Die Autobahnpolizei
2018: Deutschland 86
2018: Black Panther
2018: Avengers: Infinity War
2018: Mute
2019: Tatort
2019: The Lion King
2019: Criminal: Deutschland
2020: Spides
2020: Deutschland 89
2021: The Falcon and the Winter Soldier
2021: Marvel Studios: Assembled
2022: Story House Productions in association with ZDF, Arte, and ZDF Enterprises: Cold Case
2022: Black Panther: Wakanda Forever
Awards/Nominations
In 2016 Kasumba was nominated for the Black Entertainment Film Fashion Television & Arts Award for International Rising Star.
Florence Kasumba Net Worth
Florence Kasumba's net worth as of 2022 is $1.5 million.