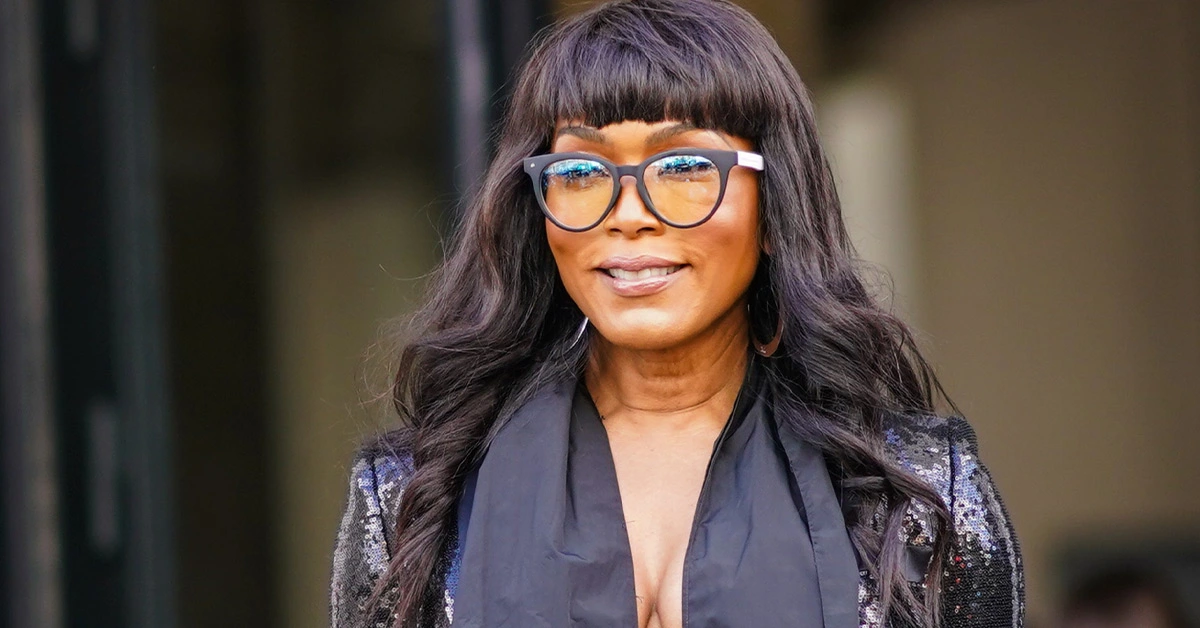 Angela Bassett Evelyn is a famous American actress, film producer and director. She particularly portrays real-life African-American women who are strong and intelligent. She has been acting since the 1980s and is currently one of the best-paid African-American actresses in Hollywood.
Angela Bassett Biography
Bassett was born on August 15th, 1958 in New York City. Her mother Betty Jane (née Gilbert) was a social worker, and a civil servant, and her father Daniel Benjamin Bassett, was a preacher's son. Ten months after the birth of the actress, her mother became pregnant again with her second child, Bassett's sister D'nette. Due to the stress of the pregnancy and having a baby around Bassett was sent to her paternal aunt, Golden, in Winston-Salem, North Carolina.
When she was four years old her parents divorced and Bassett was picked up from her aunt's by her mother and then relocated with her sister to St. Petersburg, Florida. She did not see her father for many years following the divorce until she went to her grandmother's funeral. There, Bassett met her father's daughter; her step-sister from his first marriage, Jean Bassett who at twelve years old, was way older than Bassett.
Angela  Evelyn Bassett Education
Bassett attended Jordan Park Elementary School, after graduation, she started being bussed out of her neighborhood to attend Disston Middle School for her seventh grade, which was in 1970, a year before that busing was enforced to integrate public schools in St. Petersburg. After her seventh grade, Bassett was bused to Azalea Middle School for eighth and ninth grade.
She attended Boca Ciega High School and was a member of the cheerleading team and the Upward Bound college prep program, the debate team, student government, the drama club, and the choir. While Bassett was in high school, she became the first African-American from her school to be admitted to the National Honor Society. She partook in Upward Bound, an educational and cultural enrichment program for disadvantaged students.
Bassett continued her education by attending Yale University where she obtained her B.A. degree in African-American studies and graduated in 1980. Three years later, she attained an M.F.A. degree from the Yale School of Drama. In 2018, she was granted an honorary D.F.A. degree from Yale University, her alma mater.
Angela Bassett Career
After graduating college, Bassett worked as a receptionist for a beauty salon and as a photo researcher. She then started looking for acting work in the New York theater. Her first debut performance came in 1985 when she was cast in J. E. Franklin's Black Girl at Second Stage Theatre. She appeared in two August Wilson plays at the Yale Repertory Theatre directed by her long-time instructor Lloyd Richards. The Wilson plays featuring Bassett were Ma Rainey's Black Bottom (1984) and Joe Turner's Come and Gone (1986). She moved to Los Angeles in 1988 for more acting gigs, with early guest spots on A Man Called Hawk and 227, both 1989 films. In 2006, she was opportune to work on the Wilson canon again, starring in Fences alongside actor Laurence Fishburne at the Pasadena Playhouse in California.
After acting in a few minor roles, including as Reva Styles in Boyz n the Hood (1991), Bassett finally had her breakthrough when she played singer Tina Turner in the 1993 biopic What's Love Got to Do with It, a role that earned her a nomination for the Academy Award for Best Actress. She went on to star in several noteworthy movies, including; as Betty Shabazz in both Malcolm X (1992) and Panther (1995), as Katherine Jackson in The Jacksons: An American Dream (1992), as Voletta Wallace in Notorious (2009), as Amanda Waller in Green Lantern (2011), and as Coretta Scott King in Betty & Coretta (2013). Janet Williams in Music of the Heart (1999), Lynne Jacobs in Olympus Has Fallen (2013) and London Has Fallen (2016), and several others.
In February 2018, Bassett was cast in the famous Marvel superhero film Black Panther as Queen Ramonda, mother of the titular character, and will also feature in its upcoming sequel Black Panther: Wakanda Forever (2022), as well as in Avengers: Endgame (2019).
Angela Bassett Movies and TV Shows
Listed below are all the theater, movies and TV shows that Bassett has featured in;
Theater
Black Girl (1986)
Henry IV Part 1 (1987)
Joe Turner's Come and Gone (1988)
Macbeth (1998)
The Mountaintop (2011-12)
Angela Bassett Movies
1986: F/X
1990: Kindergarten Cop
1991: Critters 4
1991: Boyz n the Hood
1991: City of Hope
1992: Innocent Blood
1992: Malcolm X
1992: Passion Fish
1993: What's Love Got to Do with It
1995: Panther
1992: Strange Days
1995: Vampire in Brooklyn
1995:Waiting to Exhale
1997: Contact
1998: How Stella Got Her Groove Back
1999: Our Friend, Martin
1999: Music of the Heart
2000: Supernova
2000: Whispers: An Elephant's Tale Groove
2000: Boesman and Lena
2001: The Score
2002: Sunshine State
2003: Unchained Memories
2003: Masked and Anonymous
2004: The Lazarus Child
2004: Mr. 3000
2005: Mr. & Mrs. Smith
2006: Akeelah and the Bee
2007: Meet the Robinsons
2008: Gospel Hill
2008: Of Boys and Men
2008: Meet the Browns
2008: Nothing But the Truth
2009: Notorious
2011: Jumping the Broom
2011: Green Lantern
2012: This Means War
2012: I Ain't Scared of You
2013: Olympus Has Fallen
2013: Black Nativity
2014: White Bird in a Blizzard
2015: Curious George 3: Back to the Jungle
2015: Survivor
2015: Chi-Raq
2016: London Has Fallen
2018: Black Panther
2018:Mission: Impossible – Fallout
2018: Bumblebee
2019: Avengers: Endgame
2020: Soul
2021: Tina
2021: Gunpowder Milkshake
2022: Wendell & Wild
2022: Black Panther: Wakanda Forever
2023: Damsel
TBA: Wildwood
Angela Bassett TV Shows

1985: Search for Tomorrow
1985: Spenser: For Hire
1985: Doubletake
1985-1988: The Cosby Show
1986: Liberty
1987: Ryan's Hope
1987: Guiding Light
1987: Leg Work
1989: HeartBeat
1989: A Man Called Hawk
1989: Tour of Duty
1989: 227
1989: Thirtysomething
1990: Alien Nation
1990: Family of Spies
1990: Snoops
1990: Challenger
1990: Equal Justice
1990: In the Best Interest of the Child
Perry Mason: In the Case of the Silenced Singer
1991: Line of Fire: The Morris Dees Story
1991: The Flash
1991: Fire: Trapped on the 37th Floor
1991: Stat
1991: The Heroes of Desert Storm
1991: Locked Up: A Mother's Rage
1991: One Special Victory
1992: Nightmare Cafe
1992: The Jacksons: An American Dream
1995: Get Smart
2001: Ruby's Bucket of Blood
2002: The Rosa Parks Story
2003: Freedom: A History of Us
2003: The Bernie Mac Show
2003: Nikita
2005: Alias
2006: Time Bomb
2008–09: ER
2010: The Simpsons
2011: Identity
2012: Rogue
2013: Betty & Coretta
2013–14: American Horror Story: Coven
2014–15: American Horror Story: Freak Show
2015–16: American Horror Story: Hotel
2015–18: BoJack Horseman
2016: American Horror Story: Roanoke
2016: The Snowy Day
Close to the Enemy
2017: Underground
2017-2021: Master of None
2018: American Horror Story: Apocalypse
2018: The Flood
2018- present: 9-1-1
2019: A Black Lady Sketch Show
2019: The Imagineering Story
2021: Malika the Lion Queen
2021: What If…?
2022: 9-1-1: Lone Star
2022: The Kelly Clarkson
These are the movies Angela Bassett has directed and produced;
2015: Whitney
2015: Breakthrough
2016: American Horror Story: Roanoke
2017: American Horror Story: Cult
2001: Ruby's Bucket of Blood Television film
2002: Our America
2002: The Rosa Parks Story
2017: Remand
2018–present 9-1-1
2019: Otherhood
2020–present: 9-1-1: Lone Star
Bassett also worked on these video games 2015 Tom Clancy's Rainbow and 2022 Horizon Forbidden West.
Awards/Nominations
Basset has won a total of 20 noteworthy awards and 74 nominations.
Angela Bassett Husband and Family
Bassett met her husband Courtney B. Vance at Yale, he was a 1986 graduate of the drama school. They got married in 1997. The couple soon welcomed their twin using a surrogate. The couple's twins are son Slater Josiah Vance and daughter Bronwyn Golden Vance.
Bassett is a contributor to programs for the arts, particularly for youth. She is in attendance yearly for events for children with diabetes and those in foster homes. She is an Ambassador of UNICEF for the United States and belongs to the West Angeles Church of God in Christ. She also supports the Royal Theater Boys & Girls Club of St. Petersburg, Florida.
The mother of two was initiated as an honorary member of Delta Sigma Theta sorority on July 13, 2013.
Angela Bassett Net Worth
The actress' net worth is estimated at $25 million. She is one of the highest-paid African American actresses in the world.