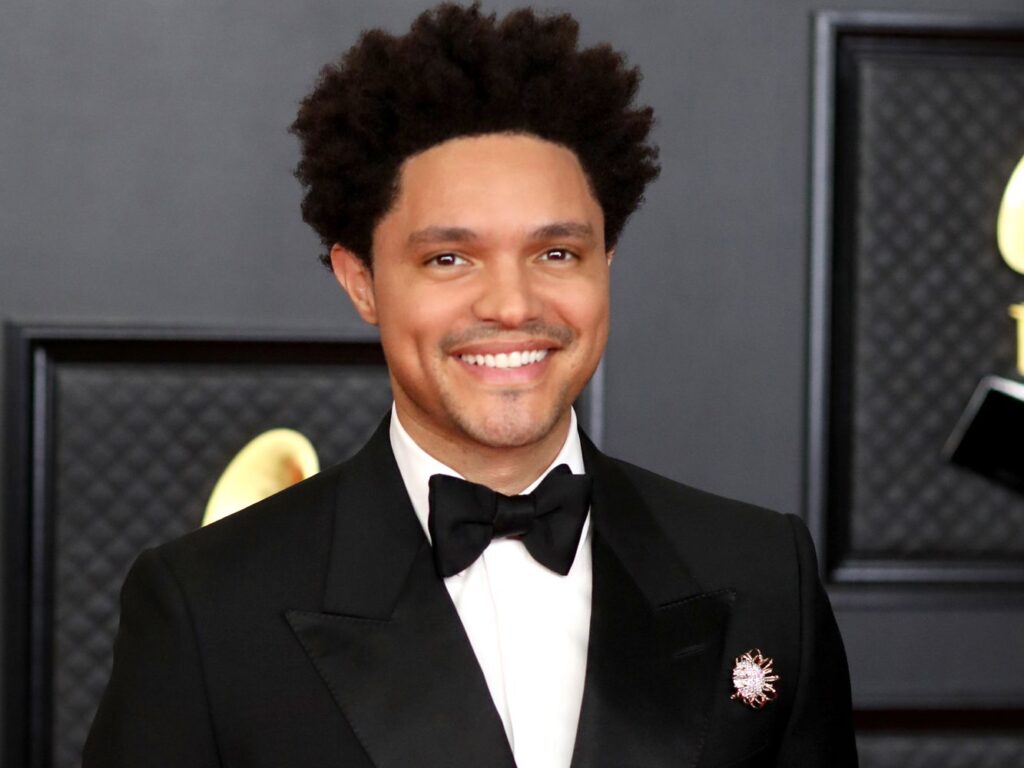 Trevor Noah is a South African comedian, television host, actor, and political commentator. Noah is the host of one of America's most famous shows, The Daily Show, a satirical news program on Comedy Central.
Trevor Noah Biography
Trevor Noah was born on the 20th of February 1984 in Johannesburg, Gauteng, South Africa, to his father Robert, who is of Swiss-German ancestry, and his mother, Patricia Nombuyiselo Noah, is Xhosa. 
The comedian has always talked about his early life growing up under the apartheid legislation that prohibits white and black relationships. Noah and his mother were classified as colored people thus they lived separated from his father. Due to the illegality of interracial marriage at that time Noah's mother raised him in the black community of Soweto.
Noah's mother, Patricia Nombuyiselo, married Ngisaveni Abel Shingange in 1992; they both have two sons together, Andrew and Isaac. Noah's new stepfather physically abused both Trevor and his mother, and the couple legally divorced in 1996.
Noah attended Maryvale College, a private Roman Catholic primary and high school in Johannesburg.
Trevor Noah Career
Noah's career kick-started in 2002 in his home country of South Africa when he got a role in an episode of a popular soap opera Isidingo. He then moved on to hosting his show called Noah's Ark on YFM, Gutang's leading youth radio station. Noah quit his radio show and acting career to focus on comedy and he turned out to be a very good stand-up comedian. He performed with the big names in the South African comedy industry the such as David Kau, Kagiso Lediga, Riaad Moosa, Darren Simpson, Marc Lottering, Barry Hilton, and Nik Rabinowitz, international comedians like Paul Rodriguez, Carl Barron, Dan Ilic, and Paul Zerdin, and as the opening act for American comedian Gabriel Iglesias in November 2007 and Canadian comedian Russell Peters on his South African tour.
Besides his reputation as a great comedian Noah was also a remarkable Television host, he was the host of an educational program Run the Adventure on SABC 2 from (2004 to 2006) and several other great shows and monumental events in South Africa. 
In 2011 Noah relocated to the United States. A year later, he became the first South African stand-up comedian to feature on The Tonight Show; and later in 2013, he also became the first to appear on Late Show with David Letterman. Noah was the subject of the 2012 documentary You Laugh But It's True. The same year, he starred in the one-man comedy show Trevor Noah: The Racist, which was based on his prior work titled South African special That's Racist. In September 2012, Noah was the Roastmaster in a Comedy Central Roast of South African Afrikaans singer Steve Hofmeyr. In 2013, he performed the comedy special Trevor Noah: African American. Noah was a panelist on Channel 4 game show 8 Out of 10.
In December of 2014, Noah became a frequent contributor on The Daily Show. Less than a year later, Comedy Central announced that Noah would succeed Jon Stewart as host of The Daily Show; he began hosting the show on 28 September 2015.
Besides all his above career achievements, Noah is also a writer; his memoir Born a Crime was released in November 2016 and was approvingly received by major U.S. book critics. The book quickly became a No. 1 New York Times Bestseller and was named one of the best books of the year by The New York Times, Newsday, Esquire, NPR, and Booklist. It was made public that a film adaptation centered on the book would feature Lupita Nyong'o as Noah's mother.
Noah made an appearance on the TV series Nashville in 2017 and a year later, he was featured in Black Panther, Coming 2 America, and American Vandal.
In addition to all his various engagements coupled with his hosting experience, Noah hosted the Grammy Awards twice in 2021 and 2022. He was also the host of the White House Correspondents' Dinner in 2022.
Personal Life
The South African television host is a polyglot as he speaks English, Afrikaans, Zulu, Xhosa, Tswana, Tsonga, and some German. 
In 2009, after the comedian's mother remarried to a man named Sfiso Khoza, Shingange her abusive ex-husband shot her in the leg and through the back of her head; she survived the bullet impact which missed her brain and major nerves, but not without visible minor damage to her nostril. When Noah confronted the shooter over the phone it only provoked Shingange to threaten Noah's life. The threat to his life made Noah leave Johannesburg for Los Angeles.
He founded the Trevor Noah Foundation. The foundation is a Johannesburg-based non-profit organization that provides orphans and underprivileged youths with the education, life skills, and social capital essential to go after future opportunities.
Noah is not yet married but he has been romantically linked to women like; musician and physiotherapist, Dani Gabriel a fellow South African, singer and model Jordyn Taylor, and recently Minka Kelly.
Filmography
Trevor Noah has appeared in the following movies and TV shows;
Isidingo (2002)

The Amazing Date (2008)

Trevor Noah: The Daywalker (2009)

Tonight with Trevor Noah (2010-2011)

Trevor Noah: Crazy Normal (2011)

Trevor Noah: That's Racist (2012)

Comedy Central Roast of Steve Hofmeyr (2012)

Gabriel Iglesias Presents Stand Up Revolution (2012)

You Laugh But It's True (2011)

Taka Takata (2011)

Mad Buddies (2012)

Trevor Noah: African American (2013)

Trevor Noah: It's My Culture (2014)

The Daily Show with Jon Stewart (2014-2015)

The Daily Show with Trevor Noah (2015 to present)

Trevor Noah: Lost in Translation (2015)

Trevor Noah: Pay Back the Funny (2015)

Trevor Noah: Afraid of the Dark (2017)

Nashville (2017)

Trevor Noah: There's a Gupta On My Stoep (2017)

The Opposition with Jordan Klepper (201to 2018)

American Vandal (2018)

Trevor Noah: Son of Patricia (2018)

Black Panther (2018)

Klepper (2019)

63rd Annual Grammy Awards (2021)

Coming 2 America (2021)

64th Annual Grammy Awards (2022)

White House Correspondents' Dinner (2022)
Awards/Nominations and Accolades
Trevor Noah has been nominated 53 and won 18 awards; listed below are the awards Noah has won in the course of his two-decades-long career;
In 2012, he won the South African Comics' Choice Award – Comic of the year.

He won the MTV Africa Music Awards in 2015 – Personality of the year 

He received the Zora Neale Hurston Award in 2017

He won two NAACP Image Awards in 2017, as Outstanding Literary Work – Biography / Auto-biography and Outstanding Literary Work – Debut Author for his book Born a Crime.

He received the Nickelodeon Kids' Choice Award – Favourite African Star (2017)

GLAAD Media Award – Outstanding Talk Show Episode (2017)

MTV Movie & TV Awards – Best Host (2017)

Primetime Emmy Award – Outstanding Short Form Variety Series (2017l

Thurber House – American Humor (2017)

NAACP Image Awards – Outstanding Writing in a Comedy Series (2019)

NAACP Image Awards – Outstanding Host in a Talk or News/Information (Series or Special) – Individual or Ensemble and Outstanding Short-Form Series – Reality/Nonfiction(2020)

MTV Movie & TV Awards – Best Host (2020)

Academy of Television Arts & Sciences – Television Academy Honor (2021)

NAACP Image Awards – Outstanding Talk Series and Outstanding Host in a Reality/Reality Competition, Game Show or Variety (Series or Special) – Individual or Ensemble, and Outstanding Short-Form Series (Drama or Comedy) (2022)
Noah was selected as the Class Day speaker at the 2021 Princeton University's Class of 2021. He addressed the congregation virtually on that day and was also inducted as an honorary member of the Class of 2021.
Trevor Noah Net Worth
Trevor Noah's total wealth is estimated to be $100 million by reliable sources.