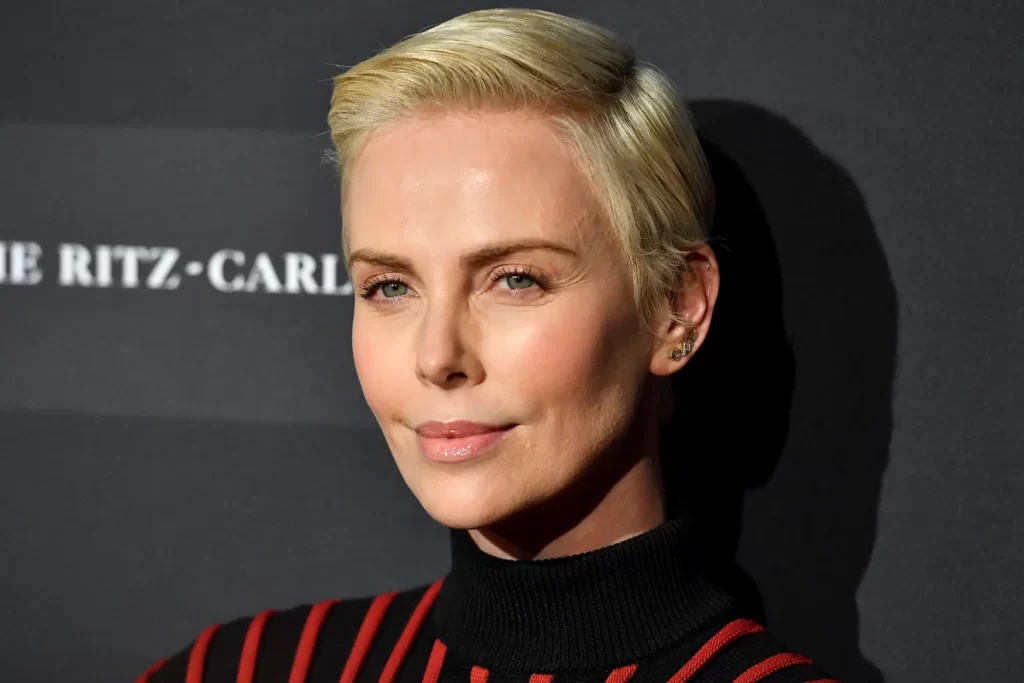 Charlize Theron is a South African-born American actress and producer. She is one of the most recognized and highest-paid actresses in the world. Theron is also the richest South African-born celebrity. She is known for her talent, humor, and hard work. The gorgeous actress was also named among the 100 most influential people in the world by Times Magazine in 2016.
Charlize Theron Biography
Charlize Theron was born on the 7th, of August 1975 in Benoni, in Transvaal Province now referred to as Gauteng Province in 1994 in South Africa to Charles and Gerda Theron both road constructionists. She is from an Afrikaner family, and her ancestry includes Dutch as well as French and German. Her French ancestors were early Huguenots in South Africa. The Second Boer War military leader Danie Theron was her great-great-uncle. Theron grew up on her parents' farm in Benoni, very close to Johannesburg. Theron's father, Charles, was an alcoholic who abused his wife and child whenever he was under the influence. On 21 June 1991, her father as usual threatened his family by firing a gun at them, her mother retrieved her gun and fired at her husband, which killed Charles Theron. However, the shooting was legally ruled to have been self-defense, and Gerda Theron faced no charges.
Education
Theron went to Putfontein Primary School for her primary school education and as a teenager was enrolled in a boarding school where she began her studies at the National School of the Arts in Johannesburg. She attended the Joffrey Ballet School in New York until she suffered a knee injury. 
Charlize Theron Career
At 16 years old Theron who was a dancer by the time won a year modeling contract at a local competition at Salerno. She, alongside her mother, moved to Milan, Italy to pursue her modeling career. She later moved to the United States where she attended Joffrey Ballet School in New York until she sustained a knee injury and stopped dancing. In 1994, Theron ran into John Crosby by chance in the bank who later introduced her to an acting school and a year later she appeared in the horror film Children of the Corn III: Urban Harvest, playing a non-speaking role. In 1996 Theron got her first speaking role as a hitwoman in the movie 2 Days in the Valley. In 1997, she got a role in another horror movie but this role brought her to prominence; she appeared in the movie Devil's Advocate alongside Keanu Reeves, Al Pacino. Subsequently, she got more roles in major blockbusters and rose to fame.
Personal Life
Theron, who was born a South African, became a naturalized citizen of the United States in 2007 while maintaining her South African citizenship.
The multiple award-winning actress became a mother through adoption in March of 2012 when she adopted her first daughter Jackson from South Africa and later adopted another daughter August in 2015 in the United States. Her first daughter Jackson was adopted as a male but now identifies as a girl and she has the love and support of her mother regardless of what gender she chooses to identify with.
The mother of two went public in 2018 to share with the world how she went to therapy for anger management while she was in her thirties due to the frustration and chaos she experienced as a teenager living in South Africa during South Africa's apartheid.
The 46-year-old star has had her fair share of romantic relationships although currently single now; her first known public relationship was with actor Craig Bierko after two years of dating the relationship ended in 2017. Theron then started singer Stephan Jenkins and that ended in 2001.
She also dated a fellow co-star Stuart Townsend in 2001 after meeting him on the set of the movie Trapped but the relationship ended after eight years. Her last known public relationship was with fellow actor Sean Penn and the relationship only lasted from 2013 to 2015.
Charlize Theron Movies
Charlize Theron has featured in several movies from music videos to Television series, her voice has also been featured in animation and a video game. Listed below are movies, Theron was featured in; 
Children of the Corn III: Urban Harvest (1995)

That Thing You Do! (1996)

The Devil's Advocate (1997)

2 Days in the Valley (1997)

Trial and Error (1997)

Mighty Joe Young (1998)

Celebrity (1998)

The Cider House Rules (1999)

The Astronaut's Wife (1999)

Men of Honor (2000)

The Legend of Bagger Vance (2000)

Reindeer Games (2000)

The Yards (2000)

Sweet November (2001)

The Curse of the Jade Scorpion (2001)

15 Minutes (2001)

Waking Up in Reno (2002)

Trapped (2002)

The Italian Job (2003)

Monster (2003)

The Life and Death of Peter Sellers (2004)

Æon Flux (2005)

North Country (2005)

Hancock (2008)

Astro Boy (2009)

The Road (2009)

Young Adult (2011)

Snow White and the Huntsman (2012)

Prometheus (2012)
A Million Ways to Die in the West (2014)
Mad Max: Fury Road (2015)

The Last Face (2016)

Kubo and the Two Strings (2016)

The Fate of the Furious (2017)

Tully (2018)

Long Shot (2019)

Bombshell (2019)

F9 (2020)

The Addams Family 2 (2021)

The School for Good and Evil (2022)

Fast X (2023)

Fast & Furious 11 (2024)
And TV shows like;
Hollywood Confidential

Saturday Night Live

The Life and Death of Peter Sellers

Arrested Development

Robot Chicken

Hatfields & McCoys

Saturday Night Live

Girlboss

The Orville

MindHunter

Hyperdrive

Home Movie: The Princess Bride
Theron also worked as the executive producer of the following films;
Monster (2003)

East of Havana (a documentary, 2006)

Sleepwalking (2008)

The Burning Plain (2008)

Dark Places (2014)

Brain on Fire (2016)

Atomic Blonde (2017)

Tully (2018)

Gringo (2018)

Long shot (2019)

Murder Mystery (2019)

The Addams Family (2019)

The Old Guard (2020)
Theron Other Ventures
She has numerous endorsement deals with multinational companies. Theron signed a deal with John Galliano in 2004,  she replaced model Tiiu Kuik as the spokeswoman in the J'Adore advertisements by Christian Dior. Later in 2018, she appeared in another advertisement for Dior J'Adore. Raymond Weil watches used the actress' images for advertisements from 2005 to 2006 which earned her $3 million. In 2018, Theron alongside Brad Pitt, Daniel Wu, and Adam Driver signed as brand ambassadors for Breitling named the Breitling Cinema Squad.
She founded the Charlize Theron Africa Outreach Project (CTAOP) in 2007. In 2008, the project was recognized by the United Nations and was named a UN messenger of peace. The project was created to support local-engaged organizations that address the carriers of HIV/AIDS. Theron is also involved in women's rights organizations and has marched in pro-choice rallies. She is a supporter of same-sex marriage and went for a march and rally to show her support. 
Charlize Theron Awards/Nominations And Honors
Theron has 39 award wins and 100 nominations to her name as of 2020. Some of her received accolades range from;
Bambi Award 

Satellite Award for Best Supporting Actress – Motion Picture

Academy Award for Best Actress

 Critics' Choice Movie Award for Best Actress

Screen Actors Guild Award for Outstanding Performance by a Female Actor in a Leading Role

Golden Globe Award for Best Actress in a Motion Picture – Drama

BAFTA Award for Best Actress in a Leading Role

Desert Palm Achievement Award

Hollywood Actress Award

MTV Movie Award for Best Female Performance

Saturn Award for Best Actress

AACTA International Award for Best Actress

Washington D.C. Area Film Critics Association Award for Best Actress

AACTA Award for Best Actress in a Leading Role, 

American Cinematheque Award 2019

Hollywood Career Achievement Award 2019

Hollywood Walk of Fame 2005

Indie Impact Award 2012
Charlize Theron Net Worth

 
The South African American actress is currently worth $170 million.