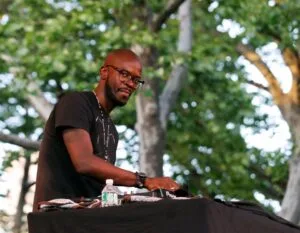 Black Coffee Biography
Black Coffee, Popularly known as DJ Black Coffee is a well-known South African songwriter, singer, entrepreneur, and also a Disc Jockey. His real name is Nkosinathi Innocent Maphumulo. Black Coffee is known as a veteran in the South African music industry, he has achieved greatly in his personal life and career.
Black Coffee was born on the 11 of March 1975 in Durban, South Africa. His parents are South Africans and he was born into a Christain home. Black Coffee's father left his mother when he was 12 years old, he had to carter for himself at that young age. He left his place of birth with his mother and moved to Ngangelizwe, a town in Umtata. He obtained a major in Jazz from the Durban University of Technology formerly called Technikon Natal. 
Black Coffee Career 
Black Coffee and his friends on campus created a music group called "SHANA" Simply Hot And Naturally African performing Afro-pop music. Black Coffee was well known independently as an artist and Dj at the Red Bull Music Academy when he was chosen as one of the two South Africans participants in Cape town in 2003. His music started becoming popular and was getting massive exposure from top sites and well-known spaces in the South African Entertainment industry.
Black Coffee showed what he is made up of in 2005 when he dropped a remix of Hugh Masekela's 1972 hit Stimela. That same year, he dropped a self-titled debut album titled " Black Coffee" and created his record label.
The album " Black Coffee" did amazingly well and the public love it, he stated that the album was created with simple software. Black Coffee got massive popularity in 2016 when he released a song titled "Happiness". He has become more popular and has released a lot of songs and albums since then. He has also collaborated with Top artists such as Usher in "Laila", David Guetta in "Drive". in 2107, Drake also recognized DJ Black Coffee as a major contributor to his "Get It Together" album.
Black Coffee Albums and Songs
After the release of his first song and album, DJ Black Coffee has gone on to release numerous songs and albums. Below are his albums and songs.
DJ Black Coffee Albums
Black Coffee: 2005

Have Another One: 2007

Home Brewed: 2009

Africa Rising DVD: 2012

Africa Rising CD: 2012

Pieces of Me: 2015

The Journey Continues: 2016

Music is King EP: 2018
DJ Black Coffee Songs 
We Dance Again

Deep in the Bottom

Come with Me

Your Eyes

Superman

Rock My World

Buya

Afraid of The Dark

You Rock my World

Trip to Lyon

I'll Find You

Stuck in your love

The Beat of Indlamu

Izizwe

Never Saw You Coming

Gardens of Eden

Kwanele

Extra Time on you

Inseparable

I Know What's On your Mind

Love on fire

100 Zulu Warriors

Wathula Nje

Music is the answer

Inkodlo Kamashimsne

Someday

Traveler

Angelina

Gratitude

I Have Faith

Time to Go

Molo Sweetie
Black Coffee Marriage
DJ Black Coffee was initially married to a South African actress and presenter Enhle Mbali Mlotshwa. They got engaged in 2011 and their traditional marriage was that same year. In 2017 their marriage was legally registered in the registry. His union with the popular South African actress Enhle Mbali Mlotshwa was blessed with two kids.
In July 2019, Black Coffee and the Enhle Mbali Mlotshwa got separated, it was reported to be a divorce. Currently, the South African producer, DJ and singer is seeing an actress and make-up artist from the United Kingdom Cane Alexandra. Black Coffee is currently a father of six children
Black Coffee Awards
Black Coffee has had a successful career so far which has seen him gotten several nominations and he has also walked with various awards and recognitions.
SAMA Best Urban Dance Album: 2005 

South African Music Awards: 2010

12th South African Music Awards: 2006

SAMA Best Male Artist: 2010 

Health Magazine Best Man: 2010 

Best Produced Album by Metro FM Award: 2010 

Best Dance Album by Metro FM Award: 2010 

Most Talented Male Artist by Channel O Award: 2011 

Coolest DJ by Sunday Times Generation Next Award: 2012 

SAMA Best Dance Album: 2013 

Coolest DJ by Sunday Times Generation Next Award: 2013

Coolest DJ by Sunday Times Generation Next Award: 2014 

Breakthrough DJ of the Year by DJ Awards: 2015 

SAMA Best Dance Album: 2016 

Album of the Year Best Engineered Album International Recognition: 2016 

Best International Act by BET Award: Africa: 2016 

DJ Awards Best Deep House DJ: 2016 

DJ Awards Best Deep House DJ: 2017 

Dance Music Awards South Africa Best International Producer: 2018 

Best International DJ
Black Coffee Net Worth
The popular South African producer and DJ are rated as one of the richest entertainers in South Africa and Africa in general with an estimated net worth of about $60 million. 
Black Coffee is active on social media, more especially on Instagram. You can connect with him on Instagram: @realblackcoffee