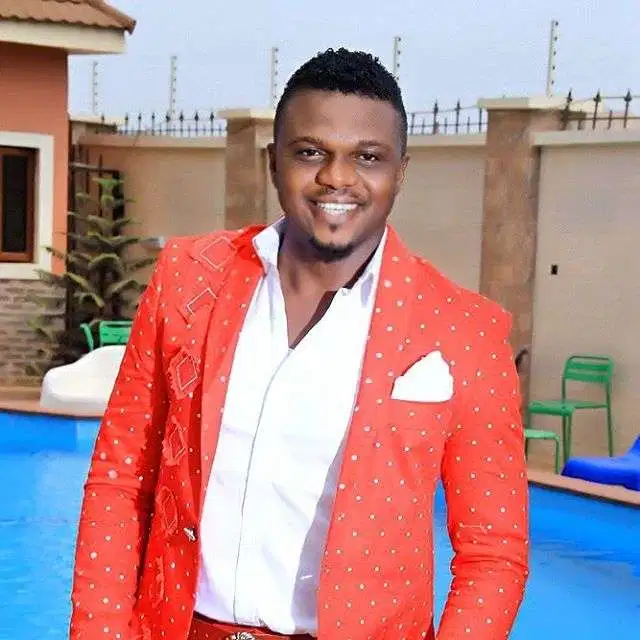 Ken Erics was born Ekenedilichukwu Ugochukwu Eric Nwenweh. He is an award-winning Nigerian actor, screenwriter, producer, and musician. The handsome actor is talented, hardworking, and humble, all characters that have helped elevate him in the entertainment industry. 
Ken Eric Biography
Ken Erics was born on February 28th, 1985 in Kano State, Northwest Nigeria, although Erics is an indigene of Enugwu-Ukwu in Anambra State, Southeast Nigeria. He was the sixth child of the seven children of Eric Chukwuemeka Nwenweh and Grace Ifeyinwa Nwenweh. He grew up in the average Nigerian home and had a normal childhood.
EDUCATION
Erics attended Binta Mustapha Science Nursery and Primary School, Kano for his basic education, and his secondary education he attended Dennis Memorial Grammar School (DMGS) Onitsha, Anambra State. Erics showed an exceptional passion for the arts, and this passion brought about his bachelor's degree in Theatre Arts, he obtained this degree at the prestigious Nnamdi Azikiwe University Awka, Anambra State. He went further to get a master's degree also in Theatre and Film studies.
CAREER
Ken Erics' career started in his days at the university. While he was in his first year at Nnamdi Azikiwe University in 2011 he got his debut role in the movie which was directed by Chris Ubani 'Holy Prostitute'. He appeared in only three scenes in the movie but that launched his career. When Erics graduated he started going for movie auditions just like any other aspiring young actor, he landed a few cameo roles. In 2012 he was featured in the movie the illiterate he played the role of "ugo" a role he played well because this opened doors for him and earned him a place in the spotlight.
As a musician, Erics once ran a small band. He plays the guitar and keyboard well, he seldom sings and has produced a few original soundtracks.
Erics is also a published author and his first book Cell 2 gained recognition and was used by a few Nigerian tertiary institutions for academic and stage plays.
FILMOGRAPHY
The multiple award-winning actor has starred in several movies in Nollywood. Featured in movies among Nollywood top actors and actresses, like Ngozi Ezeonu, Yul Edochie, Desmond Elliot, Chiwetalu Agu, Regina Daniels, Omoni Oboli, Tonto Dikeh, and many more. Some of the movies are listed below:
Holy Prostitute

Silence of the gods

Evil Intention

Silver not Gold

Eran and Erak

A Better Tomorrow 

Days of gloom

The Illiterate

Release me oh Lord

Father Muonso

Sugarcane

Burning Bridges

Trials of Igho

Echoes of Love

Crossed Path

Body Language 

Within These Walls

Valerie

The Vengeance 

Omalicham

Almost Perfect

You are my Light

Fate of Amanda

Omugwo

What Lies Within

Okafor's Law
DISCOGRAPHY
Listed here are some of the songs written and produced by Ken Erics;
Inozikwa Omee 

Thank You Baba 

Mama 

Many Mysteries 

Sugarcane Baby 

Pretense 

Anom Gi N'aka 

Love is Life 
AWARDS
Erics has received notable recognition in the Nigerian movie industry and some of these came in the form of awards and nominations. The following are the awards received by Ken Erics;
He won the 2014 City People Entertainment Awards for Best Supporting Actor.
Also in 2014, he won the Afrifimo Awards (USA) for the Best Lead Actor category.
In 2015 and 2017 he won the City People Entertainment Awards for Best Actor in both years.
In 2017, Ken Erics won Nollywood Ambassadors Awards for Best Actor of the Year.
He won the South-South Achievers Awards (SSA) in 2019 for the Male Actor of the Year.
PERSONAL LIFE
In 2017, Ken Erics married his long-term girlfriend Onyi Adada in a big ceremony, however, three years later the couple separated on alleged domestic violence charges.
SOCIAL MEDIA PROFILE
Ken Erics has millions of followers on both his Instagram and Twitter pages. As a young celebrity at the peak of his career, he is not shy to let his followers in on some of the details of his life that he shares on his social media pages. His Instagram handle is @KenErics and his Twitter handle is @Kenerics.
Ken Eric Net Worth
The 37-year-old actor's net worth as of when this article is being written is said to be $500,000 from reliable sources all being income from his music and acting career.