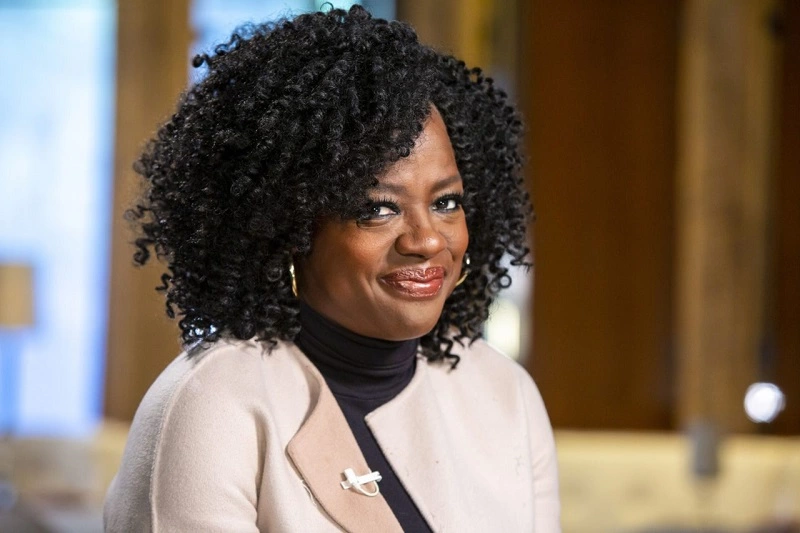 Viola Davis is an American actress, producer, and author. She is a world-renowned actress with almost three decades in Hollywood. She is a multiple award-winning actress famous for her talent and skills.
Viola Davis Biography
Viola Davis was born on August 11th, 1965, in St. Matthews, South Carolina, on her grandmother's farm on the Singleton Plantation. Her parents are Mae Alice Davis (née Logan) and Dan Davis. Her father worked as a horse trainer, and her mother worked as a maid and a factory worker. Davis was the fifth child of her parent's six children; she has four sisters and a brother. After her birth, her parents moved with Davis and two of her older siblings to Central Falls, Rhode Island, leaving her three other siblings with her grandparents.
Davis' mother was an activist during the Civil Rights Movement and at age two, the actress was taken to jail after she was arrested during a civil rights protest.
She studied at Central Falls High School and later studied at the Young People's School for the Performing Arts in West Warwick, Rhode Island, it was there Davis's talent was acknowledged by Bernard Masterson, a director of the program.
She furthered her education by going to Rhode Island College, where she studied theater; she graduated in 1988. Next, Davis studied at the Juilliard School for four years and was a member of the school's Drama Division.
Viola Davis Career
Davis appeared in her first professional stage role in 1992, an off-Broadway production of William Shakespeare's comedy As You Like It. Davis made her Broadway debut in 1996, in the original Broadway production of August Wilson's Seven Guitars. She proceeded with acting off-Broadway in different productions and was featured in bit parts on television series including episodes of NYPD Blue and New York Undercover. Davis was also cast in the HBO television comedy film, The Pentagon Wars. She appeared in several movies and shows following that.
In February 2014, Davis joined the cast in Peter Nowalk's pilot How to Get Away with Murder produced by Shonda Rhimes for her ShondaLand production company playing the lead character as Annalise Keating. In 2016, she played the role of Amanda Waller in the DC Extended Universe film Suicide Squad and its sequel.
Davis declared openly in 2017 that she would write the sequel to the classic picture book Corduroy, titled Corduroy Takes a Bow. In 2018, Davis debuted Two-Sides, a documentary series exploring police brutality toward the African-American community. She also announced that she would feature in the film The Woman King. A film inspired by true events that took place within The Kingdom of Dahomey centuries ago. It was released in 2022. Also recently, Davis returned to portray Amanda Waller again in the DC superhero film, Black Adam (2022).
Her memoir, Finding Me, was released in 2022 as well.
Viola Davis Movies and TV Shows
Some of the television series and movies Davis has featured in are listed below;
The Substance of Fire (1996)
The Pentagon Wars (1998)
Out of Sight (1998)
Judging Amy (2000)
City of Angels (2000)
Ocean's 11 (2001)
Antwone Fisher (2002)
Law and Order: Special Victims Unit (2003-2008)
Century City (2004)
Life Is Not a Fairy Tale (2006)
Doubt (2008)
State of Play (2009)
Madea Goes to Jail (2009)
Law Abiding Citizen (2009)
Trust (2010)
Knight and Day (2010)
Eat Pray Love (2010)
The Help (2011)
Prisoners (2013)
Ender's Game (2013)
The Disappearance of Eleanor Rigby: Her (2013)
How to Get Away with Murder (2014-2020)
Get On Up (2014)
The Disappearance of Eleanor Rigby: Them (2014)
Lila & Eve (2015)
Black hat (2015)
Suicide Squad (2016)
Custody (2016)
Fences (2016)
American Koko (2017)
Widows (2018)
Scandal (2018)
Troop Zero (2019)
Air Jordan
Operation Othello
Ma Rainey's Black Bottom (2020)
The Suicide Squad (2021)
The Unforgivable (2021)
Peacemaker (2022)
The First Lady (2022)
The Woman King (2022)
Black Adam (2022)
The Hunger Games: The Ballad of Songbirds and Snakes (2023)
Viola Davis Awards/Nominations
Davis has received several awards and honors during the course of her career as an actor, she also breaks a few records along the way. In 2012, Time magazine named her one of the 100 most influential people in the world. In 2017 and 2020, The New York Times ranked her ninth on their list of the greatest actors of the 21st century.
Davis won two Tony Awards
She also won three Drama Desk Awards
She received an Obie Award,
Davis won a Theater World Award
Davis has also received nominations for six Golden Globes Awards winning one
She has also received three British Academy Film Awards, winning one.
81st Academy Awards, Best Actress in a Supporting Role, nomination (2008)
On June 30, 2009, Davis was inducted into the Academy of Motion Picture Arts and Sciences
84th Academy Awards, Best Actress in a Leading Role, nomination (2011)
Davis was the first actress of color to win the Primetime Emmy Award for Outstanding Lead Actress in a Drama Series
She was the first African-American to win five Screen Actors Guild Awards.
She won the 89th Academy Awards, Best Actress in a Supporting Role(2016)
In 2017, Davis received a star on the Hollywood Walk of Fame.
93rd Academy Awards, Best Actress in a Leading Role, nomination (2020)
She received a Grammy Award for Best Audio Book, Narration & Storytelling Recording in 2022
Davis received an honorary doctorate in Fine Arts from her undergraduate alma mater, Rhode Island College, in 2002.
On January 20, 2020, she received an honorary doctoral degree in fine arts from Indiana University.
Viola Davis Husband and Personal Life
Davis and actor Julius Tennon tied the knot in June 2003. The couple adopted an infant daughter named Genesis in 2011. The actress is also a stepmother to Tennon's two children from past relationships.
Davis and her husband founded a production company, JuVee Productions.
Davis is also an activist just like her mother. She donated to and supports many humanitarian causes.
Viola Davis Net Worth
The 57-year-old actress is worth $25 million as of 2022.