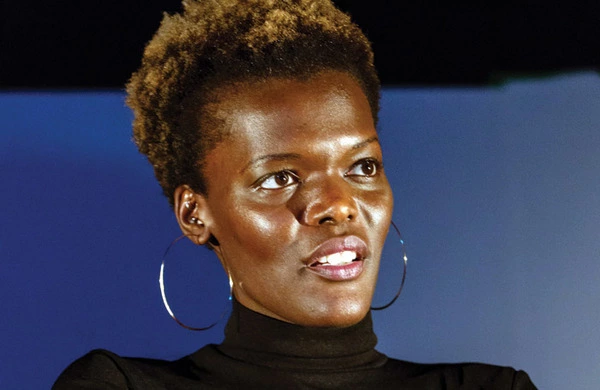 Sheila Atim MBE is a Ugandan-British actress, singer, composer, playwright, and Model. She is famous for her extraordinary acting skills on both stage and screen. She is a multiple award winning actress recently cast in the 2022 epic movie The Woman King.
Sheila Atim Biography
Sheila Atim was born in 1991 in Uganda, her mother however relocated to the United Kingdom with her at the age of five months. She was raised in Rainham, London, Atim will seldom model as a teenager, she was recruited as a model after she shaved the side of her head for a school prom. She modeled in a London Fashion Week event in 2009. Sheila Atim's height cannot go unnoticed as she is about 5Ft 11inches Tall.
Atim attended the Coopers' Company and Coborn School. She later attended King's college London where she studied Biomedical science. She then trained as an actor at the Weekend Arts Centre in Belsize Park, London.
Sheila Atim Career
Atim started acting by being involved in a workshop for a new play, The Lightning Child, written by Walker and Arthur Darvill. From there she got her teacher's attention, Ché Walker cast her for her first professional role at Shakespeare's Globe in 2013. She got several minor roles on stage following that. Atim's first major stage role was in Les Blancs at the National Theatre in 2016 which led to her landing many more lead roles on stage plays.
Atim landed her first on screen role in a film version of Shakespeare's Twelfth Night in 2015. In 2018 she played the role of Limehouse Nell in ITV's Harlots.
Atim is great with musical instruments such as the piano, violin, bass, and drums. She composed the score for the play Time Is Love at London's Finborough Theatre in 2019. She featured in the 2020 BBC adaptation of Agatha Christie's The Pale Horse and also joined the cast of The Underground Railroad, The Irregulars, and Bruised all in the same year. In 2022, Atim was cast in the historical movie The Woman King alongside Viola Davis and John Boyega.
In June 2019, she was honored with an MBE for her services to drama. Atim is currently also on the Board of Trustees of The Old Vic Theatre Trust.
Sheila Atim Movies and TV Shows
Atim has performed in the following stage and screenplays;
2013: The Lightning Child
2014: Ghost Town
2014: Klook's Last Stand
2014: Rachel
2014: Hopelessly Devoted
2014: I Live with Models
2015: The Jew of Malta
2015: Love's Sacrifice
2015: Volpone
2015: The Etienne Sisters
2015: Twelfth Night
2016: Les Blancs
2016: Shakespeare Trilogy: The Tempest
2016: Shakespeare Trilogy: Henry IV
2016: Shakespeare Trilogy: Julius Caesar
2017: Black Lives Black Words – The Interrogation of Sandra Bland
2017: Babette's Feast
2017-2018: Girl from the North Country
2018: Othello
2018: Harlots
2019: Bounty Hunters
2019: The Feed
2019: Time is love / Tiempo Es Amor
2019: Anguis
2020: The Pale Horse
2020: Sulphur and White
2020: Bruised
2020: The Show
2021: Constallations
2021: The Irregulars
2021: The Underground Railroad
2022: Doctor Strange in the Multiverse of Madness
2022: Pinocchio
2022: The Woman King
Sheila Atim Awards/Nominations
Atim was nominated at the 2017 Evening Standard Theatre Award for Emerging Talent
She won the Critics' Circle Theatre Award in 2017 for Most Promising Newcomer
She won the 2018 Laurence Olivier Award and Clarence Derwent Award for Best Actress in a Supporting Role in a Musical
In 2019, Atim won the Screen Nation Film and Television Award for Best Female Performance in Film
In 2022, she received the Laurence Olivier Award Best Actress
She is currently a nominee of the Evening Standard Theatre Awards for Best Actress
Sheila Atim Net Worth
Sheila Atim is currently worth $5 million.