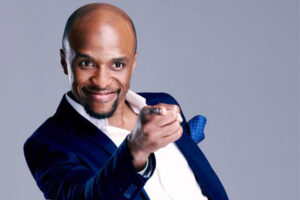 Tats Nkonzo is a South African standup comedian, singer, and television personality best known as the host of the e.tv reality competition SA's Got Talent.
Nkonzo is one of South Africa's most sought-after comedians, he is a multi-award winner, famous not only in South Africa but also Internationally. 
The 36-year-old comedian is active on social media and his official Instagram handle is @tatsnkonzo where he currently has more than 14 thousand followers.
EARLY LIFE
Growing Up And Education
Tats Nkonzo was born on the 19th of March 1985 in Mdantsane, South Africa. More information about his childhood, academics, and family is unknown as of when this article was written.
Tats Nkonzo Rise To Fame
In 2005, Nkonzo competed in the M-Net reality competition "Idols" and he was one of the top 24 finalists in the competition. 
He finally earned himself a spot in the limelight in 2008, when he made the Top 8 of the SABC1 reality competition "So You Think You're Funny!". When the show wrapped up, he was invited to tour with the Top 3 from that season's competition. Nkonzo has performed at Cape Town's Baxter Theatre, Johannesburg's Market Theatre, and the Pieter Torien Theatre (Monte Casino). He was the opening act for Nik Rabinowitz in Nik's one-man shows You Can't Be Serious and also Stand and Deliver.
After his first three years of stage performances, he performed his very first one-man show, "Can't Tats This", in his hometown in East London. He featured in the first Blacks Only DVD after performing as a member of an ensemble line-up at Lyric Theatre.
Nkonzo was also popular for his musical segments on the fourth season of the eNCA's satirical news show Late Nite News with Loyiso Gola, in 2012. Also in the same year, he succeeded Rob van Vuuren and Anele Mdoda as a single host of SA's Got Talent. Nkonzo was the seventh host of the Comedy Central series "Comedy Central Presents… Live at Parker's". Two years later, he was one team captain of the e.tv game show I Love South Africa. He co-hosted Kenneth Nkosi of the Mzansi Magic game show Give Me That Bill Mzansi in 2015.
IMPORTANT LIFE EVENTS
Notable Achievements
Tats Nkonzo has earned himself a spot among the most influential people in South Africa. He has become a role model and mentors to a lot of upcoming comedians and the South African youth at large. Based on Nkonzo stage content, CNN's African Voices profiled him, allowing him to speak about South Africa and "how stand-up comedy fits in the bigger picture of nation-building".
Nkonzo won the BlackBerry Breakthrough Act Award at the 2nd Annual South African Comics Choice Awards, in 2012. And in 2014 he won the International Award; the Montreux Comedy Contest.
Nkonzo was selected by Comedy Central to host his show on the channel. The ratings for the program were so high, he got an invitation to perform in a "Best of" recording alongside Barry Hilton and Chester Missing (Conrad Koch).
INTERESTING FACTS
Net Worth
The comedian's net worth is estimated by a reliable source to be $500,000. He has leveled up from his days as a struggling comedian participating in different competitions
Other Interesting Facts
Nkonzo is a happily married man and a father but he loves to keep his personal life away from the public so there is limited information about his marriage.