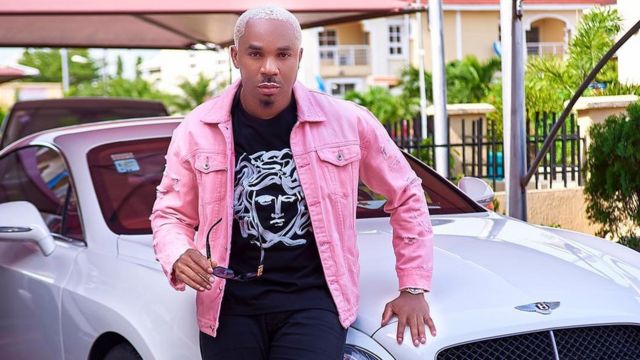 Mike Eze Nwalie Nwogu is a popular Nigerian socialite and Entrepreneur but he is famously known as "Pretty Mike of Lagos". He is a loved socialite even if he is a controversial one. Pretty Mike is not one to shy away from the media as that is contrary to who he stands for and he also made sure he is heard whenever he speaks. His official Instagram handle is @prettymikeoflagos where he has almost half a million followers.
All You Should Know About Pretty Mike Biography
Growing Up And Education.
Pretty Mike was born on October 28th, 1987, in Lagos State, Nigeria. He started his childhood education in Houston, Texas, USA. Pretty Mike is originally from the Southeastern part of Nigeria which means he is an Igbo man. He has eight other siblings, 2 girls and 7 boys including Mike.
Before Pretty Mike had his final decision to relocate back to Nigeria from the United States, he studied computer engineering.
Pretty Mike career started
When Mike got to Nigeria he established a nightclub which he owns along with his brother Frank Nwogu popularly known as Don Nero, they named the club "Club Uno", formerly referred to as Q club. His career as a socialite started as a result of this. Besides co-owning a very big and successful club, Pretty Mike also transports textiles.
IMPORTANT LIFE EVENTS
Controversies
For whatever reason best known to Mike, he loves to draw attention to himself even if that means stepping on a few toes to achieve that, here are some of the few times Pretty Mike has started controversial topics:
He once named his pet Toke Makinwa, which is a name of a Nigerian top Tv presenter and due to this he was heavily reprimanded by people.

He put some ladies on a leash like a dog to attend an event and he was arrested for it.

His latest antics caused a major uproar on media headlines when he went to actor Williams Uchemba and Brunella Oscar's wedding with six heavily pregnant women on toll claiming he is the father of the unborn children.
Notable Achievements
It will be hard for any Nigerian not to know Pretty Mike unless they have been living under a rock. He thrives on controversy; anywhere Mike goes he gets the room talking. This has helped him gain tremendous recognition as he has signed so many contracts making him an ambassador to top Nigerian products. 
When most Nigerian celebrities have a party, Pretty Mike gets an invitation ninety percent of the time.
INTERESTING FACTS
Pretty Mike Net Worth
Pretty Mike's current net worth is not specific but he is believed to be worth approximately one million dollars. Mike has several luxurious cars and houses. Spends hard just like he parties hard but somehow the socialite has managed to keep his income always climbing.
Other Interesting Facts
There is no evidence that Pretty Mike is currently in any relationship, however,  according to his post social media post and the entrance he made during actor Williams Uchemba's wedding, the socialite claimed the pregnant women that accompanied him to the wedding are his wives, if this news is true then Pretty Mike might just have broken a record in Nigeria.