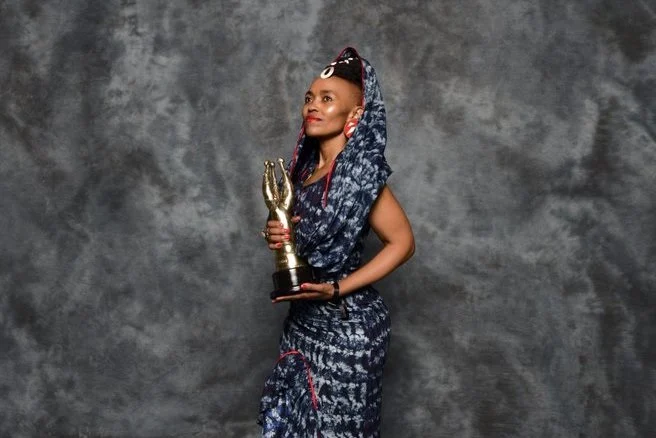 Moshidi Motshegwa is one of South Africa's veteran actresses. She has featured in several local and international movies and TV shows. She has become a household name in every South African home and also a mentor to many young entertainers, especially ladies.
Moshidi Motshegwa Biography and Age
The veteran actress was born on September 3rd, 1977, in South Africa. Information about Motshegwa's childhood and family is unknown as of when this article is being written. 
However, for her education, the actress attended the Johannesburg Art, Ballet, Drama, and Music School now known as the National School of Arts. She also attended Braamfontein/Wits University where she obtained her BA degree in English Language and History.
Career
The veteran actress started her acting career more than two decades ago. She has always had a passion for it and so it came naturally to her as she started acting on a small scale in her high school days.
In 1997, Motshegwa starred in the movie Mandela and De Klerk, portraying Nelson Mandela's daughter Zinzi. Her wonderful acting in this role further launched her career.
In 2004, in the feature film Drum which was produced, Motshegwa played the part of Florence Nxumalo and co-starred with Taye Diggs. 
She is a dynamic and versatile woman. Besides being a terrific actress, Motshegwa was a Judge on one of South Africa's talent hunt shows so You Think You're Funny for her unique skill at discovering talents alongside other judges. 
Moshidi Motshegwa Husband and Daughter
Motshegwa has also kept her personal life away from the public thus fans are curious about the actress' romantic relationship. Even though she is almost in her mid-forties it is unknown if the actress is married or dating anyone in particular. However, she announced in 2020 that she is a mother to a 2-year-old girl.
Moshidi Motshegwa Movies
The award-winning actress has starred in the following movies and TV shows over the years;
Friends Indeed

Gaabo Motho

Flat 27

Generations

Justice For All

Joburg Blues

Behind the Badge, 

Ke Nnako

SOS

Hillside

The Lab

Jozi H.

Mandela and De Klerk

Stellenbosch

Makemba

Noah's Ark

Zero Tolerance

The River
Moshidi Motshegwa Awards
The gorgeous mother of one has received many accolades, and they include the following;
SAFTA Golden Horn- Best Actress – TV Drama Zero Tolerance (2006)

SAFTA Golden Horn- Best Actress – TV Soap Rhythm City (2007)

The Golden Dhow- Best Feature Film Noem My Skollie: Call Me Thief (2016)

RapidLion Film Festival – Best Film (2017)

SAFTA Golden Horn- The River Best Actress – Telenovela (2018)
Moshidi Motshegwa Net Worth

 
Motshegwa is one of the richest female celebrities in South Africa with an estimated net worth of around $8 million.
Interesting facts
She took a five years break from her career and made her on-screen return when she featured in The River.
The noncontroversial actress was involved in a scandal following how she was fired from the set of The River barely 20 days after she renewed her contract with them. Motshegwa claimed she didn't do anything wrong and that it was unfair for them to treat her that way, her fans also protested with her, however, the organizers of the show claim Motshegwa made one of her younger co-actress uncomfortable while shooting.