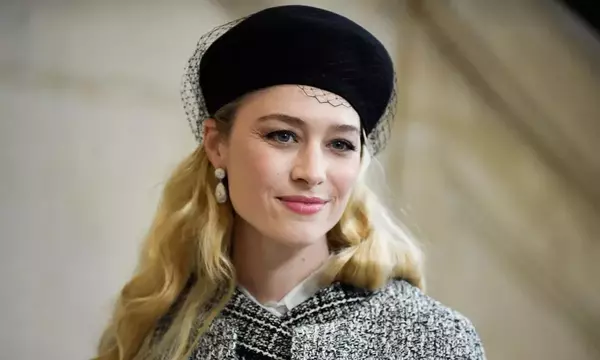 Donna Beatrice Borromeo Arese Taverna is an Italian journalist and fashion model. She was born into the noble and famous Borromeo family. She worked as a broadcast journalist for Anno Zero on Rai 2 and hosted a weekly show on the Radio 105 Network. As a model, she has walked for several top fashion brands in the world.
Beatrice Borromeo Biography
Beatrice Borromeo Arese Taverna was born on 18th August 1985 in Innichen, South Tyrol, Italy. Her parents are Don Carlo Ferdinando Borromeo, Count of Arona, and Countess Donna Paola Marzotto. Her paternal grandfather was Vitaliano Borromeo. She is related to Carlo Borromeo (1538–1584), a cardinal of the Roman Catholic Church, Archbishop of Milan, and a canonized saint. Her maternal grandmother was the fashion designer Marta Marzotto, ex-wife of Count Umberto Marzotto. Borromeo's uncle, Count Matteo Marzotto, used to be the president and director of the Valentino fashion house when the label belonged to the Marzotto Group.
Borromeo's older brother, Carlo Ludovico Borromeo, is married to Marta Ferri, a fashion designer. She also has three older half-sisters from her father's previous marriage to model Marion Sybil Zota. Her sisters are Isabella, married to Count Ugo Brachetti Peretti, an Italian oil executive; Lavinia, married to John Elkann, the CEO of Exor and chairman of Ferrari; and Matilde, married to Prince Antonius zu Fürstenberg in Germany. The Borromeos is currently the owner of most of the Borromean Islands in the Lago Maggiore, Milan city, and numerous other estates in the Lombardy and Piedmont countryside.
In 2004, Borromeo graduated from secondary school at Milan's Liceo Classico Giovanni Berchet. Thereafter, she attended and obtained a bachelor of law from Bocconi University, Milan in 2010. In 2012, she obtained her Masters in Journalism from the Columbia University Journalism School.
Beatrice Borromeo Career
From 2006-2008 Borromeo worked with Anno Zero on Rai 2, a talk show where she interviewed at least three guests each week and asked them questions on political development and social evils. She started working as a full-time reporter for Il Fatto Quotidiano, an Italian newspaper in 2009. That same year, she hosted a weekly show on Network Radio 105. She interviewed prominent people around the world including Roberto Saviano, author of Gomorrah, author of LA Confidential James Ellroy, former candidate for Colombia's presidency Ingrid Betancourt, Marcello Dell'Utri, Italian Senator and co-founder of Forza Italia. Borromeo's first article for Il Fatto Quotidiano, was about Vito De Filippo, the former president of the Italian region of Basilicata, allocating European funds for the Miss Italia contest; it was published on 14th September 2009. In June 2012, she wrote an article for The Daily Beast about the Italian prosecutor Nicola Gratteri.
Borromeo directed many documentaries such as the women of 'Ndrangheta, selfie surgery, and the children of Caivano. Her first English-language-directed documentary was titled Mamma Mafia, a documentary about mafia women: its preview was released by the Newsweek Daily Beast Company on 31 January 2013.
In 2009, Borromeo and co-authors Marco Travaglio and Vauro Senesi released the book Italia Annozero. She wrote the preface for Delitto senza castigo: La Vera Storia di Vittorio Emanuele di Savoia, a book by one of her oldest friends Birgit Hamer.
Borromeo started a career in modeling in 2000. Her mother's friend Piero Piazzi, who worked at the Tomei modeling agency, managed and launched her modeling career. She has walked for top fashion brands including Chanel, Valentino, and Trussardi. She was also the face of Blumarine. Borromeo became Dior's ambassador in March 2021.
Beatrice Borromeo Husband
In 2008, Borromeo started dating Pierre Casiraghi, the second son of Caroline, Princess of Hanover. On 25th July, she married Casiraghi in a civil ceremony in the gardens of the Prince's Palace of Monaco. Their religious wedding ceremony was on the 1st of August 2015 on Isola Bella, a Borromean Island on Lake Maggiore, Italy. The couple welcomed their first son, Stefano Ercole Carlo, on 28th February 2017 and their second son Francesco Carlo Albert on 21st May 2018.
Beatrice Borromeo Net Worth
As of 2023, Beatrice Borromeo is worth a sum of $300 million.