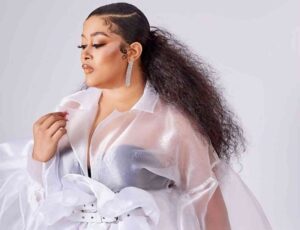 Adunni Ade is a famous Nigerian actress, scriptwriter, model, and movie producer. The actress has had a significant impact on the Nigerian film industry through the several characters she portrays. Adunni is an extremely creative and talented woman. She has created a portfolio as an actress and producer and caught the attention of many movie makers as well as her numerous fans. She is active on Instagram and her fans can reach her through her official account @iamadunniade.
EARLY LIFE
Growing Up.
Adunni Ade was born on the 7th of June 1982, she was born in Queens, New York, United States to a German-Irish mother and a Yoruba Nigerian father. 
She arrived in Nigeria when she was about the age of two with her parents to attend her grandfather's funeral. Hence, she stayed back and was raised in u Lagos State, Nigeria till she was in her late teens and had finished her secondary school education and returned to the United States for her bachelor's degree.
The artist has a younger sister named Mistura who is a make-up artist.
Education.
She went to Chrisland nursery primary school, Opebi, Lagos State, where she acquired her First School Leaving Certificate. She received her Senior School Certificate Examination (SSCE) at the Bells Comprehensive Secondary School, Ota, Ogun State.
Her Nigerian-based father is a successful businessman so she was inspired by her father to study accounting. Adunni Ade obtained a degree in accounting at the University of Kentucky in 2008.
How Adunni's Career Started.
Before she came back to Nigeria, Adunni Ade worked with the State of Kentucky in the Housing sector providing living aid and also the State of Maryland in the Medical Insurance department providing medical insurance (Medicare and Medicaid) to those who were in need. She later made a big switch in her career and ventured into the entertainment industry. Adunni went for the fashion modeling show America's Next Top Model where she was one of the participants. After her big move across the continent, moving back to Nigeria, she landed her debut Nollywood role when she acted in the Yoruba language film "You or I" in 2013.
IMPORTANT LIFE EVENTS
Career Breakthroughs
Adunni Ade created a comedy skit "Date Gone Bad" that she posted on YouTube in 2014. The skit got a lot of attention, it was a big hit and has recorded over 180 thousand views.
Filmography
Adunni Ade has starred in over a hundred movies and TV shows, and listed is some of those movies and shows including the ones she produced;
2013: Iwo tabi emi (You or I)

2014: What's Within

2014: 2nd Honeymoon

2015: Head Gone

2015: So in Love

2016: Schemers 

2016: Diary of a Lagos Girl

2016: For The Wrong Reasons

2016: It's Her Day 

2017: The Blogger's Wife

2017: Guy n Man

2018: Boss of All Bosses 

2018: The Vendor 

2019: House Of Contention 

2020: Coincidence 

2020: Ratnik

Emi Mi (My Soul)

Ewa (Beauty)

2020: Mama Drama

Behind the Cloud

Babatunde Diaries 

Jenifa's Diary Season 2 

Sons of the caliphate Season 2
Notable Achievements
Adunni Ade belongs to the group of most influential actresses in Nigeria. She has made a big mark in the industry, given how influential she has been in recent years due to her hard work.
In 2018, she wrote and produced her first Yoruba movie titled: "Emi Mi – My Soul", and a year after that she produced another movie titled "Ewa-Beauty" building her portfolio as a Movie producer.
She is also a brand ambassador to many Nigerian brands.
AWARDS/RECOGNITIONS
She was awarded a Stella Award from the Nigerian Institute of Journalism as a reward for her efforts in promoting Nigerian culture.
INTERESTING FACTS
Net Worth
Adunni Ade's net worth is estimated to be $1 million earning her a spot among the rich and influential Nigerian celebrities.
Personal Life
Michael Boyd and Adunni Ade dated for eight years but they never made it official by getting married. There is little information about Adunni Ade's ex-partner however the couple shares two sons from their relationship; D'Marion and Ayden. She has remained single since her separation from Micheal Boyd, but she has mentioned that she is open to giving love a chance again.