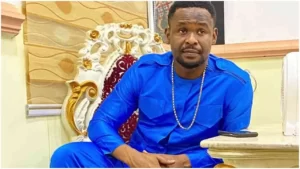 Zubby Michael whose actual and legal name is Azubuike Michael Egwu is a Nigerian actor, movie producer and recently turned politician. He is famous for his many roles in movies, he is popular for his good looks among the females. Zubby Michael net worth is something to talk about by many. Also, he is talented, versatile and has created a name for himself in the Nigerian movie industry. He has a unique birthmark on his face which made the actor look rugged and add more allure to his bad look.
Zubby Michael's official Instagram account is @zubbymicheal where he has over four million followers. The actor is very outspoken on his social media and keeps his fans entertained.
All You Need To Know About Zubby Michael Net Worth and Biography
Growing Up.
Zubby Michael was born on February 1st, 1985 in Ekwusigo Local Government Area of Anambra State, Eastern region of the nation. He is Igbo but grew up in Adamawa state in the northern part of Nigeria. Information about his parents and siblings is unknown as of when this article is being written.
Zubby Michael's Education
He started and completed his early and secondary education in Yola, Adamawa State. He then attended Nnamdi Azikiwe University for his tertiary education where he earned a degree in Mass Communication.
Zubby Michael's Career
He started acting in Yola, Adamawa state when he was still very young. His first movie appearance was in a movie titled Missing Rib but didn't become popular until his next movie after that.
Zubby Michael acted his second movie in 2006, unknown to him the movie that will be the turning point in his life and career. The movie, the three widows was acted with Oge Okoye.
Also in 2006, Zubby Michael earned a spot at stardom after acting in the Nollywood blockbuster movies "The Generals" and "Royal Storm". He acted alongside veteran actors like Jim Iyke, Sylvester Madu, Junior Pope Odonnwodo, and Uche Jumbo.
Zubby Michael became a mega superstar when he starred in the Nollywood blockbuster movies "Princess Rihanna" and "Implication". The movie that earned him the nomination for Best Actor in a Supporting Role at the Africa Magic Viewers Choice Awards. He is a dynamic actor and can easily act in any role, however, he likes to feature action-thriller movies.
Zubby Michael Career Breakthroughs
Zubby has come a long way from his child acting days. He has become a prominent Nigerian politician, an outstanding actor and a renowned movie producer. Also, he has signed many contracts deals with a lot of Nigerian brands endorsing him as their ambassador. He is also known and seen with influential people in the country. This is confirms that his career is moving forward. Furthermore, from the looks of how tenacious and hard-working he is, he has no intention of stopping at where he is at the moment.
The Latest Zubby Michael Movies
Zubby Michael has featured in several movies throughout his acting career, some of which are;
The King of Vulture (Eze K'udene)
Ozoemena Ozubulu
Sword of Justice
The Return of Eze Ndi Ala
Son of No Man
Yahoo King
Boy Makes Money
Mama
One Man Squad
Seed of Deception
Enemy of Progress
Shameless Sisters
Flashback
G-4 The Men
A Thousand War
Seed of Greatness
Hunchback Princess
Children obey your parents
Pain Of The Orphan
Afraid To Fall
Throne of Terror
Bastard Money
Anayo China
Blood Thirst
Our Father's Property
Egg of Love
Audio Money
Burial Battle
My love, my mother's wish
Compound Fools
The Return Of Dangote
Bad Omen
Identical Twins
Omo Ghetto: The Saga – 2020
Zubby Michael's Notable Achievements
The award-winning actor has made his mark in the entertainment industry and that includes his political career.
On 25 November 2019, Zubby Michael was appointed into a political position. He became the Special Adviser on Media to the Governor of Anambra State governor. He was also granted a certificate of recognition for his contribution to the City Radio 89.7 FM youth empowerment initiative in Anambra State.
Zubby Michael's Awards/Recognitions
The actor's extraordinary talent and hard work have earned him recognition and awards in the industry. Some of which are;
The 2019 City People Movie Awards for Best Actor Of The Year (Igbo and English)
Nigeria Achievers Awards for Best Lead Actor of the Year (English)
2019 South South Achievers Awards (SSA) for Male Actor of the Year
He won the 2018 South East Entertainment Award in the category of Movie Icon of the Year
The Nigerian MSMEs & Achievers Awards for Nollywood Personality of the Year in 2018
City People Movie Awards for the Best Actor Of The Year 2018 (English)
Nigerian Entertainment Award for Actor of the Year 2018 (Indigenous Films)
2015 City People Movie Awards for the Best Supporting Actor of the Year (English)
2014 City People Movie Awards in the category of the Best New Actor of the Year (English)
2011 Best Of Nollywood Awards (BON) for the Most Promising Act (male)
Most recently in 2020, South-East Beauty Pageant Organization for the Best Celebrity Politician of the Year
Zubby Michael Net Worth
Currently, the actor's net worth is estimated to be 6 million US dollars. Zubby Michael is one of the richest and influential actors in the Nigerian movie industry with car collections.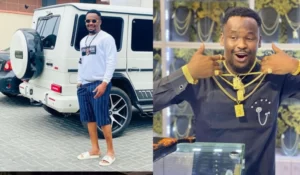 Other Interesting Facts about Zubby Michael
The actor is a single father to a son whom he keeps out of the eye of the media. He has never been married, although he was romantically linked with Mary Okoye in the past. Mary is the younger sister to singers Peter and Paul Okoye famously known as P-square until recently. The duo dated for a couple of years before calling it quits for reasons best known to them.