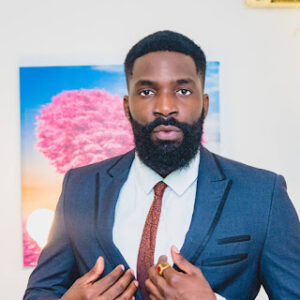 Eso Dike Okolocha is a Nigerian Actor, Musician, Television Personality, Lawyer, and Master Of Ceremonies. Dike is a dynamic and versatile entertainer who has evolved with the times.
Eso Dike is very active on social media, with a fan base of over seventeen thousand followers on Instagram. On these platforms, he shares information about himself and what she is currently working on, he enjoys chatting and sharing helpful information about his career (movie videos and pictures) with his fans, his official Instagram account is @esodike.
EARLY LIFE
Growing Up And Education.
Dike was born and raised in Ekenwan Road in Benin City, Edo State. His date of birth is unknown as this article is being written. Dike's parents are teachers so he grew up in a cool environment with discipline. His parents, despite teaching them great values, also let them have their freedom while growing up. 
He studied Law at the University of Benin, Benin city. The history of his prior education is unknown as to when this article is being written.
How Dike's Career Started.
Dike wrote his first song, a rap at the young age of 10, and has since then known he had a talent for singing and songwriting. While he studied law at the university he has not practiced for a while, although he loves being a lawyer, entertainment took dominance over the last few years. He is an OAP with Spice TV and somehow manages to be three different characters on three different Television shows simultaneously without mixing them up because of practice and the help of his acting coach. Dike is an excellent actor, even with his many careers, he has managed to stay relevant in all of them.
IMPORTANT LIFE EVENTS
Filmography
Dike has starred in numerous movies and TV shows, and listed below are some of those movies and shows;
Game On

Ponzi

Finding Hubby

Desperate House Boys

Ije The Movie

Crazy Therapy 

Assistant Madams

Blood Sisters

Grind

Scarred (2020)

Duke And Dami (2021)

Ricordi (2020)

Riona

Charge and Bail (2021)

Smart Money Woman 

Our Best Friend's Wedding 

Dubara (2021)

Soole (2021)
Notable Achievements
Dike is currently managing his career as an actor, on-air personality, model, and musician which is a laudable achievement. He has worked with many veteran actors in the industry and he is on the way to making a permanent mark in the movie industry. He has also signed endorsement deals with many Nigerian brands.
AWARDS/RECOGNITIONS
Eso Dike is yet to win an award yet in the industry but he is on his way there, and as for recognitions he has earned many of that.
INTERESTING FACTS
Net Worth
Eso Dike's net worth is currently unknown but the actor seems to be doing fine on the financial front.
Other Interesting Facts
The handsome and dynamic artist is very adventurous with food so he has no best food but he completely loves coffee, especially early in the morning. He also styles him which is hard to believe with how well put together he always appears and also loves to play basketball.