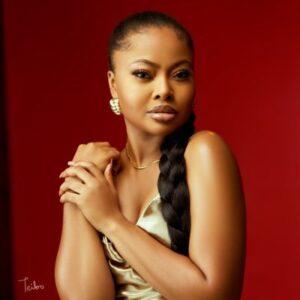 Teniola Aladese is a Nigerian actor, producer, and casting director. She is a talented movie producer who simultaneously acts. She is beautiful, creative, and hard-working.
Aladese is active on social media, with a fan base of almost sixteen thousand followers on Instagram. His official Instagram account is  @theteniola where she keeps her fans updated about the new things going on in her life and what she is currently working on.
All You Need To Know About Teniola Aladese Biography and Net Worth
Growing Up And Education.
She was born in Lagos State, Nigeria. The last child of a family of six children, she had a normal childhood growing up. 
Aladese earned her bachelor's degree in Mass Communication at Covenant University, Ota, and then went on to build a career in Television and production. Her previous education history is unknown as to when this article is being written.
Teniola Aladese's Journey As An Actress
In the period of two years from 2013 to 2015, she made her way behind the scenes as a production Coordinator on more than thirty Africa Magic Original Films. She then proceeded on to serve as Production Coordinator on the Africa Magic's television drama series, 'Hush'. Later in 2015, she commenced her acting career and was featured in Eneaji Chris EnenG's movie 'Perfectly Flawed'. She was also featured in the TV mini-series, 'This is it' directed by Dolapo 'LowlaDee' Adeleke.
Aladese got a lot of recognition while acting the role of Akweyon on the Africa Magic television drama, 'JEMEJI'. She was also serving as Production Manager on the show at the same time. Aladese was the Line Producer on the television Drama series 'Forbidden' in 2018. Currently, she continues to perform as Line Producer for IK Osakioduwa's famous show 'Comedy Nites'.
Also in 2018, she was featured as the lead protagonist, Lola in Bunmi Ajakaiye's short film, 'Fade'. The film was one of the chosen short films at the 2019 edition of Nollywood Week in Paris. It was also one of the official nominations for the Africa International Film Festival (AFRIFF) in 2019, a big feat for Aladese. A year after that, Aladese played the role of Halima in the short film, 'Her'. A movie focused on female menstrual poverty and was directed by Michael 'AmaPsalmist' Akinrogunde.
Likewise, in the same year, she featured in the movie Déjà Vu with veteran actors Ayoola Ayolola and Baaj Adebule. The movie was produced by Fojo Media Production and focused on a lady, Sola Aladese who finds out she's been infected with HIV from her partner, who she thought was committed to her.
Aladese earned significant recognition for her role as the antagonist Folashade FK Kuku, on the television drama series, Unbroken. She also played the role of Lara in the web series, all through her acting career, she has also performed as a casting director and consultant on several movie productions.
IMPORTANT LIFE EVENTS
Teniola Aladese Movies
He has featured in several movies and TV shows, and listed below are some of those movies and shows;
Lara of Lagos

Flat 3B

Onboard to love

 Déjà Vu

Material Girl

Why am I angry?

Backseat

Unbroken

Jemeji

Fade

Ricordi

Finding Hubby

Onboard To Love

Her

Forbidden

Perfectly Flawed

This Is It

Superstar

Soole

Kasuwa
Notable Achievements
Teniola Aladese has featured in many movies in her short time in the industry, she has achieved what would normally take others several years to get. She is dynamic and relevant in the industry.
AWARDS/RECOGNITIONS
Aladese is yet to win any notable award in the industry but with the way she is booked back to back for movie roles it is clear that she is on her way there and that she is recognized and respected in the industry.
INTERESTING FACTS
Teniola Aladese Net Worth
Her current net worth is unknown but given her tremendous hard work, she is believed not to be lacking financially.
Other Interesting Facts
Aladese in her leisure time loves to draw, paint, sing, dance, and try out exotic food. She is still single.