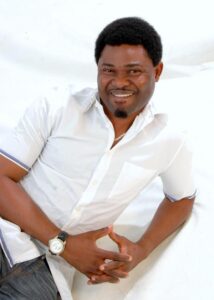 Yomi Fash – Lanso (whose real name is Oluwayomi Oluwarotimi Akanbi Lanso), is a versatile actor who is famous in the Nollywood movie industry. He is a Nollywood actor, producer, director, and television personality. He kick-started his career as a banker and has built a name for himself in the movie industry over the years. He is considered one of the top-rated and most sought-after actors presently.  He has featured in more than 100 movies alongside A-list actors Jide Kosoko, Dele Odule, Yinka Quadri, Faithia Balogun, Sola Sobowale, etc.
EARLY LIFE
Yomi Fash – Lanso was born on 7th June, 1968 in Ebute- Meta, Lagos Nigeria to the family of Mr. Alamu Olansossiwaju and Mrs. Adedoyin Fashola as the last born of five siblings with three brothers and two sisters. He is a native of Ogun State.
Growing up
Yomi had a nice childhood growing with his siblings in the neighborhood. He had a good childhood upbringing. His childhood was fun-filled with experiences such as playing dirty with his age mates, listening to highlife music and playing street football. He was introduced to cinema houses and movies by his brothers and became a film freak even though his father objected to film watching. To say that Yomi's passion for film and acting started in his childhood is not a gainsaying.
EDUCATION
 Yomi had his primary and secondary education in Lagos. He attended U.A.M.C for his primary education after which  He had his secondary education in Jibril Martin Grammar school in Iponri and later proceeded to the University of Lagos, Akoka to study Business Administration.
He also had training at the Independent Television Producers Association of Nigeria (ITPAN) taking a course in Film Directing and Production.
ENTERTAINMENT CAREER
Yomi Fash Lanso started his career in the banking sector as a banking officer before delving into acting and movie production which would later give him a name. He made his acting debut in February 1995 in the movie titled Omolade, which was directed by the veteran – actor Jide Kosoko. It is noteworthy to say that Yomi Fash Lanso happens to be among the few actors who acted on stage back in the era of stage drama. He has since featured in over 100 movies which include Kunle Afolayan's recent Blockbuster – 'Citation'. Others include; 
Aje metta

Jenifa

Idoti oju

Opolo

Tani kin fe?

Temidun

Kadara Mi

Jenifa

Omo Elemosho among numerous others.
Yomi has also put his training as a film director into use by directing some movies some of which include Ajumobi (The Relative), OmoWest, Ikun (Squirrel), Opa Agemo (The Deity Staff)  to mention a few

AWARDS AND NOMINATION
Yomi Fash Lanso has won several meritorious awards in his acting career, part of which include the award for best actor in a supporting role for his role in Omo Elemosho, from NEA awards which took place in the US. He has also received several notable nominations such as the Africa Movie Academy Award for Best Actor in a Supporting Role at the 10th Africa Movie Academy Awards for his role in Omo Elemosho in 2014.
PERSONAL LIFE
Yomi Fash Lanso is happily married to his heartthrob, Adetutu George whom he met at a phone booth, dated for four years, and married in 2004. The union is blessed with children.
HOBBIES
When he is not working Yomi engages in several activities such as hanging out with friends, playing games, visiting the gym, writing, watching films, and praying. 
OTHER FACTS
Yomi claims not to have a favorite meal, he enjoys vegetables which he claims has many benefits such as detoxification. About religion, Yomi Fash Lanso holds a liberal religious view though he is a deacon in his church
NETWORTH
Yomi Fash Lanso is one of the richest and most influential Nollywood actors with a net worth of about 1$million USD.