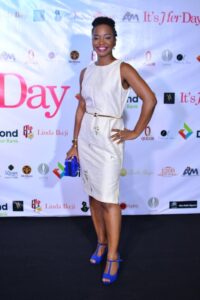 Najite Dede is a versatile multifaceted entertainer being an actress, an assistant director, and a prolific writer,  she is famously known for 30 Days (2006), Small Boy (2008), and Ordinary People (2014). The beautiful, creative, and highly talented Nollywood star is widely known for her good interpretation of various roles in movies and can perfectly fit into any role given to her and this has made her one of the most sought-after actresses in Nigeria. She is ever-ready to learn and is full of humility and passion.
BASIC INFORMATION
EARLY LIFE
Najite Dede was born on 5th November 1971. She hails from Delta state, in south-southern Nigeria belonging to the Ijaw tribe. Her father, Brownson Dede is also an entertainer and a Nigerian diplomat to Ethiopia. 
Growing up
Najite Dede was born in Germany to Mr. and Mrs. Dede. She grew up in an influential family and was known to carry a great passion for acting while growing up. She got encouraged by her immediate family who supported her quest of becoming a successful movie star. Growing up for Najite was interesting due to her wealthy and influential family. She has several siblings among which is Michelle Dede, a freelance television presenter, and actress.
EDUCATION
Little is known about Najite's primary and secondary education; she obtained a Bachelor's degree in Law and later, a post-graduate diploma in Theatre Arts, all from the University of Ibadan, Nigeria.
Najite also hopes to study cinematography and to direct films with the hope that her background as a versatile actress would facilitate her success in these two areas.
ENTERTAINMENT CAREER
Najite has been involved in numerous theatre productions from a very tender age. Najite Dede made her way into Nollywood some years ago and has featured in many blockbusters which include '30days' where she featured as the playful but deadly Temilola Brisbee. The versatile actress has also featured in several movies and television series some of which are;
All about Ere

Prince of Savannah

The upside Your Head Show 

Bar Beach Blues among innumerable others.
As a multifaceted entertainer, Najite is an energetic dancer aside from being an actress. She devotes her best to all she does. Owing to her background in dance, stage, and screen, Najite's career has had various incarnations beginning with her strong passion for dance and theatre.
PERSONAL LIFE
Little or nothing is known about Najite's personal life due to the fact that she keeps her marital issues top secret and hardly discloses her private life on social media.
NETWORTH
Najite has accrued significant wealth for herself thanks to the fact that she has remained relevant and active in the Nigerian movie industry. She has a net worth of about $250,000 US dollars
SOCIAL MEDIA PROFILES
Najite Dede is a phenomenal celebrity influencer who provides room for interaction with her ever-increasing fans through Instagram, Facebook, Twitter, Youtube among others. She is a versatile individual with such an active life on various social media platforms one of which is her Instagram account @najitedede