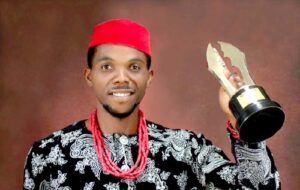 Sambasa Nzeribe whose real name is Chiedozie Nzeribe Sixtus is a Nollywood actor, model, and entertainer. The name Sambasa is an acronym for his philosophy which stands for "Surviving And Maintaining Balance Against Society Aggression."
He is an excellent actor who expresses and stays in tune with whichever character he tends to be acting at the time.
Sambasa is awfully active on social media, with a fan base of almost fifty thousand followers on Instagram. His official Instagram account is  @Sambasaofficial where he keeps his fans updated about the new things going on in his life.
EARLY LIFE
Growing Up And Education.
Sambasa was born on February 14th, the year unknown in Lagos State. He had a rough childhood having lost his father early on and his mother's meager salary was not enough for him and his other four siblings so he had to hawk things like vegetables and puff-puff in the street. It was the Catholic Women Organization (CWO) that gave him and his siblings scholarships. He grew up in Isolo, Lagos State. He developed a passion for acting while growing up, and was a member of the church choir and different drama groups growing up, this is also where he honed his acting skills. He hails from Anambra State, an Eastern state in the country. He is one of five children of his parents.
He studied Creative Arts at the University of Lagos, (Unilag). The history of his prior education is unknown as to when this article is being written.
How Sambasa's Career Started.
Sambasa started his acting career at a young age while he was in a drama group but made his entrance into the Nigerian Movie Industry in 2013, the fame from his debut movie took him directly into the limelight.
IMPORTANT LIFE EVENTS
Filmography
He has featured in several movies and TV shows, and listed below are some of those movies and shows;
A Mile from Home (2013)

Out of Luck (2015)

Just Not Married (2015)

The Mask (2021)

A Soldier's Story (2015)

Hotel Choco (2015)

The Wedding Party (2016)

My Wife & I (2017)

Tatu

The Healing

Ojukwu

Chimezie

The Island (2018)

Slow Country

The New Tribe

Unroyal Majesty

The Robbery 

Cloture

No Way Out

Egedege

Royal Pursuit 

Never Enough 

Slow Country (2018)

Asanze

Elevator Baby (2019)

Hotel Choco (2016)

Soole (2021)

Stretched Heart

Don't leave me

Kasala (2018)

Coming From Insanity (2018)

The Ghost and the Tout (2018)

Four Crooks And A Rookie (2011)
Notable Achievements
Sambasa's achievements in the space of less than a decade are mind-blowing, he has become a household name, made his mark in the Nigerian movie industry, and signed several endorsement deals with top Nigerian brands.  He was also included among the top 100 most influential Nigerians in 2018.
AWARDS/RECOGNITIONS
He is a multiple-award-winning actor and some of his notable ones include;
In 2016, he won his second consecutive Africa Magic Viewers Choice Awards (AMVCA) for "Best Actor in a Drama".
In 2017 he had two nominations from the Best Of Nollywood Awards in the category of Best Supporting Actor –English and the Best Actor in a Lead role – English
INTERESTING FACTS
Net Worth
Sambasa has become a force to reckon with in the movie industry and has amassed wealth from himself, he is no longer that young boy that hawks in the street of Lagos as his estimated net worth is $400,000 securing him a spot among the rich and influential Nigerian celebrities.
Other Interesting Facts
The handsome actor is still unmarried however the fact that he might be in a serious relationship is unknown as he kept that part of his life under lock and key.