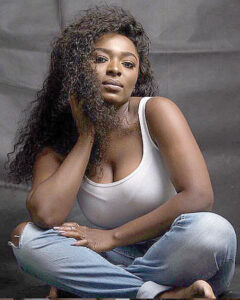 Meg Otanwa is a Nollywood Actress and Model. She is a beautiful hardworking, creative and talented young woman who is always trying to be the best version of herself.
Meg Otanwa is awfully active on social media, with a fan base of over 70 thousand followers on Instagram. On her platforms, she shares information about herself and what she is currently working on, she enjoys chatting and sharing helpful information about her career (movie videos and pictures) with her fans, her official Instagram account is @megotanwa.
EARLY LIFE
Growing Up And Education.
Otanwa was born on February 14th, her year of birth is unknown but by her look, the guess is she is in her late twenties or early thirties. She hails from Benue State, the North-central region of Nigeria but she grew up partly in Lagos State. She is from a polyglot family therefore she speaks about five languages including English, Yoruba, French, Hausa, her native tongue Idoma, as well as some Spanish. She went to Ahmadu Bello University, Zaria where she earned a bachelor's degree in English language, then continued to obtain a master's degree in Human Resources Management at TIME University, Tunis, Tunisia, and later for a Master of Business Administration degree at Jean Moulin University, Lyon, France.
How Otanwa's Career Started.
She started her career as a banker at African Development Bank in Tunis, Tunisia. She worked there for several years before returning to Nigeria to start a career in acting. She came into the limelight with her debut role in 2011 in the movie "I will take my chances" alongside veteran actress Ini Edo and Bryan Okpara.
Otanwa's role in the 2015 drama series, titled "Hush", cemented her position as a Nollywood actress because she acted her role exceptionally well.
IMPORTANT LIFE EVENTS
Filmography
Otanwa has starred in numerous movies and TV shows, and listed below are some of those movies and shows;
I'll Take My Chances (2011)

Ojuju (2014)

Kpians: The Feast of Souls (2014)

October 1 (2014)

The Feast of Souls (2014)

Doll House (2015)

Road to Yesterday (2015)

Before 30 (2015-present)

Hush (2015-2017)

Knockout Blessing (2018)

The Eve (2018)

Payday (2018)

For Maria Ebun Pataki (2020)

Ratnik (2020)

Loving Rona (2021)

Soole (2021)
Notable Achievements
Otanwa took a big risk when she left the financial industry and Tunisia to start a career in acting in her home country. However, she has made a huge mark in the Nigerian movie industry. She has acted alongside several top actors in the industry including Sola Shobowale, Kunle Afolayan, Ray Emodi, Esther Audu, Destiny Etiko, Ebele Okaro, and many others. She has also started a career as a brand influencer, becoming the face of many Nigerian brands.
AWARDS/RECOGNITIONS
She won the 2017 Africa Magic Viewers' Choice Awards (AMVCA) for Best Actress in an Original Series.
She is also a nominee for the 2021 African Movie Academy Awards (AMAA) in the category of Best Actress Of The Year.
INTERESTING FACTS
Net Worth
Meg Otanwa is a rich and famous actress. Her net worth is estimated to be $200,000, being income from her movies and businesses.
Other Interesting Facts
Meg Otanwa is a fashionista. She loves shoes and especially loves to wear shoes with high heels rather than flat ones.