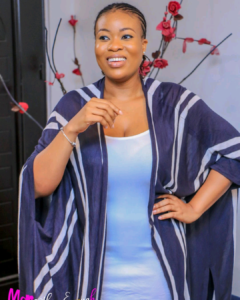 Odera Olivia Orji is a fast-rising prolific Nigerian actress, model, and filmmaker who is known for outstanding performance and versatility. She is one of the young and famous filmmakers and film producers in Nigeria. She broke into the limelight after her intriguing role as 'peace' in MNET's  TV series "Jemeji. She is a passionate actress and filmmaker with outstanding achievements. She is creative, beautiful, and gifted as well. Her ability to interpret roles given to her by directors has made her one of the most sought-after fast-rising actresses in Nollywood.
EARLY LIFE
Growing up
Odera Olivia Orji was born on 10th April 1990 in Ihiala, Anambra State but grew up in Enugu, a city located in Enugu State South-Eastern Nigeria. She grew up alongside her siblings and nurtured her passion for acting and story writing since her tender years.
HER FAMILY, PARENTS, AND SIBLINGS
Odera Olivia Orji was born into a Christian family of four and raised by godly parents. Her father has passed on but her mother is very much alive and has always supported her since her father's demise.
EDUCATION
Odera Olivia Orji had her childhood in Nsukka, Enugu state where she had her primary and secondary education. She completed her basic education at Chiazo Nursery and Primary School and her secondary school education at Command Day Secondary School and later proceeded to the prestigious University of Nigeria, Nsukka where she obtained her B.A in Theatre and Film studies. 
ENTERTAINMENT CAREER
Odera Olivia Orji has an incredible career, although her passion has grown with her over time. Her career kick-started after starring in the 2012 film " Last Flight to Abuja" but broke into the limelight after she starred as the character " Peace" in the MNET Africa television series "Jemeji". She has since starred in several movies, including Obsession, The Father, Blue, Fifty, Kayanmata, Bedroom Points, and Just a Fling. 
Aside from being an actress, Odera is also a media and creative associate at Eureka Media Services and Assistant Director, Content Development, Mindworks Story Consultancy, and Productions.
PERSONAL LIFE
Odera Olivia Orji is presently in a serious relationship though she does not show off her boyfriend on social media, she keeps her private life off the eyes of the public.
AWARDS
Odera has won several awards both locally and on the international stage. Awards won by her include; 
Best Kiss in a Movie  at the Best of Nollywood Awards (2018)

Most Promising Actress of the Year (English) at the City People Movie Awards (2019) among others
She has also been nominated several times due to her resilience and versatility. These include:
The revelation of the Year (Female) at the Best of Nollywood Awards (2018)

Best Actress in a Supporting Role at the African Movie Academy Awards (2019)

First Time Director ( The History of Chicken) at the Abuja International Film Festival (2019)
NETWORTH
Odera Olivia Orji is undoubtedly one of the most successful fast-rising actresses in Nigeria if not in Africa. She stands tall among others and has significantly great wealth to her name with a net worth of approximately $100,000 US dollars.
FILMOGRAPHY
Odera has featured in many movies and has earned notable recognition in the Nigerian movie industry. Her ability to successfully interpret any role given to her makes her one of the most promising actresses in Nigeria. Some of the movies she has featured in include;
Kayanmata, 2020

Lunch Time Heroes, 2015

Fifty, 2015

Colorless, 2016

Newman Street, 2016

Coming to Nnewi, 2015[9]

Blue Collar, 2019

Love and Pain, 2019

Afterdark, 2019

Legal Clinic, 2019

Through The Wire, 2020

The Father, 2020

Blue, 2020

Eyimofe (This Is My Desire), 2019 among numerous others.
SOCIAL MEDIA PROFILES
Odera Olivia Orji is a phenomenal celebrity influencer, she provides room for interaction with her fans through Instagram, Facebook, Twitter, Youtube among others. She is a versatile individual with such an active life on various social media platforms. One of her most active social media accounts is her Instagram account @amodera where she can be interacted with by her numerous fans.