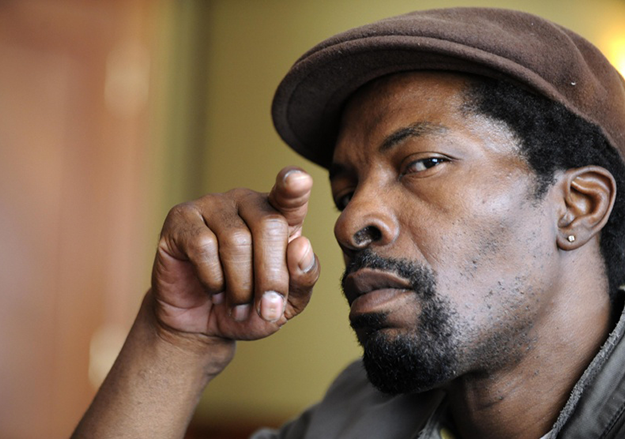 Zachari Bankolé born 12 August 1957 professionally known as Isaach or Isaac de Bankolé, is an Ivorian-French-American actor. He is famous for several of his outstanding performances both on stage and on the big screen.
Isaac De Bankolé Biography
De Bankolé was born Zachari Bankolé on 12th August 1957 in Abidjan, Ivory Coast, to Yoruba parents from Benin. His grandparents are Nigerians.
The actor relocated to Paris in 1975 for his last year of lycée, he obtained his master's degree in physics and mathematics. De Bankolé furthered his education by going to an aviation school where he received his private pilot license. He had an encounter with French director Gérard Vergez which encouraged him to register in the Cours Simon, a drama school in Paris.
Career
De Bankolé's career spans almost 4 decades, he has appeared in several movies, including Jim Jarmusch's Night on Earth, Ghost Dog: The Way of the Samurai, Coffee and Cigarettes, and The Limits of Control, among others.
De Bankolé played Steven Obanno, a terrorist, in the 2006 James Bond film Casino Royale. He also appeared in Calvary, The Last Witch Hunter, and Black Panther and its sequel Black Panther: Wakanda Forever.
Isaac De Bankolé Filmographie
Isaac De Bankolé has featured in the following stage, TV series, and films;
1984: Asphalt Warriors
1984: Comment draguer tous les mec
1984: L'addition
1986: Quay West
1986: Black Mic Mac
1986: Taxi Boy
1986: Noir et Blanc
1987: Lady Cops
1987: Dans la solitude des champs de coton
1988: Le Retour au désert
1988: Chocolat
1988: Ada dans la jungle
1989: How to Make Love to a Negro Without Getting Tired
1989: Vanille fraise
1989: La Force d'aimer
1990: No Fear, No Die
1991: Night on Earth
1992: The Young Indiana Jones Chronicles
1993: Heart of Darkness
1994: Down to Earth
1995: The Keeper
1998: A Soldier's Daughter Never Cries
1999: Otomo
1999: Ghost Dog: The Way of the Samurai
1999: Cherry
2000: Bàttu
2001: 3 A.M.
2001: The Sopranos
2003: Coffee and Cigarettes
2003: The killing Zone
2004: Homework
2004: From Other Worlds
2005: L'évangile selon Aîmé
2005: Manderlay
2005: Stay
2005: The Skeleton Key
2005: Before It Had a Name
2006: The Unit
2006: Casino Royale
2006: Miami Vice
2006: 5up 2down
2007: The Diving Bell and the Butterfly
2007: Battle in Seattle
2007: The Fifth Patient
2008: 24: Redemption
2008: The Guitar
2008: Machetero
2009: White Material
2009: The Limits of Control
2009: 24
2010: I Am Slave
2010: Getting High!
2011: Oka!
2012: Désordres
2013: Mother of George
2013: The Ordained
2014: White Collar
2014: Calvary Simon
2014: Run
2014: Where the Road Runs Out
2015: The Good Wife
2015: The Last Witch Hunter
2016: Norman: The Moderate Rise and Tragic Fall of a New York Fixer
2017: Double Play
2018: Black Panther
2018: Black is Beltza
2018: Instinct
2018: Sacred Lies
2019: S.W.A.T.
2019: Shaft
2020: French Exit
2021: Godfather of Harlem
2022: Black Panther: Wakanda Forever
2022: The people we Hate at the Wedding
Isaac De Bankolé Awards
In 1987 he won the César Award for Most Promising Actor. Isaac de Bankolé was nominated for the Trophées du Cinema for Best Supporting Actor. He also received the New York VisionFest for Outstanding Achievement Award in Acting.
Personal Life
He has been living in the United States since 1997. He married musician Cassandra Wilson in 2000 and they divorced 2 years later in 2003. De Bankolé speaks Yoruba, Bambara, English, French, and German fluently and he speaks some Italian.
Isaac De Bankolé Net Worth
The Ivorian-French actor has a net worth of $11 million as of 2022.