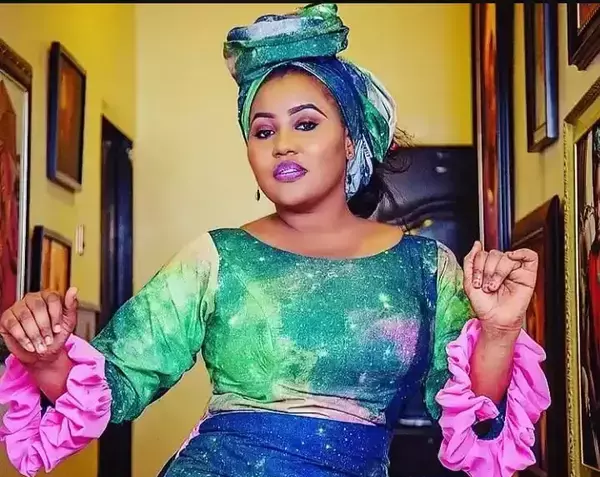 Hadiza Gabon (born Hadiza Aliyu) is a versatile Multi-Award Winning Actress, filmmaker, and humanitarian who acts in both Hausa and English movies. She is one of the leading and most sought-after Kannywood actresses in Nigeria. Hadiza has graced the screen for many years and has won notable awards owing to her versatility and impeccable personality. She perfectly fits into every role given to her by movie directors and this has made her attract numerous fans and directors in the movie industry. 
Hadiza Gabon Biography
Growing up
Hadiza Aliyu was born on the 1st of June, 1989 in Libreville, Republic of Gabon. She is the daughter of Malam Aliyu who happens to be an elder statesman. Hadiza Aliyu holds two Nationalities, On her father's side, She is of Gabonese descent and she is of Fulani ancestry from Adamawa State, Nigeria on her mother's side. Hadiza grew up with her family who played a prominent part in the discovery of her God-given talent. 
EDUCATION
Growing up in Libreville, Republic of Gabon, Hadiza had her primary and secondary education there. Hadiza wrote her A-Level examination with a determination to become a lawyer which made her later choose Law as her course of choice for her first-degree program. She started her university program but had to drop out of school due to some critical issues that plagued her studies. Her education came to a halt then allowing her to attend a diploma program in French Language and later become a French-language teacher in a private secondary school.
ENTERTAINMENT CAREER
Hadiza left Gabon to relocate to Adamawa state, Nigeria where she joined Kannywood (Hausa movie industry). She left Adamawa for Kaduna both in the northern part of Nigeria and has made up her mind to join the Kannywood film industry with her cousin. 
While in Kaduna, Hadiza Aliyu had an opportunity to meet with Ali Nuhu ( a renowned Kannywood actor) soliciting his assistance to launch her as an actress. Hadiza got her first movie role in 2009 after starring in 'Artabu'. She would later go on to become a star in the Kannywood movie industry emerging as one of the leading female actresses, thanks to the help she got from Ali Nuhu and Aminu Shariff. Outside the Kannywood movie industry, following the footsteps of Ali Nuhu, Sani Musa Danja, Yakubu Muhammed, Maryam Booth, and Rahama Sadau Hadiza broke into the limelight in 2017 after featuring in her first Nollywood movie alongside notable stars such as Mike Ezuronye, Emmanuella, and Mark Angel in a movie titled "Lagos Real Fake Life" She has since starred in over 300 movies since she joined Nollywood. 
Hadiza Aliyu has featured in quite many movies and has earned notable recognition both in Kannywood ( Hausa movie industry) and Nollywood( the Nigerian movie industry). She gets promising role because of her ability to interpret them accurately. Some of the movies she has featured in include;
 Farar Saka, Daina Kuka, Mukaddari, Ziyadat, Fataken Dare, Kolo, Artabu, Sakayya, Wasila, Umarnin Uwa, Badi Ba Rai, 'Yar Maye, Akirizzaman, Aisha Humaira, Umarnin Uwa, Dare Daya, Da Kai Zan Gana, Wata Tafi Wata, Haske, Daga Ni Sai Ke, Ban Sani Ba, Ali Yaga Ali, Lagos Real Fake Life
PHILANTHROPY 
Aside from being famous for acting skills, Hadiza Aliyu is well known for her philanthropic gestures. She is proudly the founder of Hadiza Gabon Foundation (HGA), a foundation known for improving the lives of ordinary people by making life better for the less privileged by providing help in the educational and healthcare sectors as well as food security.
AWARDS
Due to her exceptional acting skills, Hadiza has won some notable awards throughout her acting career, some of which include:
Best Actress of the Year(Jury Choice) at the 2014 2nd Kannywood/MTN Awards.
She was also awarded an honor in 2013 by the former Governor of Kano State, Dr. Rabiu Musa Kwankwaso. She was also awarded by African Hollywood Awards as Best Actress
Best Supporting Actress at the African Films Award in London in 2016.
Best Supporting Actress at the Kannywood AWA 24 Film & Merit Award (2015)
Best Actress in African Films in the Hausa Language at the African Hollywood Awards (2016) among many others.
PERSONAL LIFE
Little is known about Hadiza Aliyu's personal life as she keeps it from the eyes of the public though she was rumored to be in a romantic relationship with Ali Nuhu who helped her become a movie star. Both parties debunked the rumors stating clearly that they were just colleagues. 
Hadiza Gabon Net Worth
Hadiza keeps striving hard and gives her best to all she does. She is undoubtedly one of the highest-paid and most influential Kannywood actresses in Nigeria with an estimated net worth of $500,000 as of 2022. 
Apart from acting, Hadiza is also an entrepreneur who sells different items of clothing and footwear on her Instagram handle and also doubles as a brand ambassador of the NASCON Allied Plc, a subsidiary of the Dangote Group. 
SOCIAL MEDIA ACCOUNT 
Hadiza is indeed young at heart and provides room for interaction with her numerous fans on social media platforms. She can be reached through her active Instagram account handle @adizatou and her Twitter handle @adizatougabon.