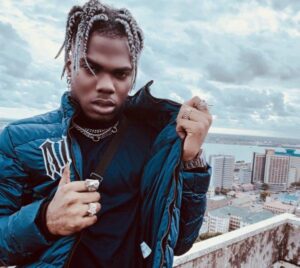 Ckay is a great and talented Nigerian songwriter, singer, and record producer who focuses on Hip hop and the Afrobeat genre of music. Born Chukwuka Ekeani, Ckay is signed to Chocolate City records in Nigeria. The 'Love Wantintin' crooner has raved the Nigerian music industry for over five years and has represented the country greatly on the international stage. His relevance cannot be overlooked in the music industry owing to his creativity and relentless efforts.
EARLY LIFE
Growing up
Ckay was born on 16th July 1995 to Dr. and Mrs.Ekweani. He hails from Anambra State but grew up in Kaduna state with his family nurturing his talent and focusing on becoming a great singer. His father being the choir coordinator of their local church played a prominent role in Ckay's discovery of his passion. He started producing and writing his songs at the age of 13. In 2014, he left Anambra 2014 for Lagos and got signed into Chocolate city records.
EDUCATION
Little is known about the details of CKay's educational history
ENTERTAINMENT CAREER
Ckay started his career at a very tender age but` broke into a bigger stage in 2014 after he got signed into the Chocolate city records by his boss MI Abaga. Prior to this, Ckay established Cre8tive Music with two of his friends in Kaduna and also learned to produce music from another friend before moving to Lagos in 2014. He made his debut with "Third Mainland Bridge" featuring the award-winning rapper- MI and Moti cakes and the song was a huge success doing well on the charts. He has since released a lot of songs which include the extended play (EP) project titled "Ckay the First". He keeps waxing stronger and releasing beautiful tunes over and over again.
Ckay has undoubtedly achieved many great feats in the music industry. His song "Love Wantintin " raved the Nigerian music scene, did well on the charts, and also gained international recognition. Gaddemit, Chinekeme, Last Call, and Gmail on which he featured the DMW music act- Dremo are all his efforts. He has worked alongside quite a number of notable artists in the music industry, some of which include MI Abaga, Blaqbones, BOJ, Ice Prince to mention a few.
It is also noteworthy that aside from being a singer, Ckay also became an in-house producer for great acts such as Barry Jhay, Victoria Kimani, Jesse Jagz among many others. Ckay released a  musical short film in 2020 titled "The First Film; Alien", a romantic fantasy that is based on a true story.
DISCOGRAPHY
Ckay has released a lot of good songs which has made him one of the most sought-after Hip Hop singers in Africa. Some of his works include the following;
Oliver Kahn

2020 – Boyfriend

2019 – CKay The First 

2017 – Who The Fuck Is CKay 

Kiss Me Like You Mean It

Love Nwantiti

Geddemit

Felony

Beni
PERSONAL LIFE
Little is known about Ckay's personal life as he keeps all off the eyes of the public but he is reportedly single and not in any relationship
NETWORTH
Ckay is undoubtedly one of the most successful fast-rising singers in Africa with an estimated net worth of about $200,000