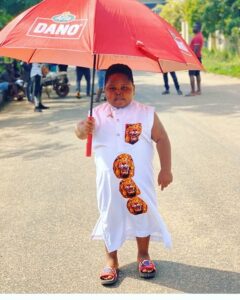 Chikamso Ozonigbo is a diminutive pint-sized, versatile, humorous, and Multi-Award Winning Comic Actor and businessman. He is one of the leading and most sought-after comic actors in Nigeria. He has acted alongside many top actors in the Nigerian movie industry such as Zuby Micheal, Esther Okorie, Ify Eze, Akachi Max, Max Collins Chidiebe among numerous others.  Ozonigbo as he is fondly called by his fans has graced the screen for some years and has won notable awards owing to his versatility and impeccable personality. He fits perfectly into every role given to her and this has made him attract numerous fans and directors in the movie industry. 
Ozonigbo got inspired to be an actor having watched some veteran Nollywood actors and actresses feature in movies many years ago. He holds a belief that anyone who would get to the top must be ready to pay the price. This is evident in Ozonigbo's attitude to work. 
EARLY LIFE
Growing up
Chikamso Ozonigbo was born on the 6th March 1994 into the family of Mr. and Mrs. Ejiofor. He is from the Igbo tribe of Nigeria, he grew up with his family who played a prominent part in the discovery of his God-given talent. He has an innocent and very young look hence making people doubt his real age. 
EDUCATION
Little or nothing is known about his educational background.
ENTERTAINMENT CAREER
Although his career started a few years ago, he came into the limelight after he starred in his first Nollywood theatre movie "Nwa Ezendiala" which was produced by ROCKCELLE Films Production Ltd owned by Anaele Ugockwu Dominic, he was Zuby Micheal's son in the movie. He has since been featured by Anaele Ugockwu in his movies and the versatile actor has shown his sincere appreciation to his benefactor. It is believed by many people that he has taken over from Aki and Paw Paw.  The pint-sized actor has been rumored to be the biological son of the Nollywood bad boy – Zuby Micheal, it should be noted that this is not true because the latter is just Ozonigbo's co-actor in the Nigerian movie industry.
FILMOGRAPHY
Chikamso Ozonigbo has been featured in quite a number of since he made his entry into the Nigerian movie industry and has earned notable recognition due to his versatility and resilience as well as his ability to successfully interpret any role given to him. Some of the movies he has featured in include;
Sweet and TomTom 

Nwa Eze Ndiala

Commissioner Happiness 

Disco Dancers 

Sunny Boy 

Billionaire Gang 

Problem Child 

Ntu Ozo Ndigbo and many others.
PERSONAL LIFE
Chikamso Ozonigbo is not yet married but is rumored to have a girlfriend though he kept it off social media. He holds his family dearly and posts beautiful pictures of them often, some of the pictures could be seen on his Instagram account.
NET WORTH
Chikamso Ozonigbo keeps striving hard and gives his best to all he does. He is active and relevant in the Nigerian movie industry and is undoubtedly one of the most industrious and most influential fast-rising actors in Nigeria with an estimated net worth of $150,000 as of 2021. He charges approximately 200, 000 per movie. 
SOCIAL MEDIA ACCOUNT 
Chikamso Ozonigbo is indeed young at heart and provides room for interaction with his numerous fans on social media platforms. He can be reached through his active Instagram account handle@realchikamso_ejiofor. He has over fourteen thousand thousand (14,000) Instagram followers.