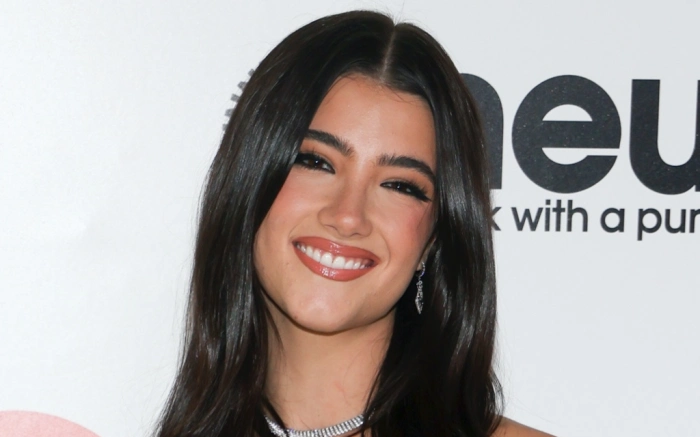 Charli D'Amelio is an American social media personality. She used to be a competitive dancer and she danced for over a decade before she began her social media career in 2019. She started posting videos of herself dancing on TikTok and quickly accumulated a big following and thereafter became the most-followed creator on the platform in March 2020 until she was surpassed by another creator in July 2022. She is one of TikTok's biggest stars.
Charli D'Amelio Biography
Charli Grace D'Amelio was born on 1st May 2004 in Norwalk, Connecticut. Her Mother is Heidi D'Amelio, a photographer, former model, and entrepreneur, and her father Marc D'Amelio is a former Republican Connecticut Senate candidate. She has an older sister, Dixie, who is also a social media content creator.
She started dancing when she was three years old and over the years became a competitive dancer for over 10 years before starting her TikTok career in 2019.
She was a student of the private King School in Stamford, Connecticut, before she started virtual schooling after her TikTok success.
Charli D'Amelio Career
D'Amelio started posting videos on TikTok in May 2019. Her first video was a lip-syncing video with her friend. Two months later she posted her first video that drew attention, a TikTok "duet" with another user Move With Joy, which was posted. In October 2019, she gained more attention for her videos performing a dance called the "Renegade" to the K Camp song "Lottery".
In November 2019 D'Amelio and her sister Dixie joined the collaborative TikTok content house The Hype House. Thereafter, former Sony Music executive Barbara Jones signed her to her management company, Outshine Talent, and in January 2020, D'Amelio and the rest of t her family signed with United Talent Agency.
In November 2019, Bebe Rexha invited D'Amelio to perform with her during her opening performance for the Jonas Brothers. She also started posting on her self-titled YouTube vlog channel that month. She also appeared in several commercials and campaigns such as UNICEF and the Super Bowl.
In 2021, D'Amelio featured alongside her family members in the Hulu docuseries The D'Amelio Show. She and her sister starred in the Snap Original web reality competition show Charli vs. Dixie, which was released in November 2021 followed by another season in 2022 and is produced by Westbrook Media.
In April 2022, D'Amelio signed to star as the lead in Village Roadshow Pictures and Ryan Kavanaugh's supernatural thriller film HomeSchool, with D'Amelio's parents and sister as co-executive producers. D'Amelio and her mother Heidi D'Amelio were participants in the thirty-first season of the American dance competition series Dancing With The Stars, competing separately. She and her mother made history as the first family members to compete against each other on the show. In November 2022, during the show's season finale, D'Amelio, and her partner Ballas were announced as the winners.
In September 2022, she and her family announced a new project, called D'Amelio Brands, which would develop and run its brands, focused on fashion, beauty, and lifestyle.
Charli D'Amelio Movies and TV Shows
D'Amelio appeared in the television shows and movies listed below;
2020: StarDog and TurboCat
2020: #KidsTogether: The Nickelodeon Town Hall
2020: The Disney Family Singalong
2020: Graduate Together: America Honors the High School Class of 2020
2020: Here for It with Avani Gregg
2021: Earth Day! The Musical
2021: Celebrity Family Feud
2021–present: The D'Amelio Show
2021: Charlie Vs. Dixie
2022: Hype House
2022: Step Into…The Movies With Derek and Julianne Hough
2022: The Simpsons
2022: Dancing with the Stars
She was also featured in the music video of "Baby, I'm Jealous" by Bebe Rexha featuring Doja Cat and Pa' Ti + Lonely" by Jennifer Lopez and Maluma.
Music
Charli D'Amelio released her debut single "If You Ask Me To" in October 2022. The song is a piano ballad about heartbreak. It was produced by Greg Keller, who also co-wrote the track with D'Amelio, Austin Sexton, Emi Secrest, and Michael Schiavo. The music video was directed by Andrew Sandler.
The song peaked on New Zealand Hot Singles (RMNZ) at number 28 and US Adult Top 40 (Billboard) at number 37.
Charli D'Amelio Awards/Nominations
D'Amelio has received several accolades and also broke 3 records on the Guinness World Records in 2021 for Most followers on TikTok, First person to reach 50 million followers on TikTok, and First person to reach 100 million followers on TikTok.
She also received 4 other awards; 2 Kids' Choice Awards, and 2 Streamy Awards. D'Amelio has multiple other nominations.
Personal Life
D'Amelio has been vocal about her eating disorder and body dysmorphia. She also stated that she is frequently bullied online because of her body shape and type.
Charli D'Amelio Net Worth
D'Amelio net worth is currently $20 million.