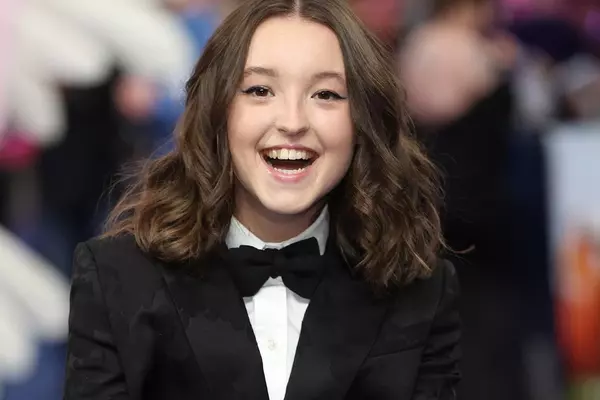 Isabella May Ramsey a.ka Bella Ramsey is a British actress. She is famous for portraying the young noblewoman Lyanna Mormont in the acclaimed HBO fantasy television series Game of Thrones from 2016-2019. She was also cast as Mildred Hubble in the 2017 CBBC series The Worst Witch and voiced the title character in the Netflix animated series Hilda since 2018 and as Jane Grey in the 2022 Starz drama Becoming Elizabeth. She is also playing the lead role in the new Television series The Last of Us.
Bella Ramsey Age and Full Biography
Bella Ramsey was born in September 2003 in Nottingham. She is 5 Feet 1.5 Inches tall.
She studied virtually at InterHigh School. At age 4 Ramsey started acting through the Loughborough branch of Stagecoach Theatre Arts, for seven years. After that Ramsey went to the Television Workshop and started auditioning for professional roles.
Career
Ramsey played Lyanna Mormont from 2016 to 2019, in the world-acclaimed HBO fantasy drama TV series Game of Thrones, which is also her first credited role. Following her debut appearance in season 6 of The Broken Man.
Ramsey was featured in the 2017 TV adaptation of The Worst Witch books, as Mildred Hubble. She left the series in 2020 due to mental health issues. Since 2018, Ramsey had been voicing the title character in the 2018 Netflix original series Hilda. Ramsey started singing and her debut song "The Life of Hilda" was released alongside the show's second season. She played the same role as Hilda in the 2021 80-minute movie special, Hilda and the Mountain King.
Ramsey was cast as the main role, portraying Ellie for the upcoming HBO adaptation of the 2013 video game The Last of Us alongside Game of Thrones co-actor Pedro Pascal.
Bella Ramsey Movies and TV Shows
Ramsey was featured in the following TV series and films including podcasts and radio;
2016–2019: Game of Thrones
2016–2017: Future-Worm!
2017: Elefthería
2017–2020: The Worst Witch
2018: Requiem
2018: Two for Joy
2018: Holmes & Watson
2018–present: Hilda
2019: Princess Emmy
2019: Judy
2019: Nancy
2019: Zero
2019: On the Beaches
2020: Turtle Journey
2020: 3 Minutes of Silence
2020: Resistance
2020: Shepherd's Delight
2020: His Dark Materials
2020: Summer Camp Island
2020: Edith Sitwell in Scarborough
2021: Requiem
2021: Villain
2021: Hilda and the Mountain King
2022: Becoming Elizabeth
2022: Catherine Called Birdy
2022: Impact Winter
2023: Chicken Run: Dawn of the Nugget
2023: The Last of Us
She was also featured in the 2018 video game Doctor Who Infinity
Bella Ramsey Awards/Nominations
In 2019 she won the BAFTA for Best Young Performer and Children's Animation alongside Luke Pearson, Stephanie Simpson, and Kurt Mueller.
In 2020, Ramsey won the CinEuphoria Awards for Merit – Honorary Award (shared with the cast).
She also has 6 other award nominations including the 28th Critics' Choice Awards, British Animation Awards, and the 26th Screen Actors Guild Awards amongst others.
Bella Ramsey Net Worth
Bella Ramsey's net worth is currently estimated at $5 million.
Frequently Asked Questions About Bella Ramsey
What Nationality is Bella Ramsey?
Bella Ramsey is British
How Old is Bella Ramsey?
Isabella will be 20 years old this year.