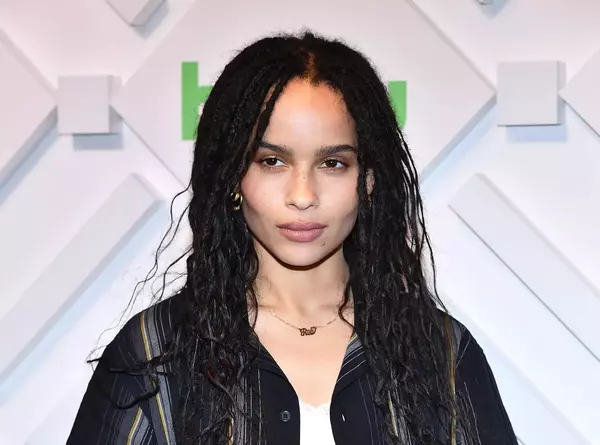 Zoe Kravitz is an American actress, musician, and model. She made her first acting appearance in the 2007 romantic comedy No Reservations. She is mostly famous for portraying Angel Salvadore in the superhero film X-Men: First Class. Kravitz also portrayed the recurring role of Christina in The Divergent Series from 2014–2016 and Leta Lestrange in the Fantastic Beasts film series from 2016–2022.
Zoe Kravitz Age, Height and Full Bio
Kravitz was born on 1st December 1988, in Venice, Los Angeles, to parents, Lisa Bonet, an actress, and musician Lenny Kravitz. Zoe is 5 feet 1 inch tall. Both r parents are of half African-American and half-Jewish descent. Her paternal grandmother, actress Roxie Roker, and her maternal grandfather, Allen Bonet, were African American. On the other hand, her paternal grandfather, NBC television news producer Sy Kravitz, and maternal grandmother, Arlene Litman, were both Ashkenazi Jews. Kravitz however identifies as a secular Jew. Her godfather is the famous movie producer Bruce Cohen, and her godmothers are actresses Marisa Tomei and Cree Summer.
Her father wrote a tribute to his then two years old daughter (Zoë). The song "Flowers for Zoë", is on her father's second album Mama Said. Kravitz's parents divorced six years after their marriage, in 1993 when Kravitz was five years old.
Following the divorce, she lived with her mother in Topanga Canyon and later moved to Miami at age 11 to live with her father, spending only summer holidays with her mother.
Zoe Kravitz Career
Kravitz's first role was in 2007 while she was still in high school, she played a babysitter in the romantic comedy No Reservations alongside Catherine Zeta-Jones. Also in 2007, she appeared in the action thriller The Brave One. In 2008, she appeared in the family drama Birds of America and the neo-noir comedy Assassination of a High School President.
In 2011, Kravitz was cast in the film Yelling to the Sky. That same year, she was cast in eight episodes of the television series Californication, as Pearl. She also joined the cast of the comic book turned movie character in X-Men: First Class as Angel Salvadore.
In 2015, Kravitz was featured in the comedy-drama Dope and Mad Max: Fury Road. She was cast in the Harry Potter spin-off Fantastic Beasts and Where to Find Them as Leta Lestrange. In 2017, Kravitz was cast in the mystery thriller Gemini, she also appeared in the comedy film Rough Night and the animated superhero film The Lego Batman Movie, in which she voiced the character Selina Kyle/Catwoman. From 2017 to 2019, Kravitz was cast in the HBO drama series Big Little Lies, as Bonnie Carlson. She went on to feature in several other high-grossing movies.
She has two studio albums "Calm Down" (2014) and "Tenderness" (2020) both released under Innit Recordings. Kravitz also has two EP albums "Lolawolf" (2014) and Everyfuckinday (2015) also by the same recording studio.
Zoe Kravitz Movies and TV Shows
Kravitz has been featured in these films and television shows;
No Reservations, The brave One (2007), Assassination of a High School President, Birds of America (2008), The Greatest (2009), Twelve, Beware the Gonzo, It's Kind of a Funny Story (2010), Yelling to the Sky, X-Men: First Class, Californication (2011), Treading Water, After Earth (2013), Divergent, Pretend We're Kissing, The Road Within, Good Kill (2014), Dope, The Divergent Series: Insurgent, Mad Max: Fury Road (2015), Too Legit, The Divergent Series: Allegiant, Vincent N Roxxy, Adam Green's Aladdin, Fantastic Beasts and Where to Find Them, Morris & the Cow, Portlandia (2016), The Lego Batman Movie, Gemini, Movie Sound Effects: How Do They Do That?
Rough Night (2017), Big Little Lies (2017–2019) Kin, Fantastic Beasts: The Crimes of Grindelwald, Spider-Man: Into the Spider-Verse (2018), Viena and the Fantomes, High Fidelity, A World of Calm (2020), Kimi, The Batman, Saturday Night Live (2022), Pussy Island (TBA).
She also appeared in the Jay-Z "I know" music video as well as the "Imagine" music video by Gal Galdot and friends.
Zoe Kravitz Awards/Nominations
In 2014, Kravitz won the Napa Valley Film Festival Audience Award for Favorite Actress. A year later, Milano Internationals Film Festival Awards for Best Supporting Actress. In 2020, she won the Black Reel Awards for Television for Outstanding Writing for a Comedy Series (with E.T. Feigenbaum) and got three other nominations from them.
Kravitz has eleven other nominations including Screen Actors Guild Awards, Gold Derby Awards, Teen Choice Awards, and Scream Awards among others. She has a pending Saturn Awards for Best Actress.
Zoe Kravitz Personal Life
Kravitz dated actor Ezra Miller during the filming on Beware the Gonzo. She also dated actor Penn Badgley from 2011 to 2013.
In 2016, Kravitz started dating actor Karl Glusman and in February 2018 they were engaged, they finally got married at Kravitz's father's home in Paris on 29th June 2019. In December 2020, Kravitz filed for divorce; her divorce from Glusman was finalized in August 2021.
In 2021, Kravitz started a relationship with actor Channing Tatum.
Zoe Kravitz Net Worth
The actress/musician's net worth as of 2023, is $10 million.