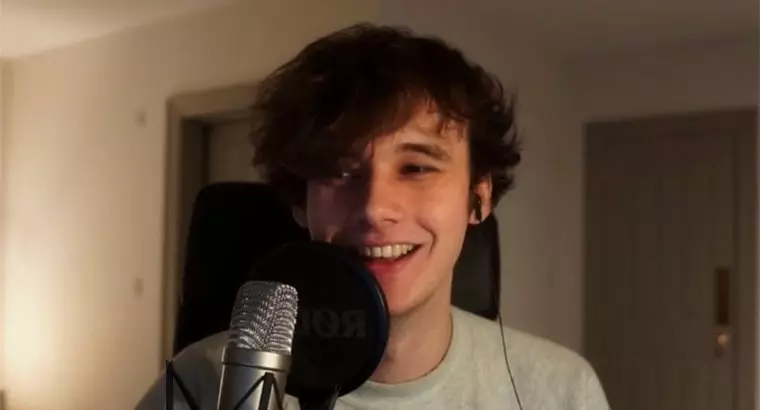 William Patrick Spencer Gold professionally known as Wilbur Soot, is a tall British Twitch streamer, YouTuber, and musician. He rose to prominence in 2017 for his work with the group comedy YouTube channel Soot House before starting his YouTube channel in 2019.
Wilbur Soot Biography
William Patrick Spencer Gold was born on14th September 1996 in Suffolk, England.
Gold earned himself a spot in the limelight in 2017 for his work on the group YouTube channel, SootHouse, which was created by Gold and a few of his friends. The channel primarily consisted of reaction videos, and its members discussed memes and life hacks, among other topics.
Gold created his main channel, Wilbur Soot, on 29th March 2019. His main channel reached 1 million subscribers on 8th April 2020 and is currently over 6 million subscribers. He also live streams on Twitch, and on Twitch he has gained. over 4.6 million followers, making him one of the most-followed channels on Twitch.
In 2020, he became a part of the Minecraft server The Dream SMP run by YouTuber Dream. On Minecraft, Gold set up the fictional country of L'Manberg and later became a lead writer for the server's stories and folklore.
He released his first single, "The 'Nice Guy' Ballad", in 2018. Gold first charted with his sixth single, "Your New Boyfriend", which was released in December 2020, it topped the UK Singles Chart at number 65. He has also been featured on many artist charts such as Billboard's Emerging Artists Chart and Rolling Stone's Top Breakthrough Chart.
Gold created the indie rock band Lovejoy in 2021 alongside his friend Joe Goldsmith. Gold is the band lead vocalist, co-songwriter, and rhythm guitarist; Goldsmith serves as band lead guitarist, co-songwriter, and backing vocalist; Mark Boardman is the drummer, and co-songwriter; and Ash Kabosu is the bassist, and co-songwriter.
On 9th May 2021, Lovejoy released their first EP, Are You Alright? A few days later they debuted on Billboard's Emerging Artists chart at number 10. Their second EP, Pebble Brain, was released on 14th October 2021, streaming at number 12 on the UK Albums Chart.
Wilbur Soot's songs
The 'Nice Guy' Ballad
I Am Very Smart
Maybe I Was Boring
Karen, Please Come Back I Miss the Kids
I'm in Love with an E-Girl
Internet Ruined Me
Your New Boyfriend
Soft Boy
Knee Deep at ATP
You'll Understand When You're Older
The Fall
Perfume
Oh Yeah, You Gonna Cry?
Cause for Concern
One Day
Sex Sells
Taunt
Concrete
It's All Futile! It's All Pointless!
Model Buses
I'm in Love with an E-Girl
Wilbur Soot Net Worth
Wilbur Soot is reportedly worth a sum of $800,000 as of 2022.
Frequently Asked Questions About Wilbur Soot
How old is Wilbur Soot?
Wilbur is 26 years old.
How Tall is Wilbur Soot?
When you talking about heights, Wilbur Soot is 6 Feet 5 Inches tall. That is quite a height.