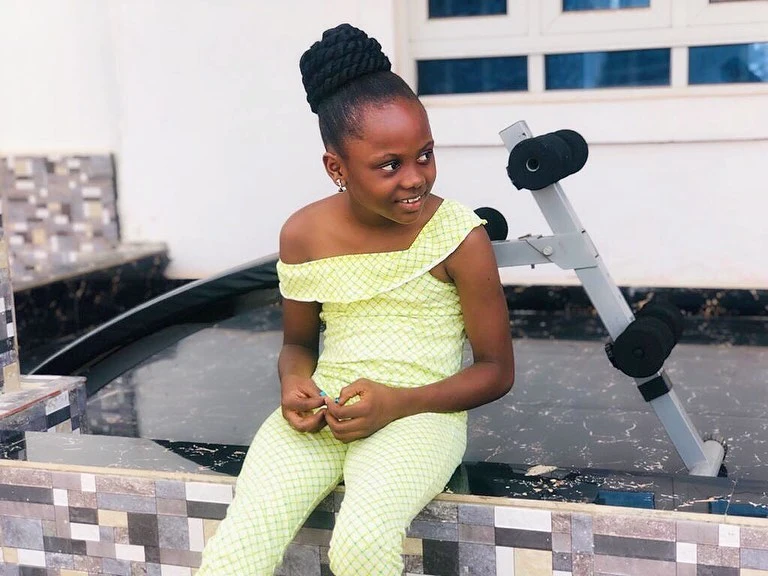 Uchechi Okonkwo Treasure a.k.a Ada Kirikiri is a fast-rising Nigerian teenage Actress, Gospel musician, and Dancer. She is popularly known by her stage name Ada Kirikiri.
Uchechi Okonkwo Biography
She was born on October 12, her year of birth is undisclosed but she is currently in her early teens. Uchechi is from the city of Owerri, Imo state Nigeria where she is currently residing and in schooling, she is in her secondary school. 
Contrary to the popular assumption that Chief Imo is her father due to the frequency of her acting alongside Chief Imo, the two are not related; they just happen to feature in several movies together. There is very little information about Uchechi parents, as they have kept themselves away from the limelight. 
Uchechi Okonkwo started her career as a child as you can guess, a few years back she proved herself to be gifted and talented in acting and she did excellently in interpreting her roles in movies. She is currently one of Nollywood's best-known teen actors. 
You can follow her on her Instagram page @uchetreasure_
Uchechi Okonkwo Movies
The teen actress has been featured in quite a number of movies over the years, which include the following;
Chief and Lolo Imo

The couple

Twins Killing Forest

The Good Doctor (2021)

Saving Rose (2021)

Lingering Pain (2022)

Ziora (2022)

April (2022)

Nnajulu (2022)

Couple Rivalry 

Stench of Poverty, among others 
Musical Career
As young as Uchechi is she is loaded with talent besides her amazing acting skills she is also a good singer. Her singing prowess has left many in awe. She sings in the gospel music genre and some of her songs include;
Obiliwo

One with God

Beyond me

Jesus

Shame unto you

Omeyo ya

Tasted of your Power 

Powerful Name

Ekele Juru Onum

Oke Osisi
Uchechi Okonkwo Net Worth 
Uchechi is ahead of most of her peers financially and she is already on the path of building an empire for herself. She is estimated to have a net worth of about $40,000.