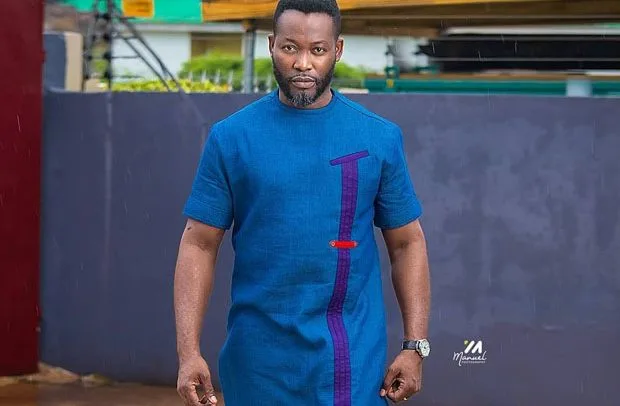 Adjetey Anang is a famous Ghanaian Actor and Movie producer. He is a multiple award-winning film and stage actor with more than two decades of experience in different forms of theatre and screen productions. Anang was born on July 8th, 1973. He is popularly called Pusher, the name of the role he played in his debut TV Show "Things we do for Love". He is a renowned actor, versatile, and one of the best in the Ghanaian movie industry.
Adjetey Anang Biography
He studied at Labone Senior High School where he obtained his secondary school diploma. Anang is an alumnus of the University of Ghana, Legon where he earned his First Class Bachelor of Fine Arts degree from the School of Performing Arts. He then went on to obtain a Master of Arts Degree in Dramatic Arts (also with distinction) from the University of the Witwatersrand in Johannesburg, South Africa (Wits University). He has also completed and earned several workshops and training programs/certifications in Ghana, South Africa, Nigeria, The Netherlands, the UK, and the US.
Career
The award-winning actor started his acting career on stage with Nyankunton Players (a drama group), where he was founded and employed by the National Drama Company (Abibiogromma). This organization saw his potential and projected his talent onto National stage productions. Anang's screen debut was on the 1998 TV Drama with Ghana's National TV station (GTV). He got his big break into the Ghanaian movie industry in 2000 with his screen appearance in the television series "Things We Do for Love". He took on the role of Pusher which is his nickname till now. Since then he has appeared in several other movies.
He also works as a lecturer in Acting at the National Film and Television Institute (NAFTI) teaching both undergraduates and Diploma level students. The actor is also in charge of acting Certificate Courses in the Institution.
Adjetey Anang Movies and Tv Shows List
The superstar has graced the big screen several times. Listed below are movies and tv shows Anang has featured on;
Broken Heart (1999)

Things We Do For Love (2000)

Life and Living it (2009)

The Perfect Picture(2009)

A sting in a tale(2009)

Adams Apples : The Family Ties (2011)

Adams Apples: Musical Chairs (2011)

Adams Apples: Torn (2011)

Adam Apples: Twisted connections(2011)

Adams Apples : Duplicity (2011)

Adams Apples : Confessions (2011)

Adams Apples : Showdown(2011)

Adams Apples: Fight or Flight (2012)

Adams Apples: New Beginnings (2012)

Adams Apples: Rescue Mission (2012)

The pledge: Ghana will not burn (2012)

Potomanto (2013)

Double Cross (2014)

Devil in the Detail(2014)

Kintampo (2017)

Sink or Swim: The Perilous Journey (2017)

Potomanto

My Very Ghanaian Wedding (2017)

Potato Potahto (2017)

Keteke (2017)

Side chic Gang (2018)

Yolo

Sin City 

Sugar

Gold Coast Lounge (2019)[20]

Citation (2020)

Aloe Vera (2020)

Our Jesus Story (2020)

Dede
Adjetey Anang Awards/Nominations 
He has become a force to reckon with in the Ghanaian movie industry. His co-actors and film producers have described Anang as "one of the best classically trained screen & stage actors in Africa ready to take on the global stage". He won the Arts Critique and Review Association of Ghana (ACRAG) Talent Award and the Ghana Union of Theatre Societies (GUTS) Best Actor Award. He also won the Actor of the year at the 2022 Exclusive Men of the Year Africa Awards. He was nominated in the Best Supporting Actor category in the 8th Africa Magic Viewers' Choice Awards for his role in Gold Coast Lounge. He is also currently nominated in the African Movie Academy Awards(AMAA) for Best Actor in a Supporting Role.
Personal Life
Anang is married to Elom Anang. The couple had some challenges with having a child. However, after seven years of childlessness, they were blessed with a son, Ryan Anang.
Adjetey Anang Net Worth 
From his Decades of acting, lecturing and recently being an influencer, the father of one has amassed quite a fortune for himself. Anang's net worth is approximately $1 million.