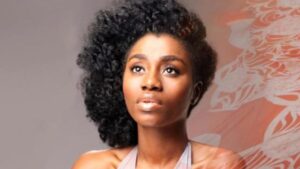 Toyin Sokefun Bello popularly referred to as TY Bello is a Nigerian singer, songwriter, photographer, and philanthropist. She is a woman of many talents, a role model to up-and-coming photographers and music enthusiasts. TY Bello's work is well-known both nationally and internationally. Her creativity and talent are extraordinary. She is active on social media and her official Instagram account is @tybello
EARLY LIFE
Growing Up.
The artist was born on January 14th, 1978 in Ogun State, to the late Mr. Remi Sokefun. Her father, Remi Sokefun was a popular TV producer and she is said to have inherited her creative talent from him. 
Education.
TY Bello studied Economics at the University of Lagos where she earned her Bachelor's degree. Additional information about her education is unknown at the time this article was written.
How Bello's Career Started.
TY Bello was a member of the music team in her church growing up, as a member of the Revival Word Church they are expected to write and compose songs for each Sunday service from the sermons. It was during this time she developed her writing and singing talents.
While the singer was an undergraduate student at the University of Lagos, she continued to write songs and sing with famous gospel singers, the likes of, Lara George, Dayo Torimiro, and Emen Ema. These singers including Bello formed the now-disbanded gospel band called Kinetically Ushering Salvation into Hearts and Homes (KUSH).  The band made a major breakthrough and came to the limelight with their single, "Let's Live Together" in the early 2000s. Ty Bello started her career as a solo singer after her band dissolved.
Her photography career started shortly after the KUSH band dissolved, it was in a period when photography was not popularly taught as a profession in Nigeria. Portrait photography is what Bello is more Focused on although she does documentary and conceptual photography. The majority of works are usually exceptionally and somehow you'd know it is Bello's work.
IMPORTANT LIFE EVENTS
Career Breakthroughs
Her first debut solo album titled Greenland was released in 2008. The album was a success and earned her two prestigious awards. TY explained that "Greenland describes her everyday journey into life."
TY Bello has initiated a soft worship series called Spontaneous Worship. The new Spontaneous Worship is an unscripted, unedited, and fresh manifestation of  Christian worship in songs. The sequel has starred other great gospel singers like  Sinach, Folabi Nuel, Tolu Ijogun, Wole Oni, George, and many others.
The artist has gone ahead to build an enabling atmosphere and platforms for up-and-coming photographers to exhibit their work. Photography has taken Bello to the aisles of power as she has taken portraits of three sitting presidents and she was also the official photographer to the former president of Nigeria, Ex-President Goodluck Jonathan. She has also photographed many A-list celebrities in Nigeria and Africa. TY Bello also works with a prominent Nigerian fashion magazine as its photographer, Thisday Fashion Magazine.
Bello's Notable Achievements 
Ty Bello signed a partnership deal with Canon for the 'live for the story' campaign in 2019. The campaign tells a personal story of each Nigerian in a very unique way directly from each individual telling their story.
TY Bello was celebrated by the non-profit Communication for Change Organization in a five-part documentary film series titled RedHot, in July 2011.
Discography
Listed below are TY below songs;
The Future (2011) featuring Tara Fela-Durotoye, Banky W, Sound Sultan, and Chude Jideonwo.

Yaweh (2013) featuring Wale Adenuga and two other vocals, Mosa and Nwando Okeke.

The Morning Songbook (2014) featuring Fela Durotoye and M Sugh.

Land of Promise (2016).

Holy Ghost Air (2016) featuring Nathaniel Bassey.

Bow Down (2017) and produced by Samjazzy.
AWARDS/RECOGNITIONS
TY Bello has earned many placards of honor in the course of her career as some of them are listed below;
In 2008 she won the Best New Act of the Year at the Nigeria Entertainment Awards

She won the Best Female Video at the Sound City music video Awards 2009

At the Headies award in 2008, she was nominated for four different awards, Recording Artiste of the Year, Hip Hop World Revelation of the Year, Best Vocal Performance (Female), and Best Music Video (Director).

In 2013 the Creative Industry Awards nominated her for Visual Arts Awards.

The singer was nominated alongside 25 others for the Ten Outstanding Young Persons Awards in 2017.

She won the Most Creative Personality of the Year at SRAF Awards 2017.
TY Bello Humanitarian Work
 Ty Bello is also known as a philanthropist she is enthusiastic about supporting the less privileged, orphans and children so she organizes a yearly photography exhibition event to generate funds for orphans across the nation. She is also a part of the Link-A-Child non-governmental organization (NGO), the organization is responsible for establishing immediate awareness for orphanages in Nigeria and seeking support for them. Bello is also an advocate for women's rights and fights against gender-based violence. 
In 2017, Bello met with the United Nations Deputy Secretary, General Amina Mohammed and they both spoke at length on what can be done to put a stop to violence against women.
There is also the story of 'from grass to grace' the story of Olajumoke the bread seller. The woman whom Bello discovered while she was shooting in the street of Lagos state with the Nigerian-British rapper, Tinnie Tempah. Olajumoke the bread seller was walking by hawking her bread with a tray of her goods on her head while Bello photographed. Bello saw her and insisted she had potential as a model and with her condition, as just a bread seller Bello funded her and assisted her in building a modeling career.
Olajumoke Orisaguna is now a successful model and she was made the face of the PayPorte campaign and also the ambassador of Stanbic IBTC in 2016.
INTERESTING FACTS
Net Worth
The Singer/photographer's net worth is estimated to be $4 million.
Other Interesting Facts
TY Bello got married in 2009 to her husband Kashetu Bello, the couple welcomed their children a set of twins in 2014, the boys are named Christian and Christopher Bello.
Prior to having her kids, she battled with Endometriosis for several years.  She was able to have her boys thanks to IVF after nine years into her marriage. She gave birth to her twins on the 10th of October 2014. Many Nigerian women draw inspiration from her story.
TY Bello disclosed that she was sexually assaulted as a child and that it had an adverse effect on her growing up.