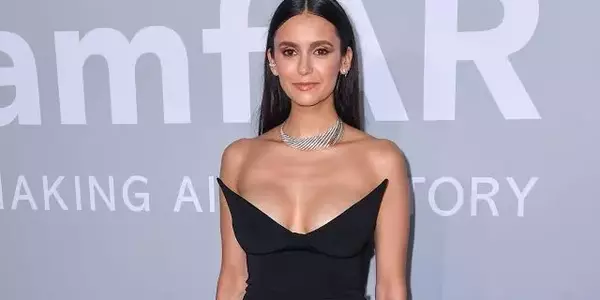 Nina Dobrev Biography
Nina Dobrev, whose real name is Nikolina Kamenova Dobreva, is a Bulgarian-Canadian actress and model. She was born on January 9, 1989, in Sofia, Bulgaria. Dobrev moved to Canada with her family at the age of two and grew up in Toronto, Ontario. Dobrev's height has been a topic of discussion among her fans. According to various sources, she is 5 Feet 7 Inches tall which is above average for a woman.
Dobrev attended Wexford Collegiate School for the Arts in Scarborough, Toronto, where she pursued her passion for acting, dance, and visual arts. At the age of 17, she decided to pursue a career in acting and started working in commercials and modeling gigs.
In 2006, Dobrev made her television debut with a role in the teen drama series "Degrassi: The Next Generation," where she portrayed the character Mia Jones. Her performance in the show gained her recognition and opened doors for other acting opportunities.
However, Dobrev's breakthrough came in 2009 when she was cast as Elena Gilbert, the lead role in the supernatural drama series "The Vampire Diaries." The show, based on the book series by L.J. Smith, became a massive success and catapulted Dobrev to international fame. She portrayed both Elena Gilbert and Katherine Pierce, another central character in the series, showcasing her acting versatility.
During her time on "The Vampire Diaries," Dobrev also ventured into film, starring in movies such as "The Perks of Being a Wallflower" (2012) and "Let's Be Cops" (2014). Her talent and beauty made her a sought-after actress in Hollywood.
After six seasons on "The Vampire Diaries," Dobrev decided to leave the show in 2015 to explore other opportunities and focus on her film career. She went on to appear in movies like "xXx: Return of Xander Cage" (2017) and "Flatliners" (2017).
In addition to her acting career, Dobrev is also involved in various philanthropic endeavors. She supports causes such as education, animal rights, and environmental issues. Dobrev has used her platform to raise awareness and funds for organizations like Free the Children, Puma's Project Pink, and the Elton John AIDS Foundation.
Nina Dobrev continues to be a prominent figure in the entertainment industry, known for her talent, versatility, and captivating presence on screen. Her career has showcased her ability to take on diverse roles and has solidified her status as one of the most talented actresses of her generation.
Nina Dobrev Movies and Shows
Here are some notable ones:
Movies:
The Perks of Being a Wallflower (2012)
Let's Be Cops (2014)
The Final Girls (2015)
xXx: Return of Xander Cage (2017)
Flatliners (2017)
Dog Days (2018)
Run This Town (2019)
Lucky Day (2019)
Redeeming Love (upcoming)
Television Shows:
Degrassi: The Next Generation (2006-2009)
The Vampire Diaries (2009-2015)
Workaholics (2012)
Robot Chicken (2013)
Family Guy (2014)
Lip Sync Battle (2015)
Fam (2019)
Sick Girl (2020)
Woman 99 (upcoming)
Nina Dobrev Husband
Nina Dobrev's current boyfriend is Shaun White, an Olympic snowboarder and they are not married yet. They have been dating since early 2020 and went Instagram official in May of that year. They have been quarantining together and have been very supportive of each other's careers. According to a source, they are planning to take their relationship to the next level and get engaged in 2023.
Nina Dobrev Net Worth
Nina Dobrev is a Bulgarian-Canadian actress with a net worth of $13 million as of June 2023. She first became famous by playing the role of Mia Jones on "Degrassi: The Next Generation" and later gained widespread recognition for her starring role on the series "The Vampire Diaries". In addition to her acting career, Nina Dobrev is also a successful businesswoman. She has amassed her fortune through various sources, including acting, modeling, and endorsement deals with brands such as Reebok and Dior.
Frequently Asked Questions About Nina Dobrev
Who is Nina Dobrev Dating?
She is currently dating Shaun White
Who has Nina Dobrev Dated?
Below is Nina Dobrev's dating history
Nina Dobrev has dated several men throughout her career. According to various sources, including, her dating history includes:
– Ian Somerhalder (2010-2013): Nina Dobrev dated her "The Vampire Diaries" co-star Ian Somerhalder from 2010 to 2013.
– Derek Hough (2013): Nina Dobrev briefly dated dancer Derek Hough in 2013.
– Liam Hemsworth (2014): Nina Dobrev was rumored to have dated actor Liam Hemsworth in 2014.
– Austin Stowell (2015): Nina Dobrev dated actor Austin Stowell in 2015.
– Glen Powell (2016-2017): Nina Dobrev dated actor Glen Powell from 2016 to 2017.
– Grant Mellon (2019): Nina Dobrev dated screenwriter and director Grant Mellon in 2019.
– Shaun White (2020-present): Nina Dobrev is currently dating Olympic snowboarder Shaun White, whom she met in 2020.
It's worth noting that Nina Dobrev has kept her personal life relatively private, so some of these relationships may be rumors or unconfirmed.
How Old is Nina Dobrev?
She is currently 34 Years old.