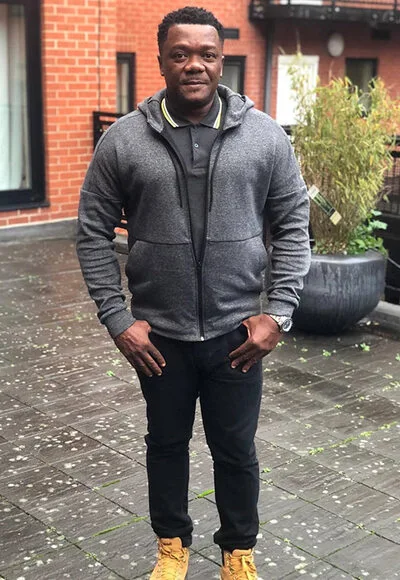 Kelvin Ngozi Ikeduba is an award-winning Nigerian actor. Ikeduba has graced our TV screens for over two decades now.
The handsome actor is known for his poise and grace, and also his ability to immerse himself into the character he is playing. 
The superstar is very active on social media and he can be reached through his official Instagram handle @kelvinikeduba. 
Kelvin Ikeduba Biography
Growing Up.
Ikeduba is a native of Delta State but he was born in Ebute Meta in Lagos State, south-western part of Nigeria largely occupied by the Yoruba tribe of Nigeria. He was born on August 21st of August 1976 to a family of six of which he is the firstborn child of the family. Ikeduba was raised from childhood to adulthood in Lagos state, specifically in Olokodana Street in Ebute-Metta
Education.
Ikeduba attended both his primary and secondary school in Lagos state but left the state to acquire a university degree so he relocated to Benin City, Nigeria where he studied at the University of Benin and earned his bachelor's degree in Economics.
How Kelvin's Career Started.
Ikeduba made an entrance into the Nigerian entertainment industry in the year 2000, he said acting was not a career he envisioned for himself but it just happened. In an interview with Vanguard news, he said he escorted a friend of his to an audition, and he decided to also audition since he was already there and he got lucky because he was called and got the role auditioned for.
Ikeduba is mostly known to act in the Yoruba indigenous section of Nollywood, however, he started his career in the English language category but made a transition to the former. His ability to speak the three major languages in Nigeria was a big advantage to his career.
Ikeduba is known as one of Nollywood's "bad boys" as he mostly takes up the roles that portray the lifestyle of crime.
IMPORTANT LIFE EVENTS
Career Breakthroughs
The actor's big break didn't happen until he switched from the English language part of the industry to Yoruba, he said he was introduced to Femi Ogedengbe who also introduced him to actor Saheed Balogun who gave him a movie role in a Yoruba movie he was producing titled Omo Alhaja. 
Ikeduba has created a niche that works well for him and he effortlessly switches between the English language and the Yoruba category of Nollywood.
Kelvin Ikeduba Movies
Kelvin Ikeduba has acted in over 300 movies since the start of his career as an actor, some of the movies he starred in are listed below;
Son of Mercy (2020)

Edo Decree 1440 (2018)

Igbeyawo Arugbo (2010)

Owowunmi (2010)

Atunida Leyi (2009)

Esin Obinrin (2009)

Critical Truth (2008)

Kiss The Dust (2008)

Laroda Ojo (2008) 

Mafi Wonmi (2008)

My Darling Princess (2008)

Ghetto Queen (2007)

Ghetto Language (2006)

Last Dance (2006)

Under The Sky (2006)

More Than Gold (2005)

Ògìdán (2004)

Emotional Tears (2003)

The Suitors (2000)

Swallow (2021)
Notable Achievements
Ikeduba has accomplished a lot of feats, some of which are his other career as a social media brand influencer, and has signed endorsement deals with many brands. He also founded a charity organization called Kelvin O'clock Foundation and many other great things he is doing for himself and the community.
AWARDS/RECOGNITIONS
Kelvin Ikeduba has been nominated for several awards in the course of his career but listed below are the ones he won.
Yoruba Movie Academy Awards (YMAA) where he won in the category of Best Crossover Actor in 2014.

In 2020 he won the Best Actor in a Supporting Role (Yoruba) at the Best of Nollywood Awards.
INTERESTING FACTS
Kelvin Ikeduba Net Worth
Kelvin Ikeduba's net worth is estimated to be $350,000. He has come a long way from that boy raised in the streets of Ebute Meta.
Other Interesting Facts
Even though Ikeduba has been tagged a bad boy he is said to be one of the sweetest and nicest people alive. The people who knew him personally have attested to the fact.