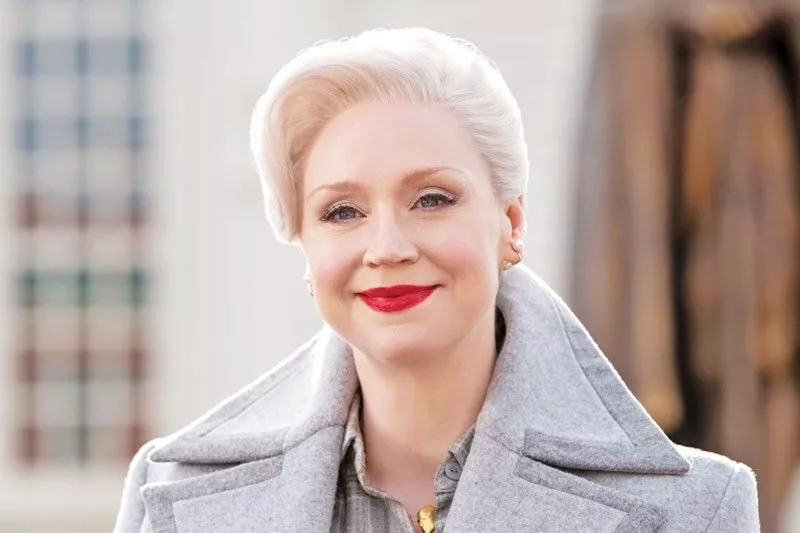 Gwendoline Tracey Philippa Christie is an English actress. She is famous for her role as Brienne of Tarth in the HBO fantasy-drama series Game of Thrones. Recently she has appeared in the Netflix fantasy series The Sandman and Wednesday.
Gwendoline Christie Biography
Gwendoline Tracey Philippa Christie was born on 28th October 1978 in Worthing, West Sussex. She is the third child of her father as she has two older half-brothers. Her mother was a housewife while her father worked in sales and marketing. She was raised in a hamlet close to the South Downs. Gwendoline Christie's height is about 1.9m which is really tall.
As a child, Christie trained as a gymnast but due to a spinal injury, she started acting. She studied at Drama Centre London and graduated in 2005.
Gwendoline Christie Career
From 2002-2008 Christie's height drew the attention of photographer Polly Borland. She made her the subject of a famous series of photographs, called Bunny.
Her theatrical career started in 2006 with some of her performances as the Queen in Shakespeare's Cymbeline opposite Tom Hiddleston, portraying Mag Wildwood in Breakfast at Tiffany's, and "standing out" as Lucifer in Marlowe's Doctor Faustus (2010).
She made her on-screen debut with a 2007 short film The Time Surgeon. Later, she appeared in other films that had the same director as the first one such as Seven Ages of Britain Teaser, a short TV film, and the first four films of the Ourhouse series.
Christie joined the cast of HBO's fantasy TV series Game of Thrones as the warrior Brienne of Tarth in the second season in 2011. From 2012-2013, she featured in the British science fantasy series Wizards vs Aliens. In 2015, Christie portrayed Commander Lyme in the fourth film of The Hunger Games film sequel, The Hunger Games: Mockingjay – Part 2. That same year Christie co-starred in Star Wars: The Force Awakens, as Captain Phasma and reprised her role in the 2017 Star Wars: The Last Jedi. Following that, she appeared in many other films and more recently as Larissa Weems in the Netflix series Wednesday.
Gwendoline Christie Movies and TV Shows
2006: Pravda Cindy
2006: Mirandolina
2007: Cymbeline
2007: The Time Surgeon
2009: The Imaginarium of Doctor Parnassus
2009: Giantbum
2009: Skin Deep
2009: Breakfast at Tiffany's
2010: Seven Ages of Britain Teaser
2010-2011: Ourhouse
2010: Dr. Faustus
2012–2019: Game of Thrones
2012–2013: Wizards vs Aliens
2013: The Zero Theorem
2015: The Hunger Games: Mockingjay – Part 2
2015: Star Wars: The Force Awakens
2016: Absolutely Fabulous: The Movie
2016: The Dress
2017: Star Wars: The Last Jedi
2017: Top of the Lake: China Girl
2018: The Darkest Minds
2018: In Fabric
2018: Welcome to Marwen
2018: Star Wars Resistance
2019: The Personal History of David Copperfield
2019: A Midsummer Night's Dream
2019: Our Friend
2022: Flux Gourmet
2022: Green Eggs and Ham
2022: The Sandman
2022: Wednesday
TBA: Severance
Christie was also featured in the music video for Goldfrapp's "Strict Machine" in 2003 and also the video for "Damaris" by Patrick Wolf in 2009.
In 2016 and 2017, she was featured in the Lego Star Wars: The Force Awakens and Star Wars Battlefront II as Captain Phasma.
In 2022, she voiced The Callisto Protocol: Helix Station
Gwendoline Christie Awards/Nominations
She received an Empire Hero Award alongside the cast of Game of Thrones in 2015
Christie was nominated for the Critics' Choice Television Award for Best Supporting Actress in a Drama Series (2019)
She was also nominated for the Primetime Emmy Award for Outstanding Supporting Actress in a Drama Series (2019)
She received a nomination for Saturn Award for Best Supporting Actress on Television (2013, 2019)
She received a Screen Actors Guild Award for Outstanding Performance by an Ensemble in a Drama Series (2013–15, 2017, 2019)
In 2022, she was nominated for the British Independent Film Award for Best Ensemble Performance
Personal Life
Christie is 190 cm (6 ft 3 in) tall. Due to her height, she was bullied when she was younger.
She is in a relationship with fashion designer Giles Deacon and they had been together since early 2013.
Gwendoline Christie Net Worth
Christie is reportedly worth $4 million as of 2022.