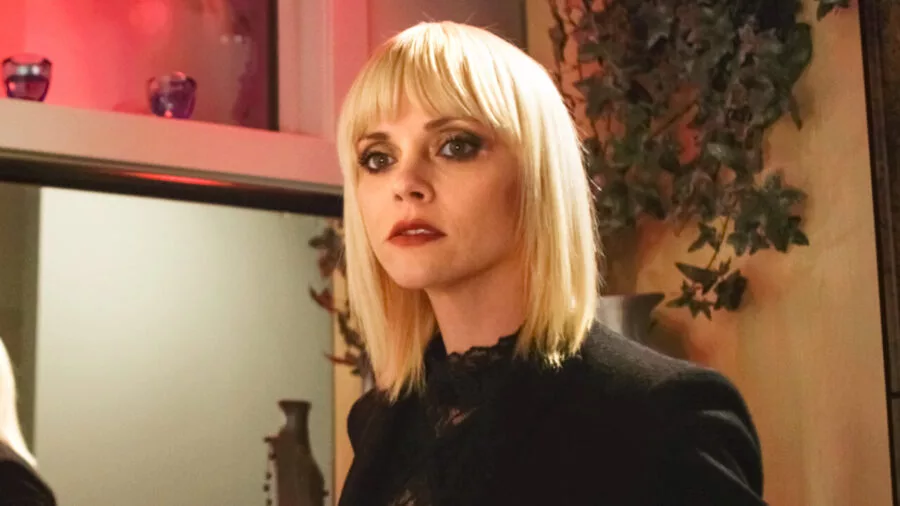 Christina Ricci is an American actress particularly known for playing notable characters with a dark edge, Ricci primarily works in independent productions but has also appeared in numerous box-office hits. She recently appeared in the new Netflix horror series, Wednesday.
Christina Ricci Biography
Ricci was born on 12th February 1980 in Santa Monica, California. She is the youngest of her parent's four children. Her mother Sarah worked as a Ford Agency model during the 1960s and later started a career as a real estate agent. Her father had many jobs such as a gym teacher, lawyer, drug counselor, and primal scream therapist. Her family moved to Montclair, New Jersey, where she grew up. Her parents separated before Ricci got to her teenage years.
She attended Edgemont Elementary School, Glenfield Middle School, Montclair High School, and Morristown–Beard School. She then studied at Professional Children's School in New York City.
Christina Ricci Career
Ricci was discovered when she was eighty years old by a local theater critic when she starred in a school production of The Twelve Days of Christmas. After that, she was featured in a couple of commercials on Saturday night live.
She debuted her acting skills in the 1990 film Mermaids, as Cher's character's youngest daughter, Kate. A year later, she featured as Wednesday Addams in The Addams Family, appearing for the reprised role for the 1993 sequel, Addams Family Values, both movies earned her a spot in the limelight. She starred in the 1997 Disney remake of That Darn Cat. In 1998, Ricci had roles in four different movies. She also appeared in numerous films after that working alongside Johnny Depp, Charlize Theron, and Britney Spears amongst others. In 2022, Ricci announced that she had joined the cast of the Netflix series Wednesday, portraying Marilyn Thornhill, a botany teacher at Nevermore Academy.
Christina Ricci Movies
1990: Mermaids
1990: H.E.L.P.
1991: The Hard Way
1991: The Addams Family
1993: The Cemetery Club
1993: Addams Family Values
1995: Casper
1995: Now and Then
1995: Gold Diggers: The Secret of Bear Mountain
1996: Bastard out of Carolina
1996: The Last of the High Kings
1996: The Simpsons
1997: Little Red Riding Hood
1997: That Darn Cat
1997: The Ice Storm
1998: The Opposite of Sex
1998: Buffalo '66
1998: Fear and Loathing in Las Vegas
1998: Small Soldiers
1998: Pecker
1998: I Woke Up Early the Day I Died
1998: Desert Blue
1999: 200 Cigarettes
1999: Saturday Night Live
1999: No Vacancy
1999: Sleepy Hollow
2000: Bless the Child
2000: The Man Who Cried
2001: All Over the Guy
2001: Prozac Nation
2002: Pumpkin (producer)
2002: Miranda
2002: The Laramie Project
2002: Malcolm in the Middle Kelly
2002: Ally McBeal
2003: The Gathering
2003: Anything Else
2003: I Love Your Work
2005: Monster
2005: Cursed
2005: Joey
2006: Penelope
2006: Grey's Anatomy
2006: Black Snake Moan
2006: Home of the Brave
2008: Speed Racer
2008: New York, I Love You
2009: Saving Grace
2009: All's Faire in Love
2009: After Life
2010: Alpha and Omega
2011: California Romanza
2011: Bucky Larson: Born to Be a Star
2011–2012: Pan Am
2012: The Good
2012: Bel Ami
2012: War Flowers
2013: The Smurfs 2
2013: Around the Block
2014: The Hero of Color City
2014: Lizzie Borden Took an Ax
2015: The Lizzie Borden Chronicles
2016: Mothers and Daughters
2017: Teen Titans: The Judas Contract
2017: Z: The Beginning of Everything
2018: Distorted
2019: Escaping the Madhouse: The Nellie Bly
2020: 50 States of Fright
2020: 10 Things We Should Do Before We Break Up
2020: Percy
2020: Here After
2021: The Matrix Resurrections
2021: Rick and Morty
2021–present: Yellowjackets
2022: Wednesday
2022: Monstrous
TBA: The Dresden Sun
Unplugged
Christina Ricci Awards/Nominations
Ricci has received and won several awards and nominations; Listed below are the awards she won
The 1991 Young Artist Awards for Best Young Actress Supporting Role in a Motion Picture
In 1992, the Fangoria Chainsaw Awards for Best Supporting Actress
The 1996 Saturn Awards for Best Performance by a Younger Actor
The 1998 Seattle International Film Festival SIFF Awards for Best Actress
The 1998 National Board of Review for Best Supporting Actress
The 1998 YoungStar Awards for Best Performance by a Young Actress in a Comedy Film
The 1999 Satellite Awards for Best Performance by an Actress in a Motion Picture – Comedy/Musical
The 1999 Florida Film Critics Circle Awards for Best Supporting Actress
The 2000 B-Movie Awards for Best Celebrity Cameo
2000 Saturn Awards for Best Actress
The 2000 Blockbuster Entertainment Awards for Favorite Actress – Horror
The 2001 Blockbuster Entertainment Awards for Favorite Supporting Actress – Suspense
The 2001 Young Hollywood Awards for Hottest, Coolest Young Veteran
Christina Ricci Personal Life
Many art publications have mentioned Ricci as one of artist Mark Ryden's muses. Her portrait has appeared in many of Ryden's oil paintings and sketches.
In February 2013, Ricci declared openly her engagement to James Heerdegen, a set cameraman she met on set in 2012. They got married in October 2013, in Manhattan. They welcomed their son in August 2014. On July 2, 2020, after nearly seven years of marriage, the actress filed for divorce and stated her reason for divorce as severe physical and emotional abuse and even got a restraining order against Heerdegen. In April 2021, Ricci was given full custody of their son, while her ex-husband was given visitation rights.
In August 2021, Ricci and her new boyfriend, hairstylist Mark Hampton, announced that she was pregnant with her second child. Two months later, on October 9, Ricci informed the public of her marriage to Hampton. The new couple welcomed their first child together, a daughter, in December 2021.
She is the national spokesperson for the Rape, Abuse & Incest National Network (RAINN).
Ricci has always battled with both anxiety and anorexia.
Christina Ricci Net Worth
Christina Ricci is said to be worth $8 million as of 2022.