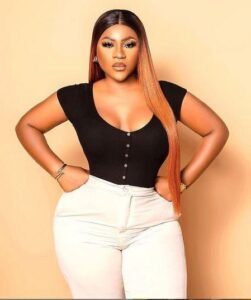 Destiny Etiko is a Nigerian Born fast-rising movie Superstar actress, movie director, Scriptwriter, social media personality, and Entertainer. Born to the family of Mr. and Mrs. Etiko, Destiny was born and brought up in Enugu. 
A fast-rising star who has made a Name for herself in the movie world had a rough journey before getting to where she is today. Here are facts about her:
Education
She attended Zik Avenue primary school, after which she proceeded to Queens School for her West African Senior Secondary School Certificate
After completing her Secondary School Education, she then got admission to study theater arts at Nnamdi Azikiwe University, Anambra State for her tertiary education. She graduated with a Bachelor's Degree in Theater Arts in 2012
Family History
Destiny has four siblings, a girl, and three boys. Being the second child of the family, acting was not always her father's first career choice for her. Acting for her was not always easy while growing up. According to her in an interview, she said: "my father was not always in support of me being an actress". Destiny Etiko lost her father on May 15, 2020, which she describes as " the greatest loss a person can ever experience in her life".
Destiny has a look-alike younger sister who is so interested in acting". 
Career
The acting was always a thing of the family because her mother used to be an actress. Her mother had to drop acting big time to support the family. Destiny started acting as far back as her secondary school days; it was not a full-time thing. She came into full acting after her Tertiary Education. The acting was made easy according to her, because her mother, who is her mentor, used to be an actress and has been supporting her from day one.
Her father John Anonde Etiko on the other hand was not always in support of her going fully into acting. He believes acting would not give her time to take care of her family. 
She joined "Nollywood" the Nigerian movie industry after she became a member of the Actors Guild of Nigeria.
known for her role in " Ekemma" in the movie Idemili. An award-winning movie that was made in 2012 but was later released in 2014. Destiny has featured in more than 250 movies so far in her career. These Movies include The Storm, Evil Seekers, Etc.
Filmography 
The prince & I (2019)

Heart of Love (2019)

My Sister's Love (2019)

Poor Billionaire (2019)
Virgin goddess (2019)

Queen of love (2019)
The Sacred Cowry (2019)

The Return of Ezendiala (2019)

Barren Kingdom (2019)

Pains of the Orphan (2019)

Clap of Royalty (2019)

The Hidden Sin (2019)

Family Yoke (2019)

King's Word (2019)

Sound of Evil (2019)
My Private Part (2019) as Stella

Power of Royalty (2019)

Sunset of Love (2019)

London Prince (2019)

Woman of Power (2019)

Tears of Regret (2018)

Evil Seekers (2017)

Fear of a Woman (2016)

3 Days to Wed (2016)

The Storm (2016)

Living in Poverty (2020)

Hour of Victory (2020)

Wrong turn (2021)
Many Nigerian actors or actresses relocate to Lagos to become successful in their chosen careers. Not for Destiny Etiko, she still lives in Enugu.
Awards and Nominations
Destiny Etiko has made her mark in the Nigerian industry, she has bagged many nominations. Some of the awards include:
Golden icon Movie Academy Award

Africa Magic Viewers Choice Award
Marital status
A lot of people say Destiny is a married lady, this rumor is wrong. She came out to clear the fact that, She's single and would love to marry a man that respects her and her Job which is acting. She states that she can never leave her job for her marriage.
 Destiny Etiko Sexual Harassment
Destiny is one of her interviews revealed how she was sexually harassed by some of the movie producers she has worked for. This happens often in locations according to her. Many will do it just to get fame, but destiny Etiko said " I can never do such, my talents will speak for me". 
It is really difficult to make a name for yourself in an industry where many producers and directors will want to use you for their selfish gain. 
Net Worth
Destiny joined the likes of industry big names that Love's to flaunt their expensive cars. Her 4matic Benz of 20 million Naira is one of her garage toys as she used to say. And also A Toyota Venza which is worth 12 million Naira.
Destiny Etiko has made it big in the Nigerian industry, She has an estimated net worth of $650,000.
Personal Life
The actress doesn't disclose her personal life on social media apart from the fact that she bought an apartment for her mother in 2018 for her undying love and support. Destiny later gifted a car to her mom.