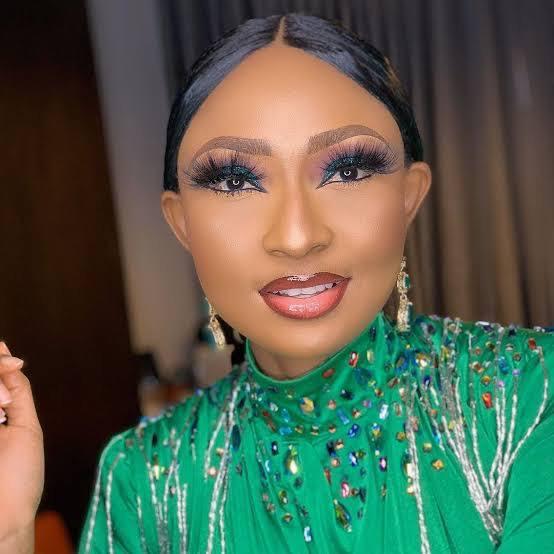 Grace-Charis Bassey Effah formerly known as Belinda Effah is a renowned Nigerian actress, film producer, and entrepreneur. She has been making waves in Nollywood and with the course, her career has taken over the years it is only true to say she has made her mark in the Nigerian movie industry. 
Belinda Effah Biography
EARLY CHILDHOOD
Grace-Charis Bassey was born Uyu Effah on December 14th, 1989, in Cross River State, Southern Nigeria. Her father, Lieutenant Commander Asido Bassey Effah, was a commander in the Nigerian Navy. She was raised in a big family as she is one of fifteen children of Bassey Effah. Through the advice of her brother while still in secondary school she changed her first name from Uyu to Belinda before adopting Grace-Charis Bassey in 2021.
EDUCATION
She attended the Hillside International Nursery & Primary School and Nigerian Navy Secondary School, Port Harcourt for both her primary and secondary education respectively. Effah then went ahead to the University of Calabar, where she majored in Genetics and Biotechnology.
CAREER
She made her grand entrance into Nollywood by featuring in the television series Shallow Waters, released in 2005, not long after that, she took a break from the TV series to participate in the reality show Next Movie Star. She completed the show by coming in the 5th position therefore she didn't get evicted from the house.
Belinda Effah has also worked once as a television presenter for Sound City, a popular Nigerian Entertainment cable station. Nonetheless, she left Sound City to start her TV show titled Lunch Break with Belinda.
The business-savvy actress is also the founder and CEO of GCB Empire, a Nigeria-based clothing and fashion brand based in Abuja.
In 2022, Iké Udé's portrait of Effah was showcased in the Nollywood Portraits exhibition at the Smithsonian National Museum of African Art.
Belinda Effah Movies
Effah has appeared in the many movies and TV series listed below;
Java's House

2012 – Kokomma

2012 – Mrs. Somebody

2013 – Alan Poza

2013 – Lonely Hearts

2013 – Misplaced

2013 – The Hunters

2013 – Cat and Mouse

2013 – Princess Ekanem

2013 – After the Proposal

2014 – Udeme Mmi

2014 – Apaye

2014 – Bambitious

Bigger Ladies

Azonto Babes

Ojuju Calabar

2015 – Jump and Pass

2015 – The Banker

2015 – Stop

2015 – Keeping Secret

2015 – Luke of Lies

2015 – Folly

2015 – So In Love

2015 – Being Single

2015 – Heroes and Villains

2015 – Black Val

2016 – Lost Pride

2016 – Oracles Online

2016 – Melting Point

2018 – SA Girl

2019 – Crack

2019 – Bursted

2019 – Inside Nollywood: Chapter 1

2019 – The Devil Within

2019 – Miracle

Miracle, 

2020 – Angel and Gabriela

2020 – Secret Twins 1 & 2

2005 – Shallow Waters (series)

The Room (series)

2011 – Tales of Eve (series)
PERSONAL LIFE
She gave birth to a son in the United States in February 2016, however, she has yet to reveal the identity of the child's father to the media.
In 2021, she announced to the general public that she would from that moment like to be addressed as Grace-Charis Bassey rather than as Belinda Effah. She explained that, on August 15, 2020, she had a divine encounter with God that inspired her to change her name to Grace. Charis is a word of Greek origin that also means "grace."
Grace-Charis Bassey Effah Awards and Nominations
It's only fair for Effah to receive the deserved accolades for her many remarkable work and as Nollywood is a fair industry she has gotten her fair share of awards and nominations on numerous occasions over the years, some of which are;
In 2012, she won the Best of Nollywood Awards in the Most Promising Act (female) category

She also won the 2012 Golden Icons Academy Awards as the Best New Actress

She won the 2013 Nollywood Movies Awards as the Best Rising Star

In the 2013 Nollywood Movies Awards, she was nominated as  the Best Indigenous Actress

Africa Movie Academy Awards that was held in 2013 and also the  Ntanta Award she won the Most Promising Act category for both awards

During the 2014 ELOY Awards, she was nominated as the Movie Actress of the Year

Also in the 2014 Golden Icons Academy Movie Award, she won the Best Supporting Actress

In the 2016 Africa Magic Viewers' Choice Awards she was nominated as the Best Actress in a Drama
Grace-Charis Bassey Effah Net Worth
The beautiful mother of one has amassed enough fortune using her talent in the entertainment industry, reliable sources have gathered her net worth to be $3 million.