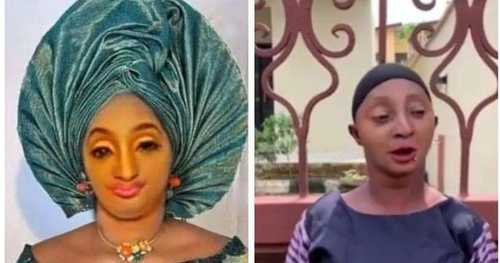 Aunty Ramota is a Nigerian comedian, Actress, and Socialite. The fast-rising superstar was born with a fettle which makes her not grow in height and uphold a small stature even in her adult age. Here are things to know about her:
Aunty Ramota Biography
Ramona Adetu who is popularly known as "Aunty Ramota" was born in Ikorodu, Lagos State in 1981. The 42-year-old Nigerian comedian and Nollywood actress is well known for her "small-sized ikorodu built Socialite". She had her elementary and secondary education in Ikorodu, Lagos.
Aunty Ramota's Career
Aunty Ramota started her comedy shows years back and has been doing extremely well in the Nigerian entertainment industry. She has displayed several good comical videos, causing exciting moments for people and making them fulfilled with her funny comedies.
Her hard work and consistency have been rewarded tremendously in the Nigerian entertainment Industry, putting smiles on people's faces despite her height which people see as fallible.
Aunty Ramota's Family
Aunty Ramota's family information wasn't disclosed. The actress likes keeping her family's story private, Especially her husband and her children away from social media.
In Summary: Although Ramota is a creative comedian, Her hilarious skits are mostly about social issues. She mentioned in one of her interviews that she doesn't like how people treat her unjustly because of her height. Although she is short and doesn't have the best body, she has managed to keep her comedy shows and make people in Nigeria and other parts of the world laugh.
Everyone who meets Ramota adores and respects her, and they all want to take pictures and hang out with her. She was even said to have asked for financial assistance to help her start a business outside of making skits, which got a wide and quick response from friends and her fans.
Aunty Ramota Net Worth
The estimated Net Worth of Aunty Ramota's about ₦2 million.