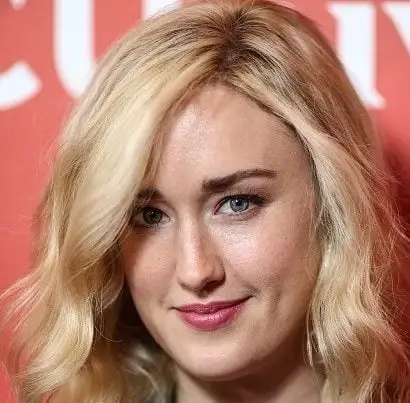 Ashley Suzanne Johnson is an American actress. She started as a child actress and made her debut as Chrissy Seaver on Growing Pains from 1990–1992. She is also famous for her television roles such as Amber Ahmed on The Killing and Patterson on Blindspot. She is also set to appear as Anna in the upcoming HBO series The Last of Us.
Ashley Johnson Net Worth, Husband and Full Biography
Ashley Suzanne Johnson was born on 9th August 1983, in Camarillo, California. Her parents are former test pilot Nancy and exploration ship captain Cliff Johnson. Her descent is traced to Norwegian, Scottish, and Swedish. Johnson has two older siblings; a brother named Chris and a sister named Haylie. Shortly after Johnson was born, her father left the old job that kept him away from his family and started a new job, and later moved the family to Franklin, Michigan. Her family lived in Michigan for a while before going back to Los Angeles, California. She lost her father to complications from hepatitis C and liver and lung cancer when she was 16 years old.
Johnson went to school in Burbank and afterward studied violin and piano at the International School of Music in Glendale.
Career
Johnson started acting at age 6, her debut was on the sitcom Growing Pains as Chrissy Seaver from 1990 to 1992. She reprised her role as Chrissy in The Growing Pains Movie and Growing Pains: Return of the Seavers. From 1993-1994, she was featured in the series Phenom.
She was cast in the 1994 sitcom All-American Girl. From 1995–1996 she was featured as Gracie Wallace in the sitcom Maybe This Time. Johnson also played portrayed Alex Marshall in the 2000 comedy What Women Want. From that, she had several recurring roles in different television series.
In 2012, Johnson joined the cast of Avengers. She has also voiced different animations including the Ben 10 franchise, Teen Titans, and The Last of Us video game as Ellie which she is set to reprise the role in the video game adaption set to be released soon. Following that she went on to feature in many acclaimed and major-grossing movies. She has built her career from a child star to an adult actress to be reckoned with.
Ashley Johnson Movies and TV Shows
Johns was cast in many television series and films, some of which are listed below;
1990: Lionheart
1990–1992: Growing Pains
1994: All-American Girl
1995: Nine Months
1996–1999: Jumanji
1997–2001: Recess
1998: Dancer, Texas Pop. 81
1998: The First Snow of Winter
1999: Anywhere but Here
2000: What Women Want
2001: Recess: School's Out
2001: Recess Christmas
2001: Rustin
2003: The Failures
2003: Recess: All Growed Down
2003: Recess: Taking the 5th Grade
2004: Killer Diller
2004: King of the Corner
2005: Nearing Grace
2006: Fast Food Nation
2006: Grad Night
2007: The Brothers Solomon
2007: Heartland
2007: Monk
2008: Columbus Day
2008: Otis
2008: Dirt
2008: The Mentalist
2008: The Middleman
2008: Raising the Bar
2008–2010: Ben 10: Alien Force
2009: Spread
2009: Cold Case
2009: Dollhouse
2010: Funny or Die Presents
2010: Lie to Me
2010–2018: Drunk History
2010–2012: Ben 10: Ultimate Alien
2011: The Help
2011: In Plain Sight
2011–2012: The Killing
2011–2013: Pound Puppies
2012: The Avengers
2012: Drop Dead Diva
2012: Private Practice
2012–2014: Ben 10: Omniverse
2012: Much Ado About Nothing
2013: Masters of Sex
2013–2019: Teen Titans Go!
2014: Garfunkel and Oates
2015: When Marnie Was There
2015: Naruto: Shippuden
2015: Stalker
2015–2017: Teenage Mutant Ninja Turtles
2015–2020: Blindspot
2016: Punching Henry
2019–2020: Infinity Train
2021: Close Enough
2021: Family Guy
2022: The Legend of Vox Machina
2023: The Last of Us
2023: Dungeons & Dragons: Honor Among Thieves
Awards
Johnson won a video game BAFTA for Best Performer and a VGX Award for Best Voice Actress for her voice role in the video game, The Last of Us. In 2015, she received another BAFTA for Best Performer for the same role in the game's downloadable content, The Last of Us: Left Behind.
Ashley Johnson Husband
Johnson is engaged to writer and musician Brian W. Foster, the two have been dating since 2012 and got engaged in 2018.
She is also a musician and plays many musical instruments such as the cello, piano, guitar, and violin.
Ashley Johnson Net Worth
Ashley Johnson is currently worth a sum of $3 million.