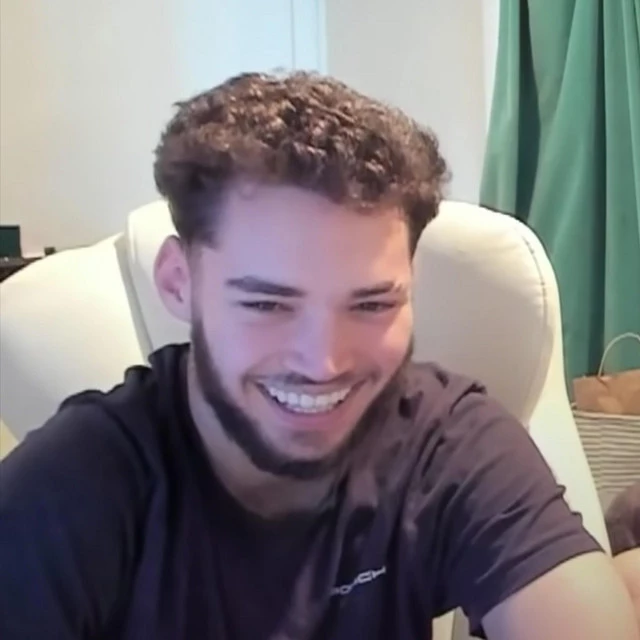 Adin Ross is an American Twitch and YouTube streamer best known for streaming NBA 2K20 and GTA V.
Adin Ross Biography
Adin Ross was born on 11th October 2000 to Jewish parents in Boca Raton, Florida. He relocated to New York City for a brief period but chose to live in Three Rivers, California. He studied at the Woodlake Union High School.
Ross had a keen interest in streaming from a young age that he missed his high school prom to stream on Twitch. Ross disclosed in an interview that at 12 years old he was stabbed in his sleep by a mentally unstable relative. Ross had nine stitches in his arm while the relative was arrested and sent to jail before being admitted to a mental hospital.
Adin Ross Career
Ross started streaming from time to time on Twitch from his sister Naomi's house. He joined an NBA 2K group called Always Excelling where met Bronny James. He rose to fame by playing NBA 2K20 with Bronny and competing with other streamers and YouTubers. In 2020, he was streaming with Bronny when LeBron James joined in on the call, which was later uploaded on his Twitter. In November 2020, after being dissatisfied with NBA 2K21 and its creators, Ross started the Twitter hashtag #make2kfunagain, which reached number one, trending worldwide on the platform. Ross also started hosting "e-date" streams, where people compete to find a date over Discord, leading to more explosion of his Twitch account. In February 2021, Ross became the first creator disclosed to be in the collective Clout Gang 2.0 and moved into the Wizza house alongside FaZe Banks, Mike Majlak, Sommer Ray, and RiceGum.
On April 4, 2021, Ross's Twitch account was hit by a "bot attack", where a large number of bot followers caused his follower count at the time to exceed 3 million. Before the incident, he had already gained more than a million followers on his channel and was pulling approximately 30,000 live viewers per stream.
After the controversy from April, in May of 2021, Ross openly declared that he would be donating twenty percent of his Twitch revenue to charity.
Adin Ross Popular Twitch Videos
2021: MIA
2021: Back Outside
2021: Inferno
2021: Holy Smokes" (feat. Lil Uzi Vert)
2021: House Party
Twitch Ban
On 10th April 2021, Ross was banned from Twitch after YouTuber Zias answered a phone call and called Ross a "faggot". Ross however defended himself from the ban by informing Twitch staff that he did not say the homophobic slur and was not in the room at the time. His fans started using the hashtag #FreeAdin on Twitter to pressure Twitch's decision to lift the ban. The ban was lifted on April 12, 2021.
A few days over a year following the first ban, Ross was banned again indefinitely for the use of "hateful slurs or symbols". He has accused via video evidence that Ross used a homophobic slur on Twitch streamer YourRAGE's Livestream. The ban was lifted two months later in June 2022.
Adin Ross Net Worth
As of 2022, Adin Ross's net worth is estimated to be $2 million.