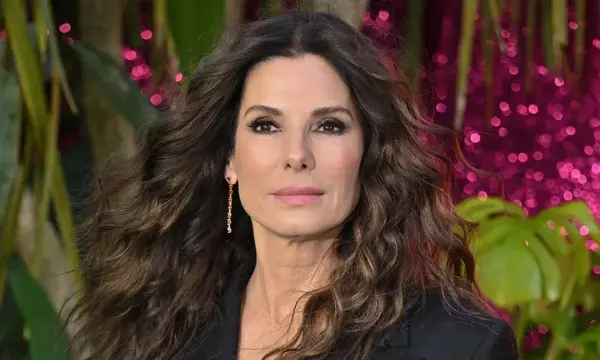 Sandra Bullock Annette is an American-German actress and producer. She is a multiple-award winner, mostly known for her roles as FBI agent Gracie Hart, in the comedy Miss Congeniality, Deborah 'Debbie' Ocean in Ocean's 8, and Malorie Hayes in Bird Box.
Sandra Bullock Biography
Bullock was born on 26th July 1964, in Arlington County, Virginia, to parents Helga Mathilde, an opera singer and voice teacher from Germany, and John Wilson Bullock, an Army employee and part-time voice coach from Birmingham, Alabama. Her parents met in Germany when her father was stationed in Nuremberg. Bullock's maternal grandfather was a German rocket scientist from Nuremberg. Before her teenage years, she was raised in Nuremberg, Germany, and Vienna and Salzburg, Austria as a result she grew up speaking German. Her family moved to Arlington, where her father later became a contractor for The Pentagon. Bullock has a younger sister, Gesine Bullock-Prado, who was the president of Bullock's production company Fortis Films.
As a child, Bullock studied ballet and vocal arts and often escorted her mother, who had small parts in her opera productions. While she was In Nuremberg, she was part of the children's opera choir.
Bullock studied at the Washington-Lee High School, where she was part of the cheerleading team and also performed in school theater productions. In 1987, she graduated from East Carolina University (ECU) in Greenville, North Carolina, with a BFA in Drama.
Sandra Bullock Career
While Bullock was attending ECU, she was featured in many theater productions, such as Peter Pan and Three Sisters. She then moved to Manhattan, New York, where she supported herself as a bartender, cocktail waitress, and coat checker while auditioning for roles. She also took acting classes. She was cast in several student films and then got a role in an Off-Broadway play No Time Flat. She made her debut in the television film Bionic Showdown: The Six Million Dollar Man and the Bionic Woman in 1989. Following that she had several small roles. Bullock's first lead role was in the NBC television series Working Girl. She went on to appear in several other roles after that.
In 1994, she had a big breakthrough when she was cast as Annie Porter in the blockbuster Speed alongside Keanu Reeves. The role earned her several award nominations. She also appeared in the romantic comedy While You Were Sleeping. She went on to feature and produce several high-grossing movies and has since become an established actress. Her latest movie was in 2022, 2022, in the Brad Pitt action thriller Bullet Train, in a mostly vocal performance.
Bullock founded the production company Fortis Films, through which she has produced several of her films including Hope Floats, Miss Congeniality, Two Weeks Notice, and Miss Congeniality 2: Armed and Fabulous, and also the sitcom George Lopez.
She used to own a restaurant Bess Bistro in Austin, Texas. The business however closed in 2015 after about nine years of its establishment.
Sandra Bullock Movies and Shows
Hangmen (1987), A Fool and His Money, Bionic Showdown: The Six Million Dollar Man and the Bionic Woman, Starting from Scratch, The Preppie Murder, Who Shot Patakango? (1989), Working Girl, Lucky Chances (1990), Love Potion No. 9 (1992), The Vanishing, When the Party's Over, The Thing Called Love, Demolition Man, Fire on the Amazon, Wrestling Ernest Hemingway (1993), Who Do I Gotta Kill? Speed (1994), While You Were Sleeping, The net (1995), Two If by Sea, A Time to Kill, In Love and War (1996), Speed 2: Cruise Control (1997), Hope Floats, Making Sandwiches, Practical Magic, The Prince of Egypt (1998), Forces of Nature (1999), Miss Congeniality, 28 Days (2000), Murder by Numbers, Divine Secrets of the Ya-Ya Sisterhood, Two Weeks Notice (2002), George Lopez (2002-2004), Crash (2004), Loverboy, Miss Congeniality 2: Armed and Fabulous (2005), The Lake House, Infamous (2006), Premonition (2007), The Proposal, All About Steve, The Blind Side (2009), Extremely Loud & Incredibly Close (2011), The Heat, Gravity, The Prime Ministers: The Pioneers (2013), Minions, Our Brand Is Crisis (2015), Ocean's 8, Bird Box (2018), The Unforgivable (2021), The Lost City, Bullet Train (2022).
Sandra Bullock Awards / Nominations
Sandra Bullock has won 76 awards, including an Academy Award for Best Actress, the Golden Globe Award for Best Actress in a Motion Picture – Drama, and the Screen Actors Guild Award for Outstanding Performance by a Female Actor in a Leading Role, 2 Saturn Awards for Best Actress, and 2 Screen Actors Guild Awards amongst others.
Bullock has also been nominated for different awards 182 times such as Teen Choice Awards, Academy Awards, British Academy Film Awards, American Comedy Awards, Nickelodeon Kids' Choice Awards, the Screen Actors Guild Awards, and several others.
Sandra Bullock Husband and Son
Bullock once dated and was engaged to actor Tate Donovan. She was also in relationships with NFL star Troy Aikman and actors Matthew McConaughey and Ryan Gosling.
On July 16, 2005, Bullock married famous motorcycle builder and Monster Garage host Jesse James, which was James' fourth marriage. In 2010, there was a scandal involving several women who claimed to have been in a relationship with James while he was married to Bullock. She filed for divorce that same year following the scandal.
She adopted her first child in 2010, a son as a single parent, and subsequently adopted a second child in 2015. Bullock has been dating photographer Bryan Randall since 2015.
Bullock has had a few incidents of stalking, one of which led to an assault on her ex-husband James.
On December 20, 2000, Bullock was involved in a private jet crash on a runway, fortunately, she and the two crew escaped uninjured. On April 18, 2008, she and her ex-husband Jesse James were in a vehicle that was hit head-on by a drunk driver, luckily they were uninjured.
Bullock is a well-known philanthropist who supports several charity organizations.
Sandra Bullock Net Worth
Sandra Bullock is currently worth a sum of $250 million.