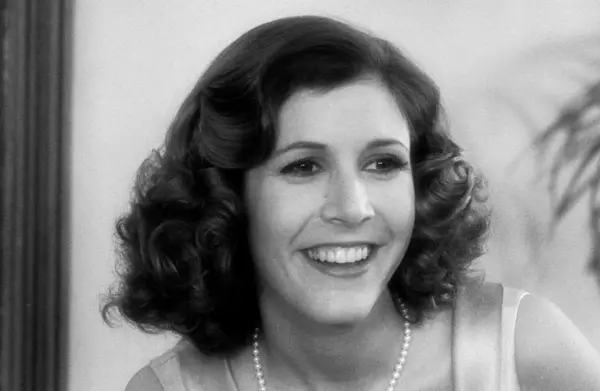 Carrie Frances Fisher was an American actress and writer. She was notable for her role as Princess Leia in the Star Wars original films. She reprised the role in Star Wars: The Force Awakens (2015), and The Last Jedi (2017) a posthumous release that was dedicated to her and she appeared in The Rise of Skywalker.
Carrie Fisher Biography
Carrie Frances Fisher was born on 21st October 1956 in Burbank, California, to parents Debbie Reynolds, an actress, and Eddie Fisher, a musician. Her paternal grandparents were Russian-Jewish immigrants, while her mother was of Scots-Irish and English descent and a Nazarene. Fisher has a younger brother Todd Fisher, a filmmaker. At age two her parents divorced, and less than a year later her father married actress Connie Stevens, and they gave birth to Fisher's two half-sisters, Joely Fisher, and Tricia Leigh Fisher. Her mother also married Harry Karl, in 1960. Karl owned a chain of shoe stores. Reynolds and Karl divorced in 1973.
Fisher loved reading books and some of her earliest years were spent reading classic literature and writing poetry. She studied at Beverly Hills High School until age sixteen when she started on Broadway which interfered with her education and led to her dropping out of school. She then attended London's Central School of Speech and Drama, for 18 months.
Carrie Fisher Career
Fisher appeared as a debutante and singer in the hit Broadway revival Irene in 1973 alongside her mother. She made her onscreen debut in 1975 in the Columbia Pictures comedy Shampoo. In 1977, Fisher was cast as Princess Leia in George Lucas' science-fiction film Star Wars, which was later titled Star Wars: Episode IV – A New Hope. She starred in the 1978 TV special Ringo and also in the ABC-TV film Leave Yesterday Behind. That same year, Fisher appeared in the anthology series Laurence Olivier Presents, she also reprised Princess Leia in the 1978 TV production Star Wars Holiday Special.
In 1980, Fisher was cast in the film The Blues Brothers, and also featured on Broadway in Censored Scenes from King Kong. She also reprised her role as Princess Leia in The Empire Strikes Back. In 1983, she was cast as Sister Agnes in the Broadway production of Agnes of God. Also in that year, Fisher returned as Princess Leia in Return of the Jedi. In the remaining years in the 1980s, 1990s, and even the 2000s Fisher appeared in several high-grossing films playing dynamic roles. Up until her death, Fisher was active as an actress and even wrote screenplays.
Fisher is a famous writer, she wrote novels Novels, Postcards from the Edge, Surrender the Pink, Delusions of Grandma, and The Best Awful There Is. Some of her nonfiction books include Hollywood Moms, Wishful Drinking, Shockaholic, and The Princess Diarist. She wrote several plays as well. Fisher also voiced Shakespeare's Sonnet 29.
Carrie Fisher Movies
Here are some of the movies and television series Fisher starred in;
A Visit with Debbie Reynolds (1959), Debbie Reynolds and the Sound of Children (1969), Life with Linkletter (1970), Shampoo (1975), Come Back, Little Sheba, Star Wars (1977), Today (1977-2016), The Empire Strikes Back, The Blues Brothers (1980), Under the Rainbow (1981), Return of the Jedi (1983), Postcards from the Edge (1990), The Young Indiana Jones Chronicles (1993), Ruby (1997-1999), Conversations from the Edge with Carrie Fisher (2002-2004), Family Guy (2005-2017), On the Lot (2007), Wishful Drinking (2010), Catastrophe (2015-2017), Star Wars: The Force Awakens (2015), The Late Late Show with Craig Ferguson (2005-2014), Bright Lights: Starring Carrie Fisher and Debbie Reynolds (2016), Star Wars: The Last Jedi (2017), Star Wars: The Rise of Skywalker (2019), Have a Good Trip: Adventures in Psychedelics (2020), Wonderwell (TBA).
Carrie Fisher Awards / Nominations
Fisher won the 1990 Saturn Award under the category of President's Award. In 2018 she won the Grammy Award for Best Spoken Word Album. That same year she received the Teen Choice Awards for Choice Fantasy Actress.
Fisher has ten other award nominations including Emmy Awards, BAFTA Awards, Grammy Awards, Hugo Awards, and Saturn Awards.
In 2014, she received the Golden Heart Award for her work with The Midnight Mission and in 2016, Harvard College honored Fisher with its Annual Outstanding Lifetime Achievement Award in Cultural Humanism.
Carrie Fisher Marriage
She briefly dated actor Harrison Ford. From 1977 to 1983 Fisher was in a relationship with singer Paul Simon. In 1980, she was engaged for a short time to Canadian actor and comedian Dan Aykroyd but ended the relationship and went back to Paul Simon. Fisher and Simon got married in August 1983 and ended the marriage in July 1984. Even after their marriage ended the two dated for a while. While Fisher and Simon were together she made appearances in some of his music videos.
Thereafter, she dated talent agent Bryan Lourd. In 1992, Fisher and Lourd welcomed their daughter, Billie Lourd, also an actress. Lourd left Fisher for a man he was in love with. Fisher referred to Lourd as her second husband but in 2004, it was revealed that they were not legally married.
She is close friends with English singer-songwriter James Blunt. On February 26, 2005, R. Gregory "Greg" Stevens was found dead in Fisher's home in California. Autopsy reports that the 42-year-old lobbyist overdosed on cocaine and oxycodone.
Carrie Fisher Cause of Death
On December 23, 2016, on her way back from the UK she had a medical emergency on the flight home to Los Angeles a few minutes before the flight landed, a passenger performed CPR on her before the arrival of paramedics on the ground. Fisher was taken to the Ronald Reagan UCLA Medical Center and was placed on a ventilator. After four days of being in the hospital's intensive care unit, on December 27, 2016, she passed away at the age of sixty and the cause of death was said to be cardiac arrest. On June 19, 2017, the Los Angeles County coroner's office released a full autopsy report which states that Fisher had cocaine in her system, as well as traces of heroin, other opiates, and MDMA. Thereafter, her first daughter, Billie Lourd disclosed that her mother struggled with drug addiction and mental illness.
The day after Fisher's death, December 28, 2016, her mother, Debbie Reynolds, had a stroke while the family was planning Fisher's burial arrangements. She was taken to Cedars-Sinai Medical Center, where she died later that day. On January 5, 2017, there was a joint private memorial held for Fisher and her mother. Fisher was cremated while Reynolds was buried. Some of her ashes were buried beside her mother's crypt at Forest Lawn Memorial Park in Hollywood Hills. The rest of her ashes are held in a giant novelty Prozac pill. Her fans also held memorials for her in Los Angeles and San Francisco and even virtually in the video game Star Wars: The Old Republic.
A day after the memorial, On January 6, 2017, the lights on Broadway in Manhattan were darkened for one minute in honor of Fisher and Reynolds. Both Fisher and Reynolds were featured in the 89th Academy Awards In Memoriam segment. Also, the 2017 film Star Wars: The Last Jedi was dedicated to her memory. Fisher was honored with an official star on the Hollywood Walk of Fame in 2022.
Fisher was diagnosed with bipolar disorder and she struggled with addictions to cocaine and prescription medication.
Fisher supported several charitable organizations with different causes such as women's advocacy, animal rights, LGBT causes, AIDs research, and mental health.
Carrie Fisher Net Worth
Carrie Fisher left as estimated net worth of about $25 Million. It was also given to her only child, her daughter.