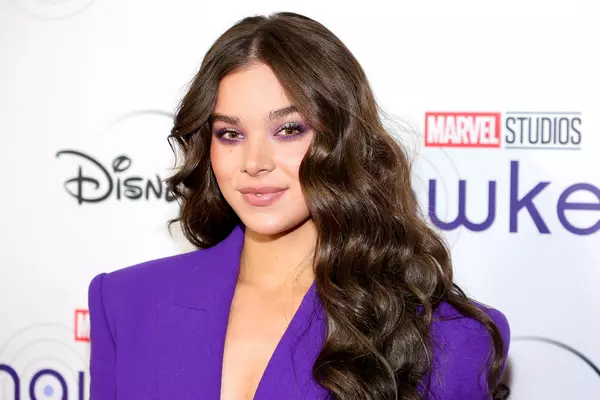 Hailee Steinfeld is a famous American actress and singer. She is particularly known for her performances in films such as the Pitch Perfect film series, Bumblebee, and The Edge of Seventeen. Her songs were featured on multiple film soundtracks including "Capital Letters" from Fifty Shades Freed, Flashlight from Pitch Perfect 2, and "Back to Life" from Bumblebee. Steinfeld is a multiple awards recipient. She is 5 Feet 8 Inches tall.
Hailee Steinfeld Age and Full Biography
Hailee Steinfeld was born on 11th December 1996 in Tarzana, California, USA to parents Peter Steinfeld, a personal trainer and Cheri Steinfeld, an interior designer. She has an older brother, Griffin. Steinfeld's uncle is fitness trainer and actor Jake Steinfeld, while her maternal great uncle is former child actor Larry Domasin. Also, actress True O'Brien is Steinfeld's maternal first cousin.
Her maternal grandfather, Ricardo Domasin, was half Filipino and half African-American. Steinfeld's father is Jewish while her mother practices the Christian faith.
She attended Ascension Lutheran School, Conejo Elementary and Colina Middle School. Thereafter, she was home-schooled until her high school graduation in 2015.
Hailee Steinfeld Career
Steinfeld started acting at the age of ten. She was featured in She's a Fox and True Grit. Following the success of the latter film she was selected as the new face of the Italian designer brand Miu Miu. That role also earned her an Academy Award nomination for Best Supporting Actress. In 2011, she starred as Juliet in the 2013 adaptation of Romeo and Juliet. In 2014, she was featured in Why We Broke Up, a romantic comedy. She also narrated as the voice of Anne Frank for an exhibition on Frank at the Museum of Tolerance. Hailee Steinfeld gained more fame when she was cast as Emily Junk in Pitch Perfect film series (2015 & 2017) and also in the acclaimed coming-of-age film The Edge of Seventeen in 2016.
Steinfeld was featured in the Transformers film Bumblebee in 2018, she also voiced Gwen Stacy / Spider-Woman in the animated film Spider-Man: Into the Spider-Verse. Since 2021 she has been playing Vi in the Netflix series Arcane. She was featured as Kate Bishop in the Disney+ series Hawkeye.
She is signed with Republic Records. The record label released her debut single, "Love Myself". Steinfeld collaborated with singer Shawn Mendes and released an acoustic version of Mendes' single, "Stitches". Her debut EP, Haiz was released in November 2015. Steinfeld fans often referred to themselves as Haiz. Her second EP Half Written Story was released in May 2020.
In 2018, Steinfeld launched her line of eyewear called Privé Revaux.
Hailee Steinfeld Movies and TV Shows
Back to You (2007), Heather: A Fairytale (2008), She's a Fox, BrainS urge (2009), Summer Camp, Sons of Tucson, Without Wings, Grand Cru, True Grit (2010), Hateship, Loveship, Begin Again, The Magic Bracelet, Romeo & Juliet, Ender's Game (2013), 3 Days to Kill, The Homesman, The Keeping Room, When Marnie Was There (2014), Ten Thousand Saints, Pitch Perfect 2, Taylor Swift: The 1989 World Tour Live, Barely Lethal (2015), The Voice (2015-2018), Term Life, The Edge of Seventeen (2016), Pitch Perfect 3 (2017), Bumblebee, Spider-Man: Into the Spider-Verse, 2018 MTV Europe Music Awards (2018), Dickinson (2019-2021), Between Two Ferns: The Movie, Charlie's Angels (2019), Arcane (2021-present), Hawkeye (2021), Spider-Man: Across the Spider-Verse (2023).
Hailee Steinfeld Awards / Nominations
Steinfeld has won 24 awards so far including, Critics' Choice Awards, Billboard Music Awards, MTV Europe Music Awards, Peabody Awards, Young Artist Awards, Variety Hitmakers Awards, Max Mara, and several others from different critics associations.
She also has been nominated 65 times by associations such as Academy Awards, BAFTA Awards, Critics' Choice Awards, Golden Gate Globe Awards, The Screen Actors Guild Awards, and MTV Movie & TV Awards, amongst several others.
Hailee Steinfeld Boyfriend and Relationships
Steinfeld and social media sensation Cameron Smoller started dating in 2016, they, however, ended the relationship in 2017. She started a relationship with singer Niall Horan also in 2017. They broke up at about the same time their relationship was a year old. Steinfeld had been rumored to be in a relationship with singers Justin Bieber and Charlie Puth and actor Douglas Booth.
Hailee Steinfeld Net Worth
Singer and actress Hailee Steinfeld's net worth as of 2023 is $12 million. However, it's important to note that celebrity net worths can fluctuate depending on a variety of factors such as their current projects, endorsements, investments, and other business ventures. Additionally, it's important to keep in mind that net worth estimates are often just that – estimates – and may not reflect an individual's actual financial situation.