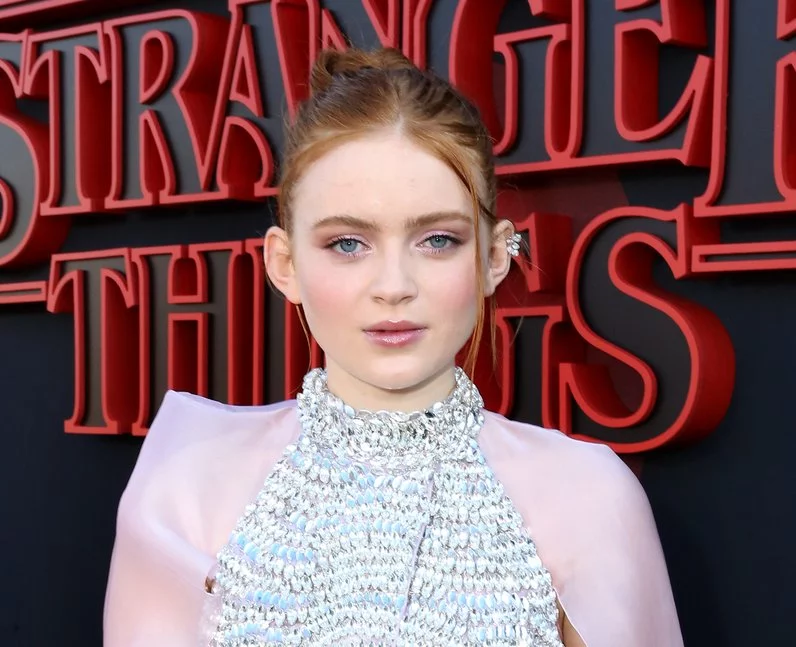 Sadie Elizabeth Sink is an American actress. She is known for playing the title role in Annie and young Queen Elizabeth II in The Audience in 2015 on Broadway. Her first television appearance was in a 2013 episode of The Americans and her first film was in the sports movie Chuck in 2016.
Sadie Sink Age and Biography
Sadie Sink was born on 16th April 2002 in Brenham, Texas to a family of Seven. Her parents had average jobs. Her father is a football coach and her mother is a math teacher. Sink has three older brothers and a younger sister. The Sink family were sports enthusiasts, however, she was more interested in performing arts.
She started acting in a community theater close to Houston and soon started production of The Best Christmas Pageant Ever in Brenham when she was only seven years old. After that, Sink auditioned for the lead role in a local production of The Secret Garden which she got. Following that she chose to pursue a career in acting. As a result of the proximity of New Jersey to New York City, her family moved to New Jersey when she was a teenager to support her acting career.
Sadie Sink Career
Sink first performed in plays at Theater Under the Stars in Houston during the play 2011–2012 season, later she got other stage roles such as musical productions of White Christmas and the title role in Annie. Sink's Broadway debut was in the 2012–14 Annie revival, portraying both Annie and Duffy. While performing in the Broadway run, she appeared in her first television show in 2013 in an episode of the Emmy Award-winning series The Americans. She also got a guest role in an episode of the police procedural series Blue Bloods in 2014.
In 2015, Sink was cast as Suzanne Ballard in the NBC action thriller series American Odyssey, she also played the role of young Queen Elizabeth II in the Broadway production of The Audience. She had minor roles in television shows and films, such as the 2016 sports drama film Chuck, an episode of the sitcom Unbreakable Kimmy Schmidt, and the biographical drama film The Glass Castle while she also went to school.
Sink auditioned for the role of Max Mayfield for the second season of the acclaimed Netflix science fiction horror drama series Stranger Things. She joined the cast of the series when she landed the recurring role in October 2016. Her performance as Max was Sink's ticket to breakthrough and stardom, she quickly became the fan-favorite character and an essential part of the series.
Sink alongside Rooney Mara, Sia, Joaquin Phoenix, and Kat von D to narrate the animal rights Australian documentary film Dominion in 2018. She made her modeling debut at age 15 when she walked the runway at Paris Fashion Week. In 2019, She got a supporting role in the Netflix horror film Eli.
In 2021, Sink portrayed the lead role in The Fear Street Trilogy, with a recurring role in the second and third sequels, Fear Street Part Two: 1978 and Fear Street Part Three: 1666. She also played the main role in Taylor Swift's 2021 short film All Too Well: The Short Film opposite Dylan O'Brien. In 2022, Sink got another lead role in the film Dear Zoe. That same year she featured in Darren Aronofsky's drama film The Whale.
Sink's future projects include a feature in the thriller film Berlin Nobody, adapted from Nicholas Hogg's 2015 novel Tokyo.
Sadie Sink Movies and TV Shows
2011: White Christmas
2012-2014: Annie
2013: The Americans
2014: Blue Bloods
2015: The Audience
2015: American Odyssey
2016: Unbreakable Kimmy Schmidt
2016: Chuck
2017–present: Stranger Things
2017: The Glass Castle
2019: Eli
2021: Fear Street Part Two: 1978
2021: Fear Street Part Three: 1666
2021: All Too Well: The Short Film
2022: The Whale
2022: Dear Zoe
TBA: Berlin Nobody
Sadie Sink Awards/Nominations
This is the list of awards received by Sink;
2022: Hollywood Critics Association TV Awards for Best Supporting Actress in a Streaming Series, Drama
2022: Woods Hole Film Festival for Best Performance in a Feature Film (Youth)
2022: SCAD Awards for Rising Star Award
She has also received quite a number of nominations over the years from notable award committees such as Screen Actors Guild Awards in 2018, MTV Movie & TV Awards in 2018 and 2022, and Saturn Awards among others.
Sink currently has two nominations that are yet to take place the first one is from the Indiana Film Journalists Association for Best Supporting Performance and the second is Critics Choice Award for Best Young Actor/Actress.
Sadie Sink Net Worth
Sadie Sink is currently worth a sum of $5 million.